Casio F91W-1 Classic Resin Strap Sport Watch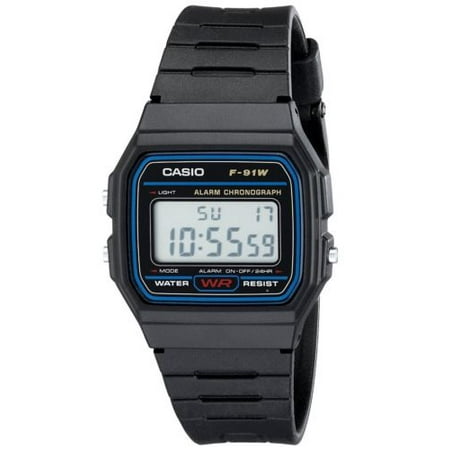 MSRP :

$18.95





Sale :

$12

Sold & shipped by Walmart
Product Description

Additional Information

Reviews
Product Description
This Casio Men's Classic Digital Watch gives you a classic watch design with modern reliability. The features of the black Casio men's watch include a micro light for telling time in the dark, a stopwatch for timing events and an alarm to help you be punctual. This Casio digital watch also features a calendar display to let you know the date and the day of the week. The watch attaches securely and comfortably to your wrist with its resin band and buckle clasp. This Casio digital watch is also water resistant and boasts a lengthy battery life of approximately seven years.
Additional Information
Casio F91W-1 Classic Resin Strap Sport Watch
Reviews
Ilikearchitecture
Grown up watch
So I'm 19 and figured it was time for a watch that wasn't bright orange and has a strobe light for work, but I got much more. I now where this watch all the time, its so comfortable, even when i sleep which is weird for me cause i cant even sleep with a shirt. This is a great watch I see why it's one of casios best sellers. It has slim profile and is easy to use. I trust its water resistance now and I've heard of folks who submerge it but I'm a bit scared for that. My only real complaints are the light is a tad dim but gets the job done and this is defidently a disposable watch. I opened it up and I think it be quite a struggle to change the battery meaning you're suppose to throw it out and get a new one. But hey for 11 dollars that's still not bad and I bet you could change it if you really tried. If you're in need of something that will actually be there for you and hold up the casio f91w will defidently make a worthy companion.
mtrhd
Grown up watch
This watch replaced an almost identical Casio which I purchased in 1983 (yes 29 years ago), and unfortunately dropped and broke. That watch had been worn while cutting down acres of trees, years of wood-splitting by hand with a maul, and a lot of car maintenance jobs- oil changes, brake jobs, exhaust replacements, bodywork... If that Casio survived all that abuse with only battery changes and broken wristband replacements, then this replacement will last forever. And it was cheaper than the original one. It is just like Timex use to say: takes a good licken and keeps on ticken.
BOB
CASIO F91W-1: MY FAVORITE WATCH
I wore this exact watch for 2 years before reordering, only doing so because the little plastic loop that is part of the strap broke just now,
Lume2
Great watch
I learned years ago that I don't like large watches that catch on everything while working. I've had this same watch with the blue trim for years. It's the perfect size...rather low profile. Love it. Finally wore the band pin hole out on the third band. Have other dress watches that wife makes me wear occasionally after much grumbling. As soon as I get home I switch back to my old favorite. Also, it's seriously waterproof. Been diving many times. Highly recommend.
k2xr10
Uncommonly great
If there is another watch that costs less, keeps better time, is more reliable, and has longer battery life, I haven't found it. Unlike other inexpensive digital watches, the button system on this watch isn't an afterthought that fails in two weeks. And the 'movement' doesn't slide around inside the case like it does in other cheap watches. I'm just glad that Casio continues to make it. My first F-91W, purchased seven years ago, is still running on its original cell and is now my daughter's watch. So I purchased another.