Casio FX-9750GII Graphing Calculator, Icon Based Menu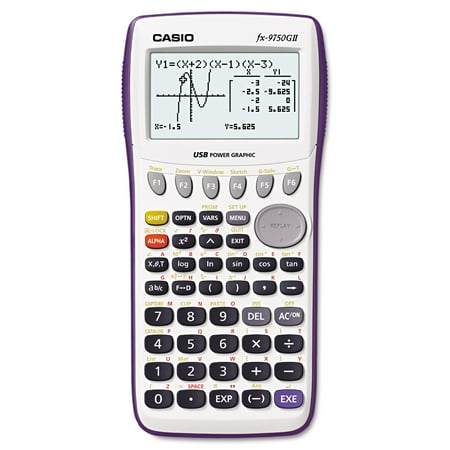 MSRP :

$99.99





Sale :

$52

Sold & shipped by Walmart
Product Description

Additional Information

Reviews
Product Description
The Casio Graphing Calculator, FX-9750GII features a large 21-character and eight-line display with dual screen capability and is ready to go right out of the package. USB connectivity, abundant operating memory, and AP features come together to provide a powerful tool designed to support student success in this Casio graphic calculator. Advanced functions for this Casio graphic calculator include algebra, geometry, statistics, calculus and more. It's also approved for use on exams. It comes loaded with the powerful classroom functionality you need in an intuitive, easy-to-use interface that is quick and simple for students to master and features a high-resolution LCD display with enlarged dot-area technology that produces sharp, easy-to-see formulas, graphics and statistical data representation to enhance student comprehension.
Additional Information
Graph rectangular, polar and parametric functions and inequalities, graphical analysis, streamlined solving for intercepts, intersections, etc.

Capable of graphing x= relations

Built-in graphing of conic sections

Easily calculate values for given independent/dependent values

Create tables of values from given functions and generate plots and graphs from tables

Capture, clip & paste capabilities

Interactive Equation Solver

Prior Entry Recall

Not a Computer Algebra System (CAS) calculator

Reviews
mathematicsteacher
Why Pay More
As a mathematics teacher who has used TI model calculators for many years, I found Casio calculators to be inadequate until this model (GII) was introduced last year. This calculator has all the features of the TI models that students need to use, it's easier to use, and what's best, it's only a fraction of the cost of the TI models. I strongly recommend this model over the TI models...you won't be disappointed.
KChong
Why Pay More
Half the price of the TI83/84 with all the same functions you can count me in. I am taking online trig and have to say this calculator is a lifesaver. Now the functions are different so keep you manual close. But even with the TI models you still need to keep you manual close anyways.
momof10
good tool
Bought this for my daughter, who is taking pre-calculus. After she learned the ins and outs, it's working well.
materialgnome
tough to figure out
Purchased for my daughter for her classes. She was very frustrated with this for a while, took her several weeks to figure out how to use comparing to a different model the school supplied. The book it came with is a must read and must keep with at all time to use calculator properly. Now she has the hang of it, it is ok. Product is so much cheaper than other models that do same functions, so its worth it.
BargainBeau
Better than a TI and inexpensive too!
It took me a couple days to get use to using this Casio. I have been using Texas Instruments all my life, but this semester I was required to have a TI graphing calculator and I could not afford it, so I did a little research and found that the Casio graphing calculator was supposed to be just as good. I am definitely impressed, great value and very easy to use and switch between the different modes. I love it!