Banana Boat Moisturizing Aloe After Sun Lotion - 16 Ounces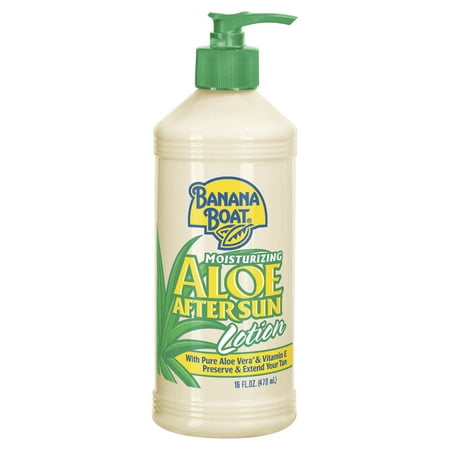 MSRP :

$7.99





Sale :

$4.97

Sold & shipped by Walmart
Product Description

Additional Information

Reviews
Product Description
After a great day in the sun, Banana Boat Aloe After Sun Lotion gives you the soothing and moisturizing relief your sun-drenched skin needs. Specially formulated with aloe vera and vitamin E, this ultra-moisturizing, non-greasy lotion helps keep your tan looking beautiful longer. Regular use will keep your skin soft and beautiful by helping to replenish the moisture lost due to the drying effects of the sun, wind and water. For moisturizing after sun skin care...get on the boat!
Additional Information
Formulated with ALOE and VITAMIN E to preserve your skin and extend your tan
ULTRA-MOISTURIZING and NON-GREASY
Regular use will keep your SKIN SOFT AND BEAUTIFUL year round
Reviews
Smooth
Everyday aloe
Not greasy. Soaks into skin quickly. Pleasant scent.
Mojosmama
Best All-over Lotion
I've been using Banana Boat after the Sun Lotion as a full body lotion for over 20 years. I have very supple, healthy, elastic skin for a 73 year old lady. I use it every morning after my shower and can't be without it. I would reccomend this product for everyone, young and old.
Harmoniez
Great product
have used this for well over 25 years. growing up on the coast, this was the best lotion ever found, and I have tried just about everything on the market. its a great all over lotion. if you have been sun burned it soothes and heals. however have used it also just as a daily lotion, and its amazing. have very dry and sensitive skin, and this product has never caused any issues at all. the smell is great too !!
peacefulfeelingz
Excellent After Sun Lotion!
This is such awesome After Sun Lotion. I remember when I was a teenager, and I'm 60 yrs young right now, but this had to have been 44 yrs ago me and my best friend, we were 16 yrs old and we went to the beach and got wind burned which we had never heard of before. It was so windy we didn't know that we were getting extremely sunburned when it was feeling so windy and cool at the beach. We were in such pain for about 4 or 5 days and we could barely move. First we used noxema which was a huge godsend because it made our skin feel so much better and then we used the banana boat after sun moisturizer which made our skin's sunburn turn brown. It was amazing and it was a fun time in our lives even enduring the pain of that windy, sunny day at the beach!
SOLDIERMOM
Good for menopausal skin.
This lotion is amazing. Know how your skin gets very dry after going through menopause? Well, this lotion is the fountain of youth for me. I use it every other day as a body wash instead of my regular body wash and also after my shower. I use it to remove makeup and as a facial moisturizer. I'm 52. People are blown away when I tell them my age...