Beautyrest Latex Pillow with Removable Cover in Multiple Sizes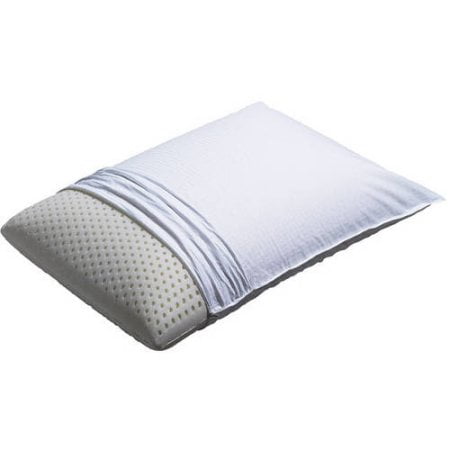 MSRP :

$28.64





Sale :

$24.28

Sold & shipped by Walmart
Product Description

Additional Information

Reviews
Product Description
Instantly add a layer of comfort with outstanding support to your bedding with the Simmons Beautyrest Latex Pillow. It provides exceptional support as it contours your neck and head. This consistent contouring action reduces pressure to both the neck and head, which provides a more comfortable and restful night's sleep. It features natural latex foam. It also has a breathable cell structure, which helps it retain its shape and rarely requires fluffing. This Simmons pillow is designed to remain extremely resilient and lasts twice as long as other traditional pillows. It is durable. This natural latex pillow is designed for comfort and is a smart addition to your sleep routine.
Additional Information
Beautyrest Latex Pillow with Removable Cover:

Provides exceptional support
Reduces head and neck pressure
Consistently contours the head and neck area
Breathable interior cell structure provides shape retention
Made with natural latex foam
Resilient and lasts twice as long as traditional pillows
Beautyrest latex pillow is available in Standard, Queen and King sizes
Reviews
DLFL
Great Product - Weird Packaging
This is one of the best pillows I have ever used. I have been using latex pillows for years and would never use anything else. When this pillow arrived from Walmart.com I did find it odd that the pillow was in a plain plastic bag and a photo copy of the label.....
nago1
Love Latex
I had a previous latex pillow for 15 years, but since it was a gift from my mom when I was a child, I didn't know what it was (tags were removed years ago, and the writing in the foam was illegible). I LOVED this previous pillow, and I squished every memory foam pillow at every store in effort to replace my cherished pillow to no avail. I finally figured out that the pillow was latex, and was glad to find such a good deal on these pillows at Walmart. I ordered 2, and was happy to find them to be consistent internally and with each other (as opposed to other reviews). I almost want to order 6 more so that my husband and I can rest assured that we will have our precious latex pillows for the next 60 years. Latex is supportive, cool, springy, and lasts >15 years. I am not even throwing out my previous latex pillow- I am going to cut it in half so that my husband and I can use the halves as mini pillows when camping, and I expect those halves to last another 10 years.
Amberlin
Fabulous!
This latex pillow is different from most which people are used to. The pillow comes with a thin cover which is more of a cover to protect the integrity of the pillow. It's not really a pillow cover. I bought separate covers. I bought the same pillow some years ago & as all pillows do over time, mine broke down & it was time to buy a new one. This pillow is firm & would be well suited for the heavy person or person with broad shoulders. It is not a flimsy pillow like traditional cotton pillows so it doesn't "wad up" at all. Don't expect to crunch this pillow into a ball. The material just won't allow for manipulation of it. It holds its form for years! I literally only replaced my last one due to the fact that the material started to break down & got crummy. This pillow does not allow for bed bugs & does not smell bad over time. It has little holes for ventilation which you cannot feel when laying on the pillow. I think this is the best pillow I've ever used & I've found it to be very supportive.
bevpopp
Love My New Pillow
I bought this Simmons Beautyrest Latex Pillow to replace one of the same brand and model purchased in 2002. This new pillow is my third one. It offers a comfortable support for my head and neck. It feels natural to me as a side sleeper. It is the most wonderful pillow! While the pillow being replaced has not decomposed, worn down, nor lost its comfort and support, I have not seen one in any Walmart store I've searched since 2002. I purchased this newest one while it was available, although my older one will likely last several more years. The first one I owned lasted over 20 years, and the new one is only my third one in almost 40 years. My husband started using my 2002 Simmons pillow when I opened my new one. It is his first latex pillow, and he loves the 13-year-old treasure. This is a truly great pillow in my opinion and experience!
thomasmc
Best pillow ever
I bought one of these 5 or 6 years ago, I think I paid $60 for it at Kohls, and that was "on sale." After sleeping on it a couple thousand nights, it is still perfect. I used to replace fiberfill pillows every six months, what a waste of money. I've bought 2 more in King size, and another 2 in Standard, here at Walmart. They are worth every penny, and run at least $20 more anywhere else. My first latex pillow I bought online elsewhere (1993). It was Dunlop latex, and it was too firm to sleep on. The density was more appropriate for a mattress or seat cushion, not a head pillow. It wasn't as thick, but weighed twice as much. These are Talalay latex, very soft and fluffy, like sleeping on air, and never need to be fluffed up. I think these are the best pillows I've ever seen. I don't know why they don't carry them in the stores.