Beautyrest 100% Cotton Cover Mattress Pad in Multiple Sizes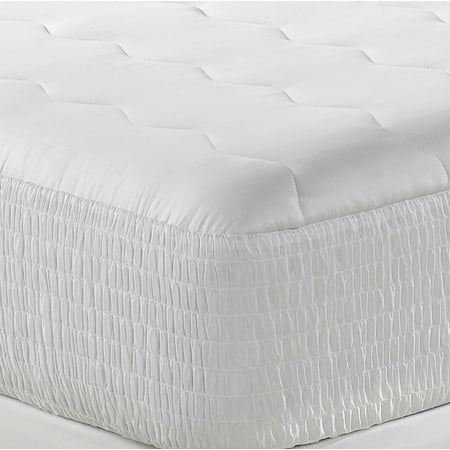 MSRP :

$18.75





Sale :

$15.97

Sold & shipped by Walmart
Product Description

Additional Information

Reviews
Product Description
DeepSleep 100% Cotton Mattress Pad:
100% Cotton top cloth
Polyester fiberfill provides superior loft, support and resiliency than traditional fiber
Expand-a-Grip Skirt guaranteed to fit mattresses up to 16" deep
Machine washable and dryable for easy care
Additional Information
Beautyrest 100% Cotton Cover Mattress Pad in Multiple Sizes:
Ultimate Protection with this soft 100% cotton fabric to put a layer of protection between you and your mattress
This mattress pad will shield your mattress from wear and tear damage with waterproof and stain releasing properties
Stays in place with Expand-A-Grip skirt, fits mattresses up to 16 inches deep
Thin fabric so it does not take away from the comfort of your mattress
100% hypoallergenic polyester fiberfill provides loft, support and resiliency than traditional fiber
With the easy care, this mattress pad is suitable to machine wash and dry
Extend the life of your existing mattress by adding the Beautyrest cotton mattress pad today
This mattress pad has a 4 inch wavy quilt stitching and is filled with 9 ounces per square yard
Twin size measures: 38 inches x 75 inches
Full size measures: 53 inches x 75 inches
Queen size measures: 60 inches x 80 inches
King size measures: 76 inches x 80 inches
Reviews
TooncesTheSqrl
Way Too Small!
I love 100% cotton anything for my bed, so I was sold on the idea of a cotton mattress pad. I had an old mattress pad I was using, but I was adding a 3 inch memory foam topper to my existing Full size mattress. I had to buy a new mattress pad to cover both the topper and my mattress, which measures a combined total of 13 inches. This mattress pad claims to cover mattresses up to 16 inches deep. There is no way humanly possible for this mattress pad to fit that. It barely holds onto the corners of my mattress and topper, and the cotton part doesn't even go all the way to edge of the bed. When I received the mattress pad, the stench coming from it was unbearable. I always wash bed linens before using them, and that did take care of the smell. But, that wasn't until after the smell irritated my allergies. Whatever they use, I'm still dealing with the allergy attack 2 days later. Order at your own risk. Be prepared to wash your new mattress pad to get rid of the smell, and order a size up from what you think you need.
Grammy2Shop
Not the Pad I'd want for anyone..
First off, I want to say Walmart's service is really good. Order delivery time was Great, and Walmart made the return Very Easy. The mattress pad was of poor quality. This is Not a budget saver. Fabric used was thin and it crackled at just touching. The expandable sides looked like thin guaze that wouldn't last putting it on the bed. I don't know if I got someones returned item, as it was just in a plastic bag with no label. I've gotten budget items from Walmart, in the past, and the items have served me well. I just didn't feel this was worth the time or cost. I'll definitely be looking for a better mattress pad, when I'm able to shop in the store.
Gracie
Cover
This is a favorite of mine. It's comfortable, thick and the elastic rim around it fits snigglyon mattress pad.
MissToTo
Looks and fits great
I have a euro pillowtop mattress and I have added a 2" foam topper to it with this mattress pad on top. It fits the very well, probably could even accomodate an even thicker mattress and pad. Keeps me from getting to hot in the bed as well.
RaeMB
Flimsy tissue sides, not 100% cotton.
I ordered this and a memory foam topper and had it sent to my house. When FedEx delivered this, I ripped open the soft outer FedEx packaging, and found this inside, in plain plastic shrink wrap, no tags, labels, no branding or information of any sort. It actually appeared used and repackaged, perhaps by FedEx? When I opened it, I was immediately dissapointed, the elastic fitted sides that looked so nice in the picture werent a durable cloth like it looked like, it is tissue. At any rate, I decided that for the price Id give it a try. I put it on over my new memory foam topper and it looks very nice. I have a queen mattress, and it fit very nicely despite a few reviews saying order a size bigger. It pepped up a faded mattress thats starting to show its age. When I put on my microfiber sheets and gave it a test nap, I thought it was great. My bed felt plush, silky and smooth. I rated it lowly because it isnt 100% cotton, and the sides are made out of flmsy tissue that will probably rip soon. I had to be very careful not to puncture the sides with my fingernails as I was putting it on my bed, Im 23 weeks pregnant and very uncomfortable due to hip pain, and this in conjuntion with a memory foam topper did the trick, but lets hope the tissue sides last.