Suave Professionals Captivating Curls Mousse, 7 oz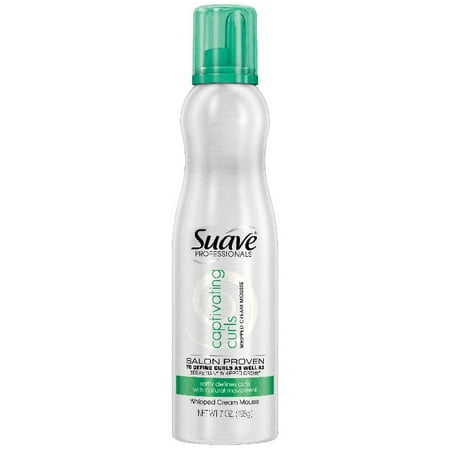 Sale :

$2.94

Sold & shipped by Walmart
Product Description

Additional Information

Reviews
Product Description
Keep your tresses styled and still smelling fresh and clean the whole day with the Suave Professionals Captivating Curls Whipped Cream Mousse. This product contains an anti-frizz complex that helps define and hold natural curl patterns. The whipped cream texture in this alcohol-free mousse combines light conditioners and control so that curls are touchable and not crunchy. It promises to deliver performance for up to 24 hours.
Additional Information
Suave Professionals Captivating Curls Mousse, 7 oz
Suave Professionals Captivating Curls Whipped Cream Hair Mousse defines and holds natural curl patterns

Alcohol-free formula with anti-frizz complex

Salon-quality proven to define curls as well as Sebastian Whipped Creme (Professional Sebastian and Whipped Creme are registered trademarks of The Wella Corp.)

Softly defines curls with natural movement

Whipped cream texture with light conditioners

Return of classic design

Reviews
shells84
Best Mousse Ive EVER Used!!!!
I have very thick naturally curly hair. Ive tried every product on the shelf, even the expensive stuff form salons, and they never did what they said they would do. They always left my hair crunchy and dull. Or I had to use an exceptional amount of the product for it to work, hence buying it more often. I recieved a coupon in the mail for a free full size bottle of this and since then I have never purchased anything else but this product for styling. I cannot even believe how awesome this works for my curly hair. Keeps the frizz minimal even in the summer time! Makes my hair soooooo soft, defines my curls wonderfully, and the best part about it is how thick it is. The can says Whipped Cream and it actually feels just like heavy whipped cream!! I have very long hair and I only have to use a small amount of this product. I use it everyday and go a whole month before I have to buy more. I love it!! And the price is TOTALLY affordable! Cant get any better than this!! THANK YOU SUAVE!!!!!!
Fooled
Don't be fooled!
If you have used this product before (specifically the silver can w/green lettering) then you are probably very satisfied with this product and know how great it is. And you think that because you can't find it at the stores anymore, that you can order it online because the picture is clearly Captivating Curls, but don't be fooled. I should've put two and two together when the other reviews said that it was not the same product. I ordered this specific silver/green mousse can (6 actually) and received a completely different mousse in the same shape can but with purple lettering. Apparently it is the "control curl" mousse. I tried it anyways but it clearly not the same product, not the same effect. I am returning them asap. I feel like as if they felt my order was close enough that I wouldn't notice. Don't buy this online. BUT, if can find this product and you have curly hair, you will love it!
Customer
I Love the product, but...
The product itself is great!!!! I love the way my curls feel with it, the only thing with it is that I used it for a month (2 times a week) and even though it seems like there is still a lot of product in the bottle, nothing comes up, so I had to throw it away after a month. This happened twice. Looks like there is a problem with the nozzle where you press to release the mousse :/
Customer
Not as great as Captivating Curls
The Flexible Control Curl Mousse is not the same as the Captivating Curls! I have been to multiple stores hunting down my beloved captivating curls and was extremely upset that they discontinued it, it took me a long time to find a product that didn't leave my hair crunchy, would hold for the entire day, and smelled amazing. I decided to try this new flexible control mousse but it's not as creamy and rich and "whipped" and the captivating curls one! I liked captivating curls because unlike most of the curl mousse products out there, it didn't feel like I was putting a ridiculous amount of gel in my hair, but this one feels the same. I am disappointed and dissatisfied. Pelase just bruno Black Captocatibg Curls, we had no problem with the packaging and the name was great and catchy. I bragged about this product to my friends, made them buy it, or to anyone who has even complimented my hair. Please I do not want to go on another desperate hunt for a new curl product that works for me.
lkaw64
Great curls
I love the curls but sometimes it gives me an itchy scalp..It might be because I use too much.