OSI SEALANTS 0.20 Fl Oz Blue Medium Strength Threadlocker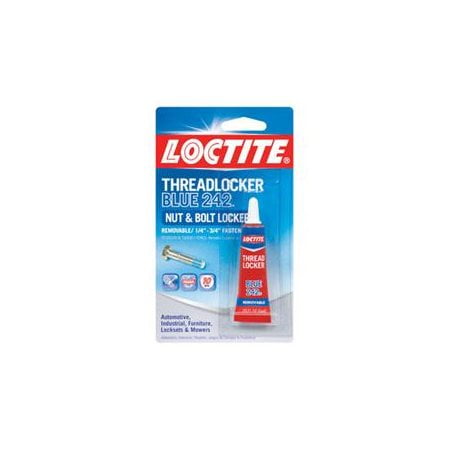 MSRP :

$5.42





Sale :

$4.89

Sold & shipped by Walmart
Product Description

Additional Information

Reviews
Product Description
Additional Information

OSI Sealants 0.20 fl oz Blue Medium Strength Threadlocker:
6 ML
Loctite threadlocker for locking and sealing of threaded fasteners
Ideal choice for applications on less active, non-exposed surfaces, such as plated and stainless-steel surfaces
Cures when confined in the absence of air between close-fitting metal surfaces
Protects from rust and corrosion and prevents loosening from shock and vibration
For fasteners 1/4" to 3/4"
Medium strength, disassemble with hand tools
Reviews
Geoman
car crankshaft repair
Loctite Blue was the perfect solution for this repair. The previous owner tried to repair the car's crankshaft timing sprocket large bolt that worked its way loose. But I guess the car sat for a while in the rain and when he torqued the bolt, it was rusty inside the crankshaft and the bolt broke off inside. That's when he decided to sell the car to me. After drilling through the broken bolt piece inside and drenching it with pb blaster, it still would not budge using an easy out, tapping with a hammer and trying to turn with a ratchet wrench. After about a week of trying, it finally came out. The threads were rusted to the bolt. I used Loctite Blue threadlocker after cleaning it thoroughly to keep it from rusting again and to hold the bolt tight against the timing sprocket. The perfect solution and at lower cost than the parts stores. Free shipping to Walmart, just went by and picked it up.
Coytoo
Excellent for firearm screws.
Just what you need for your firearm screws. Provides lubrication for proper torqueing, and dries to provide shock resistance to prevent screws from coming loose while firing your weapon. I removed a couple to change out scope rings and the screws backed out with just slightly more resistance than the original torque. Buy the Wheeler Professional gunsmith torque screwdriver too! Comes with calibration card and chart showing what screws get what amount of torque. Be sure to add the 21 piece wheeler add on bit set also!
Sunny
Loctite
Worked great!
dewdrop662
did not work
Tried this blue Loctite on my air rifle screws. Did not work at all. Screws came loose after just a few shots. This was recommended but just did not work. Followed the instructions to the tee. Sorry , wished it did work.