Castrol EDGE 0W-40 A3/B4 Advanced Full Synthetic Motor Oil, 5 QT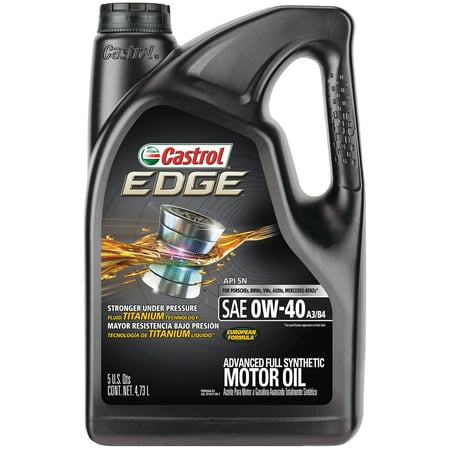 MSRP :

$25.17





Sale :

$24.02

Sold & shipped by Walmart
Product Description

Additional Information

Reviews
Product Description
Castrol EDGE is Castrol's most advanced engine oil. It is a premium full synthetic oil that is designed for consumers who demand the best performance from their cars. Castrol EDGE is recommended by leading car manufacturers. Castrol EDGE is engineered with fluid titanium technology that physically changes the way the oil behaves under pressure. What makes Castrol EDGE the best motor oil for your hardworking engine?As a result of increased demand for performance and fuel economy, pressures in today's engines have almost doubled over the last three decades. Greater pressure means more stress for the oil and the potential for more friction. As metal to metal contact increases, it causes wear and reduces performance. Underneath the hood, the pressure can reach 10 tons per square centimeter. That's like five cars resting on a high heel relying only on a micro thin layer of oil for protection. So you need a strong oil to reduce friction, and to help increase horsepower and fuel economy. To combat the increased pressures faced in today's engines, Castrol EDGE is engineered with fluid titanium technology that physically changes the way the oil behaves under pressure. Castrol's patented titanium technology provides documented performance in friction reduction, anti-wear and deposit control protection. The titanium-based technology ensures performance and strength. Today, many Castrol products are co-engineered by automobile industry leaders such as Volkswagen and Jaguar Land Rover, making Castrol a leading developer and manufacturer of premium motor oils. Refer to the owner's manual for specific viscosity recommendations. If you want the best from your engine, use what is best for your engine. Try Castrol EDGE. It is Titanium Strong for Maximum Engine Performance. Why is synthetic oil better for your engine?All oils are not created the same, in fact there is significant merit to trading up to a full synthetic motor oil. Castrol EDGE, a leading full synthetic motor oil delivers significant performance advantages compared to conventional oils in areas such as thermal stability, volatility performance, and wear protection. Castrol EDGE enables fuel economy and ensures improved performance under the toughest of conditions. Castrol EDGE 0W-40 A3/B4 meets a host of licensing requirements and specifications: API SN, API SM, API SL, API SJ, API CF, ACEA A3/B3, ACEA A3/B4BMW Longlife-01Meets Ford WSS-M2C937-AMB-Approval 229.3/ 229.5Porsche A40VW 502 00/ 505 00 Castrol Engine WarrantyCastrol EDGE protects your vehicle against oil-related engine damage. Register for your free Castrol Engine Warranty here: www.castrolenginewarranty.com Castrol EDGE exceeds engine manufacturer's warranty requirements for applications requiring API SN (excludes 0W-30) and/or ILSAC GF-5, GF-4 and GF-3 (excludes 0W-30, 0W-40 A3/B4, 5W-40, 5W-50 and 10W-40). The 5 QT bottle is ideal for motor oil changes and easy storage. To learn more about Castrol's products and helpful tips, please visit www.castrol.com/us.
Additional Information
Advanced premium full synthetic motor oil to offer strength under extreme pressureTitanium strong for maximum engine performanceReduces metal-to-metal contact across a range of different driving speedsProtects the engine for the entire drain interval even under extreme pressureDecreases engine deposit formation to help maximize engine responseBest full synthetic money can buy
Reviews
great01
the best oil i ever used
I owned a 2007 bmw 335i turbocharged engine with 137,000 miles on it., as per manufacturer recommendation to use mobil 1 0w- 40 motor oil. since I have that car with high mileage, the engine consumed so much oil. for every 90 to 112 miles of driving the oil level always drops to a critical level and I have to add a quart of oil. I checked for any indication of leaks ( valve cover, head gaskets, turbo seals, ) but cant find even a drop of oil on my garage floor. the engine doesn't blow any white smoke. it's kinda weird. I don't know where all the oil I added went. so I researched on any possible solution and read some BMW forum and found an interesting topic about too much oil consumption problem like I have and they pointed out to use Castrol full synthetic European blend 0w-40. sinced I started using this fantastic brand of oil, I never have to add a quart of oil every 90 to 112 miles anymore. it cured my engine problem like a miracle.
jteran5
Excellent oil for the $$$
DON'T BE FOOLED by the other, similar looking Castrol Edge oils. Only the 0wXX oils are the European Formula. This is in my opinion, the best oil to use in your higher performance car. I own a 2014 Subaru STI. This turbocharged vehicle needs a 5w30 oil (as per the manual). However, this is due to emissions regulations and to reflect a higher MPG. A usual 5w30 shears down to a 20 weight oil after some spirited driving. Alot of people recommend the Rotella T6 (which I used religiously in my 2010 STI) which is a VERY good oil as well due to its higher ZDDP content. However, I was looking for a 0w40 oil for the better cold start protection as the rotella t6 only comes in 10w40. It was either the Mobil 0W40 or the Castrol 0w40. I have heard GREAT, GREAT things about the European Castrol 0w30 but wanted the thicker 40-weight for the protection a thicker oil provided (trade off is a slightly lower MPG). I was so happy to see that they finally brought the 40-weight European formula over to the US. Between this and the Mobil 0w40, you really can't go wrong. As far as the product itself, I haven't burned a drop of oil in the 5000 miles I have been using this. I bought my car brand new with 6 miles and at 1000 miles, I changed the oil and used Castrol 0w40. The STI is supposed to burn a quart about every 3750 miles but so far using this, it has been at exactly the same level since fill. This is from driving the turbocharged vehicle aggressively every day. I researched this product and learned that this has a robust additive package that will last all throughout the lifecycle. Since I am driving my vehicle hard, I stick with 3-4k oil changes. However, this oil can last much longer (8-10k OCI's). Until I get a UOA however, I will stick with my 3k intervals.
Tabletuser
Full synthetic oil for BMW.
Since the Mobil1 is no longer BMW Longlife 01 compatible, I found this to be the new oil for my BMWs.
Guzonja
Best oil for the money.
One of the best oils on market for late vw/audi FSI engines. Also great for any other turbocharge, high performance engine. Similar oils with similar specs will cost you double more. And some other parts of the world maybe even three times $ higher. Engine will run quiet and cool... Again 5k miles oci are perfect. For friends with BPY engine codes make sure to check K&N oil filter which is also bargain. 7$ at walmart. Part PS-7010 Thank you
Guzonja
One of the best oil's
Castrol 0-40 is one of the best oils for european and high performance cars. No others come any close. Specially for direct injection engines. In past i used to used 0-30. But this is better. Hope wallmart will keep it on shelfs.