Castrol EDGE Extended Performance 5W-30 Advanced Full Synthetic Motor Oil, 5 QT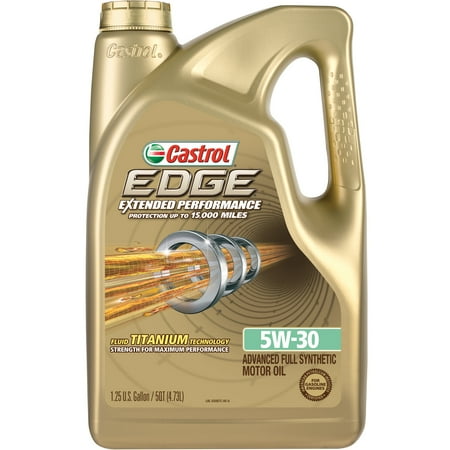 Sale :

$30.78

Sold & shipped by Walmart
Product Description

Additional Information

Reviews
Product Description
Castro 5W30 Edge Extended Performance Motor Oil is an ideal product for your hard-working car or truck. This synthetic motor oil is designed for extended performance and will reduce the degree of wear on your motor's moving parts. It is a Dexos-approved 5W30 that comes in a 5-qt container. Be kind to your engine and get moving smoothly with this fine Dexos motor oil.
Additional Information
15K drain intervals between drain intervals guaranteed*
Recommended for severe applications such as towing and hauling, high-performance driving, frequent short trips or idling
Engineered with fluid titanium technology that offers maximum strength under pressure
Reduces metal-to-metal contact across a range of different driving speeds
Decreases engine deposit formation to help maximize engine response
3X stronger against viscosity breakdown than Mobil 1 Extended Performance**
Best advanced full synthetic money can buy
Reviews
VegasBrat
Still the best
I've been using Castrol full-synthetic oil for over 20 years. I get 7500 miles on an oil change safely when also using a quality filter; OEM or Fram. I have never had any engine problem on a vehicle no matter how hard I drive them. Oh and on occasion I do like to put the pedal through the floor just for kicks. I am so sold on Castrol that if it's not in stock I'll wait until they have some or bring my own. Nothing else will do for me.
kevin04
Good oil
Use this oil in my 2004 Impala with 110K, the engine runs smooth and the temperature decreased almost 15% in the same traffic conditions ..
WMNYC1
Motor Oil
I have used this product before, and it always has provided excellent results. I recommend this product.
Notmyrealname812
Not a Blended oil price should be way more!!!
This is $9.50 a qt most everywhere. I bought 20 qts in 5qt container for $80. Told the cashier at checkout this has to be a mistake $21 a jug??!! No mistake... so off I went. I would have bought more but 4 jugs will last me two years.
Redman
just a average joe
This has to be one of the very top oils on the market..I use it in my truck, car and even in my garden tractor.