Castrol EDGE Extended Performance 5W-20 Full Synthetic Motor Oil, 5 QT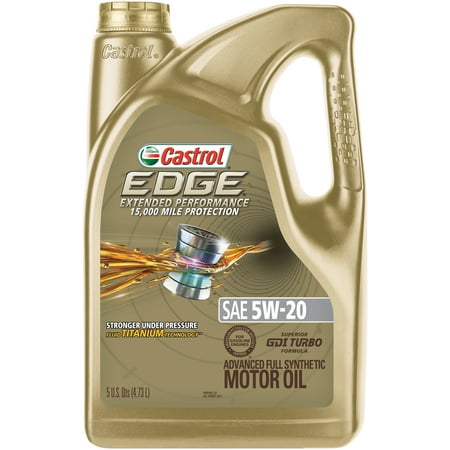 Sale :

$27.67

Sold & shipped by Walmart
Product Description

Additional Information

Reviews
Product Description
For extended protection for cars and trucks that need it most, turn to Castrol 5W20 Edge Extended Performance with Titanium Synthetic Motor Oil. The heavy 5W-20 synthetic product lubricates vital components for up to 15,000 miles. The car motor oil is easy to store and pour. For even more protection, consider adding other automotive products, like liquid engine treatment, that are available separately.
Additional Information
15K drain intervals between drain intervals guaranteed*
Recommended for severe applications such as towing and hauling, high performance driving, frequent short trips or idling
Engineered with fluid titanium technology that offers maximum strength under pressure
Reduces metal-to-metal contact across a range of different driving speeds
Decreases engine deposit formation to help maximize engine response
Best-advanced full synthetic money can buy
GDICompatible - Suitable for use in gasoline direct injection engines (GDI, FSI, SIDI, EcoBoost check your owners manual for details)
Reviews
JoeZOriginal
Castrol 5W20 Edge Extd Perf with Titanium, 5 qt
I have had a 2010 Toyota Corolla since it was new with 0 miles in January 2011, and have used this oil every 5,000 miles since my 1st oil change, except when Toyota used to change it for free for the first 25,000 miles. The engine now has 145,000 miles in December 2015, and the engine sounds as quiet now as it did when new. By the way, I also noticed an increase is gas mileage from 30 MPG when Toyota changed the oil using conventional oil to 32 MPG when I changed the oil using Castrol 5W20 Edge Extended Performance with Titanium Synthetic Motor Oil. So Toyota, why don't you change to Castrol5W20 Edge Extended Performance with Titanium Synthetic Motor Oil ? And Walmart .... suggest that you keep this project in stock at the stores instead of me having to order it online!
JONDOM
Best everyday Jaguar oil in the United States
If you own a Jaguar that's out of warranty and you are tired of paying the dealer $250 to $350 every time you need the oil changed this product seems to be the closest you can find to the Euro spec Castrol that is formulated for these cars and normally comes pre-loaded from the factory. After the warranty was up on my wife's car I searched on-line for the Castrol Edge Professional to do the job myself and found the imported product sells for $19 to $25 per quart...for that price at 7 liters per change I might as well have the dealer continue to service the car. Not to be defeated I continued researching and came across this variant of the product sold here and the U.S. for a fraction of the cost. Since using this I have noticed no change in operation of the car, or changes to mileage - it really seems to be an almost identical product to the Castrol Professional product sold in the UK and Europe. Bottom Line: Mobil 1 does not make a product in the U.S. for Jaguar cars - Castrol does - buy this product.
Jointoll
The best
The best oil in the world. I recommend it a lot.
SAM
High graded Oil
Castrol edge extended performance is very exclusive and high quality oil. I drive Honda civic 2007 before using this oil i used to use honda oil which was good but mileage was 27 per gallon, but after using castrol edge extended oil my car engine was so smooth it felt i was driving Tesla , my car mpg was 32 per gallon now this is my 4 Th oil change and i change once a year as mentioned. I definitely trust this oil compare to other brands trust me. This time Walmart was out of stock so i search for places for 2 hrs then finally paid $40 at pep boys for it, but its worth based on performance.
zeek
Castrol Edge
Some of the best synthetic oil available. I use it on all my vehicles.