Castrol EDGE 5W-30 Advanced Full Synthetic Motor Oil, 5 QT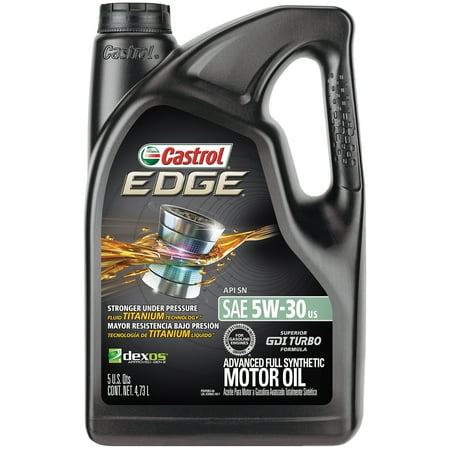 MSRP :

$27.47





Sale :

$22.65

Sold & shipped by Walmart
Product Description

Additional Information

Reviews
Product Description
This oil has the strength for maximum performance.
Additional Information
Advanced premium full synthetic motor oil to offer strength under extreme pressure
Titanium strong for maximum engine performance
Reduces metal-to-metal contact across a range of different driving speeds
Protects the engine for the entire drain interval even under extreme pressure
Decreases engine deposit formation to help maximize engine response
Best full synthetic money can buy
Reviews
JohnS
Always been a good oil
I started using Castrol back in the early 80's and always felt it was a good oil. Now that my Cuze turbo engine requires at least a blend to full synthetic I always use Edge Full synthetic. Now if you insist on changing your oil more frequently say ever 3 to 5 thousand miles, don't bother buying synthetic. Because the advantage won't be noticed and not cost effective. I run at least 8 to 10 thousand miles between oil changes and the oil is not breaking down. This is the advantage of synthetic to extend drain intervals. Turbo engines especially need oil that holds up under high heat conditions. I've seen the effects of people that put cheap oil in turbo's and face early engine or turbo failures. Not cheap to replace a turbo. Even non turbo engines today run harder and are typically filled at factory with synthetic oil.
LawDH
What can I say?
Let's see. I have changed the oil in my Father's cars since the 60s. And now mine. We used to use the Pennzoil 30 weight back in the day, but since Castro Syntec came around, I use nothing else. I only have two examples since I drive my vehicles till the wheels fall off. 1. Brand new 1989 Geo Metro with a 3 cylinder Susuki motorcycle engine. I think I would still be driving that car now, if in the 2000s, two hurricanes didn't attack and kill my car while it was parked in Fort Pierce when I was riding a ship for the Air Force in the western Pacific. It had over 270K when they towed it away. My Father gave me his 1995 Lincoln Towncar since he wanted to upgrade my Mother's car before he died. It now has over 355K and runs great still! Take care of you car and you will get your money's worth. As they say: "Mike Drop"
JoelSL
Castrol Synthetic
Castrol is the best oil I have ever used.
Thrifty1
Castrol is the best!
Great product and price at around $23 for the 5Qt container. I've used Castrol products for about 30 years now and by changing my oil on a regular schedule I've had no internal engine problems at all.
oasisfor4
The Best
This is the best oil that is out there. I have a 2013 GMC Sierra and I want it to last a long time. Quality oil and Filter is key. I change the oil & filter every 5000 miles even though it states you can go much more. I use K & N Oil Filter specifically designed for Full Synthetic oil. You will spend a little more but my truck is worth it.