Castrol GTX ULTRACLEAN 5W-30 Motor Oil, 5 QT.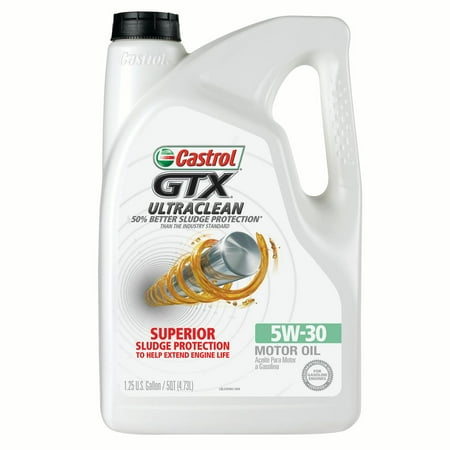 MSRP :

$106.88





Sale :

$15.98

Sold & shipped by Walmart
Product Description

Additional Information

Reviews
Product Description
The modern world creates difficult challenges for engines. Poor fuel quality, heat and tough driving conditions can all lead to sludge that potentially shortens engine life. Sludge is a sticky deposit that builds up in an engine's oil-ways and it can prevent the oil from protecting the engine.Castrol GTX ULTRACLEAN - with its proprietary sludge buster - is our cleanest GTX ever. Its unique Double Action formula cleans away old sludge** and protects against new sludge formation, giving you more control over today's challenging conditions.Help extend the life of your engine with GTX ULTRACLEAN.Castrol GTX ULTRACLEAN also delivers:• 50% superior sludge protection compared to tough industry standards*• Advanced protection against viscosity and thermal breakdown• Superior protection against high-temperature deposits• Premium quality base oils and anti-wear additives that help extend the life of your engine* 50% cleaner than the industry standard as measured in the Seq. VG Sludge test** When tested in engines with high level of sludgeProduct Performance Claims: API SN, ILSAC GF-5, Meets - Ford WSS-M2C945-A Exceeds manufacturer's warranty requirements for applications requiring API SN (Resource Conserving) and ILSAC GF- 5.
Additional Information
Helps extend engine life
Castrol GTX ULTRACLEAN with its proprietary sludge buster - is our cleanest GTX ever
Reviews
USARMYMSTRSG
Castrol GTX
Castrol GTX was my go to oil sense 1985 until 2013 when I was walking around Walmart with a jug of this oil in my hand @ was advised to smell it by another customer he said it smelled like burnt clutch witch it did to my surprise he advised me to get the Pennzoil to make a long story short save @ buy Supper Teck oil been running it ever sense w no problems @ there synthetic is way better than this stuff sorry been tuning wrenches for 25years @ my father swore by Castrol...
BigDaddyP
Good stuff
It was nice and oily
Desmo
Good stuff
This ia the only oil we use in our vehicles. We live 50 miles from the closest store for a very decent price so I always buy it online and have it delivered. Saves me a whole day trip and Walmart price is afforadble
Tull151
Best conventional oil out there
I've changed my oil regularly, including the filter and my 1994 Ford Ranger just hit 300,000 miles, and I never have to add oil between changes. Does it get any better than this. This oil is $ 5 a quart at all the auto parts stores I've checked .
BobbyZ1960
Great price...
What a great price, Autozone, Advanced Auto, O'Reillys would not even match the Wal-Mart price. They all said "We don't match Wal-Mart".