Castrol GTX 20W-50 Conventional Motor Oil, 5 QT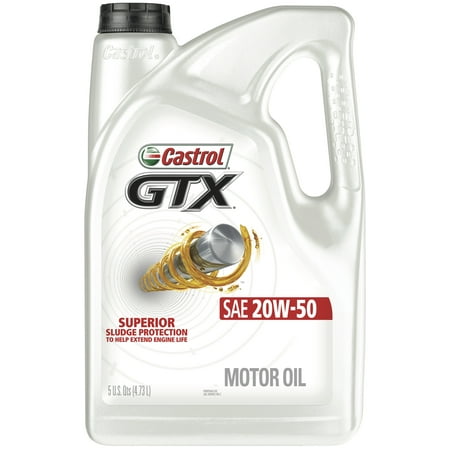 MSRP :

$18.96





Sale :

$18.92

Sold & shipped by Walmart
Product Description

Additional Information

Reviews
Product Description
This Castrol GTX 20W-50 Conventional Motor Oil utilizes custom-made additives that actively fight particle build-up in car engines and provide ultra-low friction to ensure that you get the best possible gas mileage. It provides ultra-low friction to improve gas mileage in 5W20, 5W30, and 10W30 grades. The GTX motor oil ensures maximum protection against viscosity and thermal breakdown. This is the most advanced conventional oil you can buy utilizes most advances deposit-fighting ingredients. Keep this dependable oil handy for your next oil change. The Castrol GTX 20W-50 Conventional Motor Oil is sure to please when you are looking for a long-lasting product to get the job done.
Additional Information
Castrol GTX 20W-50 Conventional Motor Oil, 5 QT
Castrol GTX Double Action formula cleans away old sludge*, and protects against new sludge formation better than tough industry standards
Superior protection against engine sludge**
Reviews
Sleeper937
Who decides Inventory for these stores ???
This is a great oil at a Great price ! , Unfortunately NON of the five Walmart's close to me carrie it ?? I would have to travel close to 30miles to the closest Walmart that does carrie it SMH ! I guess the closer Auto Parts store wins my business, as it saves on gas and time to purchase from them instead. Also online ordering was not available for this item at the time I wrote this review.
FelineFather
Best oil ever.
This is the best oil ever. I really believe that this oil protects my engine and my car loves it too.
imsteveh
MMM...Good
It would be nice to have 20W50 available at more locations. I have to drive past two super centers to get to the nearest Walmart location that carries it. This is my choice for summer operation in my motorcycle (dry clutch) and for the hydraulic system of my zero-turn mower. But I have been thinking about changing to 15W40 for the motorcycle since it is easier to find.
OhioSlingShot
Castrol 20w50
If you are looking for a good racing oil at a price no one can touch, this is it. I bought 2 5 qt jugs for the price that most ask for one. GREAT DEAL!!!!!
chevrolettahoe
2004 chevrolet tahoe 5.3 167k miles
my tahoe started knocking at idle around 150k miles i was scared to use 20w50 over recomended weight 5w30 i used this 20w50 gtx oil and no more knocking or any wierd lifter noise runs smooth for the last 17k miles as long this oil keeping my engine in good working with no noises im sticking with it and it also help keep oil pressure above 40 psi. thank you castrol gtx 20w50 you saved me an engine rebuild.