Equate Creamy Milk Chocolate Meal Replacement Shake, 11 fl oz, 12 count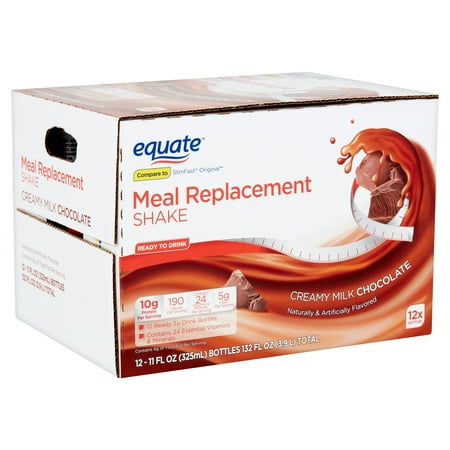 Sale :

$13.99

Sold & shipped by Walmart
Product Description

Additional Information

Reviews
Product Description
Meet your daily nutritional needs all in one delicious drink with the Equate Creamy Milk Chocolate Meal Replacement Shake. This value pack comes with twelve quick and easy, ready-to-drink, gluten-free shakes. Each one contains 24 essential vitamins and minerals, 10 grams of protein, and 5 grams of fiber. You're also getting over half of your daily vitamin C, riboflavin, vitamin B6, phosphorus, and selenium in every serving. The smooth and creamy milk chocolate flavor tastes like a treat while at the same time helping you to crush cravings and feel full all day long. Use it as a post-workout beverage, or take it with you for a quick lunch at the office for those busy work days. Living a healthy lifestyle doesn't have to be hard - make the smart, nutritious choice with the Equate Creamy Milk Chocolate Meal Replacement Shake.
Additional Information
12 meal replacement shakesCreamy milk chocolate flavorGluten free24 essential vitamins and minerals10 grams of protein per serving5 grams of fiber per serving
Reviews
raygmcd
results!!
used them for 6 month. 2 shakes a day, 1 meal, and 2 snacks. I lost over 50 pounds. I went from 210 to 155. I still use them occasionally to fill in for bfast. they taste better than slim fast imo
Patty
Love it!
I don't always eat as healthy as I should, but I feel good about drinking my creamy milk chocolate Equate Shake everyday. I have been for years. That's my lunch. When I watch what I eat, I can lose weight by including Equate daily. Otherwise, my Equate Shakes help me balance what I eat without counting calories. I like having a quick lunch and by drinking my Equate, I feel I'm getting a balanced meal, but also indulging! I enjoy my Equate Shake lunch everyday and look forward to it. A day without my Equate Shake is like a day without sunshine. So very satisfying!
WilliamE
Not bad for the pricer, buy in store though.
The shakes are fairly tasty, but even the Milk Chocolate ones come in metal cans, and the cans get torn up during shipping. I ordered four cases and they shipped all four in one box, the box was on my porch half falling apart... I opened it to find loose cans all over the inside of the box, and I have yet to find a can that was not dented, luckily none busted open! Buy these in store, or maybe try ordering one case at a time, as they are not well protected while shipped. I'd have given 3 maybe 4 stars if my box did not look like this, which I blame both Walmart and the shipper, there could have been more protection in the box, and they could have split the order into two boxes.
Nicky
Great Product for your money!
I started using the replacement shakes, January of this year (2018). So far, I have lost a total of 53 lbs. of course with the help of the shakes, exercise, and eating healthier. What I like about the shakes is the taste, when I can add ice to make it a shake, it makes it feel like a full breakfast and lunch. I have tried a few other more expensive shake mixes and gotten similar results. Plus, from research they've seemed to have had about the same nutritional value as well. Lastly, I just enjoy the fact that, right now, I'm not having to worry about what I'm eating for breakfast and lunch. I can just throw this quick shake together and go.
therica
old style chalky taste
The flavor is nice but this flavor also has that old style chalky taste. The Chocolate Royale flavor is much better. Make sure you chill these cans before drinking, just like they instruct. It helps to get rid of that chalky taste but not in this flavor, unfortunately. Also note the relatively high amount of Carbohydrates! These are definitely not for someone who has to watch Glucose intake such as diabetics. The Equate brand of "Weight Loss Shakes" aren't really a good choice for weight loss because of the high amount of Carbohydrates, especially the Sugar content. A lot of the Sugar content is from Fructose, and you can read all the warnings online about Fructose. You're better off just having Sugar! And if you're trying to lose weight you really don't want that much Sugar to begin with. These Equate shakes are more for someone who needs to drink a quick meal in a can. They give you a basic nutritional meal. The only way you lose weight by drinking these is by not eating anything else.