Great Value Coffee Creamer, Original, 35.3 oz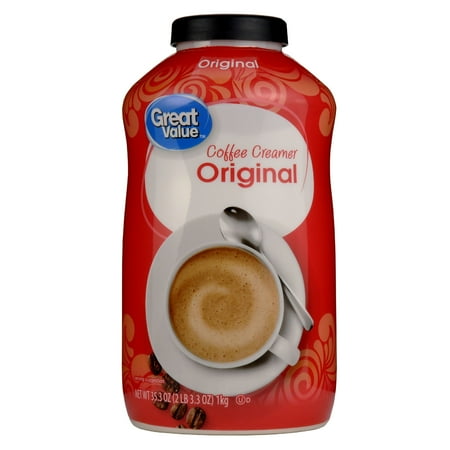 Sale :

$3.98

Sold & shipped by Walmart
Product Description

Additional Information

Reviews
Product Description
Great Value Non-Dairy Coffee Creamer adds rich, creamy flavor to your coffee. This lactose-free coffee creamer does not require refrigeration, making it a good choice for office break rooms and to keep on hand for guests. Great Value coffee creamer comes in a generous 35.3-ounce package. Enjoy a deliciously rich, creamy cup of coffee anytime with this non-dairy creamer.
Additional Information
Great Value Coffee Creamer, Original:
Non-dairy creamer
Kosher
Sugar-free
Net weight 35.3 oz
Reviews
SarahW
Change in flavor
Something has been changed recently with the flavor of the creamer. I've been buying great value creamer for years. My husband and I have tried all kinds of brands but great value had the best taste by far. So much to my surprise and unhappiness in the last month or so I have noticed a change in flavor. It almost tastes like almonds. If I wanted a flavored creamer I would buy it. NOT happy at all. At first I thought it was me, but my husband has noticed the difference as well. Needless to say we wont be buying this anymore. Hopefully walmart will realize the mistake and have it changed back. If not I think they'll have a lot of unhappy coffee drinkers on their hands.
Merman
Used to be our go to creamer
We have bought this creamer for sometime. It usually tastes great and dissolves fine. We recently bought a new package and loaded our container. We had changed back to Givalia Columbian coffee and enjoyed it as before. We bought a new pound of coffee and the creamer at the same time. Next batch of coffee tasted like a vanilla flavored breakfast coffee. We drink a lot of coffee but flavored varieties are not ones we like or even will try. We like sweet coffee with creamer...that's it. We blamed the coffee since the creamer has never been anything but good. Well, another pound of coffee from another store and it still tasted like vanilla ice cream. Used some CoffeMate we had in the fridge and the correct taste came back. The creamer is funky and not what it used to be. We wont be going back. I think the product has changed. And not to our liking.
xcskier
Awful taste
My wife and I have used and enjoyed this product for years. The powder in the last four bottles was discolored and the taste was awful. We had to throw it out. Now we are hesitant to purchase anymore. Does anyone know if the formulation has been changed?
Sndeebear
What did they do?
Iv also been using this for Over 15 years. I would go out of my way to get this creamer only. Never using another product. What did you all do? This taste is horrible. It's not doable at all. I thought my kids were playing a joke on me by adding crapp creamer to my container. Yet nope. I went to Walmart. Bought 2 more and yes. The same nasty taste. Coke on. Coffee isn't the samr anymore . Please fix whatever you did. I will no longer be purchasing this and that goes for all my family and friends. Nasty!!
disneyokw
taste has changed
I have used this creamer for many years and I'm so disappointed that it has been changed. I threw out 2 cups of coffee before I realized that it was the creamer that tasted bad. I will now have to find another brand to take it's place.