Great Value Coffee Creamer, Original, 35.3 fl oz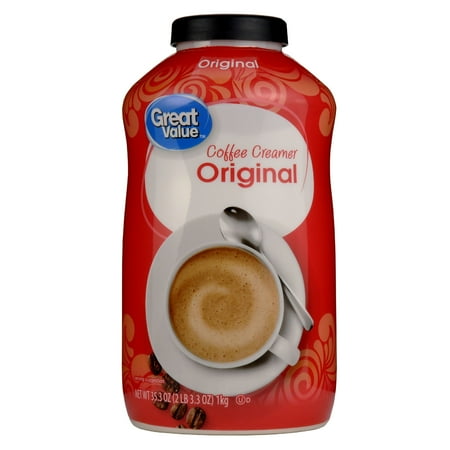 MSRP :

$3.98





Sale :

$3.82

Sold & shipped by Walmart
Product Description

Additional Information

Reviews
Product Description
Great Value Non-Dairy Coffee Creamer adds rich, creamy flavor to your coffee. This lactose-free coffee creamer does not require refrigeration, making it a good choice for office break rooms and to keep on hand for guests. Great Value coffee creamer comes in a generous 35.3-ounce package. Enjoy a deliciously rich, creamy cup of coffee anytime with this non-dairy creamer.
Additional Information
Great Value Coffee Creamer, Original:
Non-dairy creamer
Kosher
Sugar-free
Net weight 35.3 oz
Reviews
J
Something has CHANGED
I also have bean only using the Walmart brand coffee creamer. It was the best tasteing. However the last month or so something has changed big time. The ingredients look the same,not that I memorized them but the taste and color is different. Please go back to the way it was before. Also the coffee creamer doesn't dissolve as well as it used to. I stir it very well and I will get these clumps that pop up and won't dissolve. What's up with that Walmart? It never had that problem. I think maybe you have changed to a cheaper main ingredient to save money not realizing how much you would effect the product. I urge you to bring back the original product and stop penny pinching. I'm not the only one that's noticed by the looks of these reviews
Bearjoy
Flavor changed
I used to drink coffee with the cream. However, it has changed flavor a little bit. Personally, I don't like it.
Bearjoy
New and improved? NEW AND NASTY!
I thought there was something wrong with my taste buds! This was my favorite nondairy creamer! And I was thrilled that there was an even bigger container to purchase! I even carry it with me when I go somewhere overnight. I have even gotten family to change from coffee mate to Walmart brand. I googled to see if Walmart had changed the formula, and sure enough there it was! Everyone hates it! I saw comments all the way back to 2015. Georgia must have been lucky and still had the good stuff on the shelves till this month (September 2016)! If y'all can't go back to the good flavor, I won't be buying it anymore. And by the comments I've read, you may have a lot of creamer sitting on the shelves! What a shame when you have a fantastic product that beats the pants off coffee mate and you let someone change it! I wouldn't feed this "New And Improved" to my enemy!
Merman
Used to be our go to creamer
We have bought this creamer for sometime. It usually tastes great and dissolves fine. We recently bought a new package and loaded our container. We had changed back to Givalia Columbian coffee and enjoyed it as before. We bought a new pound of coffee and the creamer at the same time. Next batch of coffee tasted like a vanilla flavored breakfast coffee. We drink a lot of coffee but flavored varieties are not ones we like or even will try. We like sweet coffee with creamer...that's it. We blamed the coffee since the creamer has never been anything but good. Well, another pound of coffee from another store and it still tasted like vanilla ice cream. Used some CoffeMate we had in the fridge and the correct taste came back. The creamer is funky and not what it used to be. We wont be going back. I think the product has changed. And not to our liking.
SeriesCoffeeDrinker
Nasty Change in flavor
We used to purchase this item or Kroger's generic brand depending on where we shopped. We noticed a horrible flavor change in the Kroger product so we went and bought this brand instead at Wal-Mart. Guess what? Same nasty flavor. I don't know if Wal-Mart and Kroger use the same manufacturer for this product, but the product in the container is exactly the same. It was before and it is after so someone changed how this product is made and it was NOT a good change. I guess we should purchase stock in Nestle because Coffee Mate is now the only decent tasting creamer on the market. What is sad, before the nasty flavor change, I preferred this brand's taste over the more expensive Coffee Mate. Please, please undo the recipe change and put it back the way it was. Not all change is for the better.