Great Value Quick Oats, 42 oz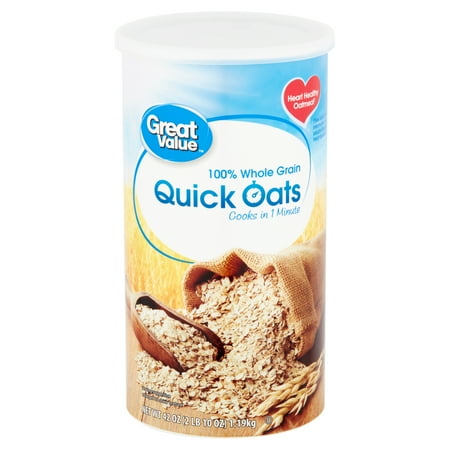 Sale :

$2.48

Sold & shipped by Walmart
Product Description

Additional Information

Reviews
Product Description
Treat your family to a healthy and hearty breakfast every morning with Great Value Oven Toasted Quick Oats. The quick oats are fast and easy to prepare. Simply add milk or water and heat, for a piping hot bowl of delicious oatmeal in minutes. Add your favorite fruits or nuts according to your individual preference. The whole grain oats can also be used as a tasty, healthy ingredient in many recipes. The Great Value Quick Oats come packaged in a 42-ounce canister.
Additional Information
0g trans-fat per serving
Cooks in 1 minute
Heart healthy
42oz container
Microwavable oven-toasted oats
100% natural oats
Reviews
shankargb
Weight Loss food
I prep my oatmeal in Asian (East Indian) way. I take one-third to half a cup of Quick Oats and pour in a bowel. Add just above equivalent quantity of hot water and allow it stand still for 3 minutes. In those 3 minutes, it cooks itself well by absorbing the hot water. Then I mix it well. Then I add 1/2 to 3/4 cups of Yogurt/ Indian curd (Indian Dahi) to the mix and also pinch of Himalayan salt and again mix it well. This is a low calorie food and it keep me hunger free for 8 to 12 hours. This food is good for weight loss. I have lost about 6 pounds so far with this diet.
FatherRad
Truly a great value
This is one of the most cost effective food items you can buy. It is my every morning breakfast. I use a dry measure 1/2 cup with 8 oz of water in a microwave oven safe bowl. On high heat for one minute, stir well, another minute on high for total of two minutes. I then stir in 3 teaspoons of Texas honey and enjoy my oatmeal with a glass of Great Value V8 juice. Good nutrition with a total of about 250 calories. Oatmeal is one of God's great gifts to his children. I remember my mother cooking the original Quaker Oatmeal on our wood stove in my preteen and teen age years 1930s and 40s. It continues to work well in this 88 year old severely-cardiac-damaged patient.
GooplusplusCom
Buy it in store, not online unless you want a mess
The packing geniuses, placed this thin-paper tubular container of oatmeal on the bottom of a fairly heavy shipping box. Results were predictable - a huge mess. Although I could not see it upon first opening the shipping box (it was on the bottom), half of the oatmeal in the smashed container was clinging to the edges or between the other grocery contents. When removed it made a white powdery mess all over my clothes, my bedding and carpet. I will never buy this online again. One has to assume that basic logic plays little role in determining what goes on the bottom, top and middle of Walmart shipments.
btaubr
What can I say. It's oatmeal
I ordered a number of boxes of both the quick oats and the regular oatmeal for a total of 15 in all. They arrived in a total of two or three boxes as I recall. As the FedEx delivery man was bring the boxes up to my front door he was leaving a trail of oatmeal from his truck to my front porch as oat meal trickled out of the corners of the corrugated card board boxes -- not a good sign. Although the oatmeal boxes were packed with brown paper to take up the extra room, almost half of the boxes were crushed and the oat meal had spilled out. Out of 15 boxes 7 were ruined. I managed to collect most of the spilled oatmeal into one-gallon plastic zip-lock bags. Overall the situation did not give me a warm and fuzzy feeling. I have ordered from Walmart in the past on a regular basis and have never had a problem with damages. This was the exception to the rule I guess.
jmjinthedesert
Item great; packing terrible
I have ordered multiple containers of GV oatmeal during the past several months. Two out of three shipments have arrived to my door seriously damaged with oats leaking out of the box from the broken containers within. Even the postman said they had some sweeping to do when the box arrived to them. The majority of the boxes were broken open in each shipment with the cereal emptied into the shipping box. Good thing I have chickens to consume what would otherwise have been wasted. Whoever packs these boxes seems to think that cramming the cylindrical oatmeal containers in together with no separation or padding is a very good idea. They also seem to favor packing something heavy in with the oatmeal boxes....I guess this is a product better purchased on my occasional trips to the next town, IF there is any on the shelves, but that's a whole other story.