Great Value Old Fashioned Oats, 42 oz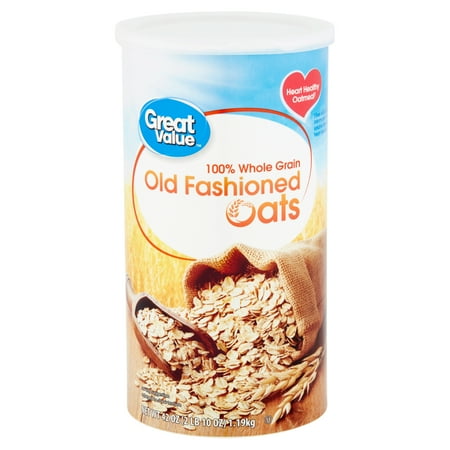 MSRP :

$2.71





Sale :

$2.48

Sold & shipped by Walmart
Product Description

Additional Information

Reviews
Product Description
Serve up a healthy, filling and satisfying breakfast with Great Value Oats. There is one simple ingredient in these old fashioned oats, and that is the oats themselves. These natural, oven-toasted rolled oats are delicious alone or when mixed with fruit or brown sugar, or with other toppings of your choice. Great Value Oats are simple and easy to prepare on the stovetop or in the microwave. Great Value Oats provide five grams of protein and four grams of dietary fiber per serving to keep you fueled all morning long. Great Value Oats are also completely free of cholesterol, sodium and trans fats. This 42 oz package of old fashioned oats will make many healthy, energizing breakfasts for you and your family.
Additional Information
100% whole grain rolled oats
Low in saturated fat and cholesterol
Great for baking and cooking
42oz canister
Reviews
Damaris
Great Value: Oven-Toasted Old Fashioned Oats
This is a very good item, at $2.48 for 42 Oz. The quality in consistency and flavor are as good as the expensive brands such as Quaker Oats.
GuitarSlim
Great value, but poor packaging
great value indeed, a very fine item, generic and probably blindfolded no different than the name brands. I think part of the savings that is passed onto us comes from cheaper packaging by whoever makes this for Walmart. And so, like several others here said, my oatmeal came to me in a broken packaging with oatmeal all over the place! I have never set foot in a Walmart store but am an avid online Walmart shopper… and love it! I have had to drop this item and now opt for the great deal they offer on Bob's Oats. I wish they would perhaps bag the container the oats come in with a piece of tape over the top, as they do with several other items that are apt to break or burst in transit. A great item, and surely worth buying if you are at Walmart, but online this has become a risky purchase that I have had to eliminate. Not a real big deal though with all the great options here on the Walmart site, but I love a good deal and this is up there with the best of 'em...
este
Oats good Poor packing
i can't believe what a poor job Walmart does in packing food items for shipping. Once again oats were open all over everything in the box. I order these things from Walmart.com so for convenience, and price plus I have Mypoints. If I complain and you make good on it I loose all points for the whole order... not fair it is Walmart not me to blame. At least you are separating out items so less different things are ruined. Since this order I ordered 2 jars of mayonnaise = they were in a plastic bag, thank heavens because the seal on one jar was broken and both jars were covered with mayonnaise. Before this order I have gotten cartons of chicken broth where all of the spouts for the containers were loose in the box and one had opened over everything. Your boxes are sturdy but too big. When I pack things for shipping I put packing between items and on top - Walmart is just putting packing paper on top that is why everything is shaking around in the box crashing into each other. i may give you one last chance, or may be not.
InHisServiceToo
Canisters Must Be Taped Prior to Shipping
Great Value oats are as good as the brand name oats and the price is great. I've ordered oats online three times. For two of the orders the plastic caps were taped securely to the canisters and all went fairly well during shipping; there were a few dents in the canisters but the paper seal at the top of the canister remained intact. For one order the caps were not taped to the canisters; during shipping the plastic lids popped off, the paper seal broke and oats went everywhere. I wish packing methods were consistent, especially sticking with easy methods that work.
busterBrown
Great Product but was packaged terrible
The product is Great, but when it was shipped, 5 oatmeal tubes were put at the bottom of the box and a 4 can pack of black beans were dropped on top, then a 4 pack of canned tuna was dropped on top, then a 4 can pack of canned corn was dropped on top---Smashing the oatmeal boxes open (what a mess) and smashed some of the creamer containers that were in the same box. Who ever packed this had no common sense. I would say it was poor training but you can't train common sense. I know I could probable go to a store and exchange it, but why be aggravated. Product Great, Packaging a disaster.