Great Value Economy Paper Plates, 9", 300 Count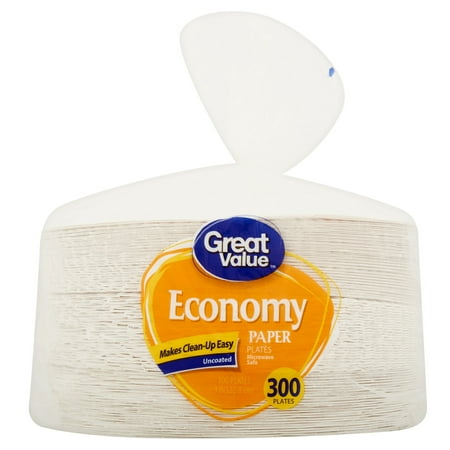 Sale :

$6.92

Sold & shipped by Walmart
Product Description

Additional Information

Reviews
Product Description
Additional Information
Product Features
Makes clean-up easy
Uncoated
Microwave safe
walmart.com/greatvalue
Reviews
mrblueu
How I use these thin paper plates
At this point in time, you get 300 paper plates for less than 6 dollars. They are as stated, paper plates. I buy these on a regular basis because they have a ton of uses. For starters, you can purchase paper plate holders at walmart also, for only a buck or two. By using paper plate holders with these thin paper plates, you'll far better with your food on the plate. I primarily use them for non-cooked food, if you will. Sandwiches and chips. Cake. Pie such as pecan pie or cheesecake. Raw vegetables. Fruit such as sliced apple. I also use them some times as a cover. Cover for food when cooking in the microwave. Ever heat up something saucy in the microwave? They make a great cover for that and you don't have a mess to clean in the microwave nor a cover to wash since you used a toss away paper plate. I also use them as a grease/oil absorber when I cook something such as bacon, I put the paper plate on a real dish plate, to help absorb the grease. There really is many uses for these and at less than .2 cents a plate, they're more than worth having in my house. IF you are planning on serving Christmas dinner on paper plates, these are probably not what you'll want.
ljinvirginia
good for the money - but a bit thin
They are a little thin so we often have to use 2 at a time for strength and so they don't leak through.
Manchesterman56
Good value
Cheap paper plate but it suits my needs. I'm a single guy and hate doing dishes so paper plates is all I use
cccsc
inexpensive, lightweight paper plates
These paper plates are fine for very lightweight & dry items only. These do not have any type of coating, so they will soak through quickly. I believe that Sams Club sells a similar lightweight paper plate, but the Sam's one has a light coating to slow down the soak through a little. These paper plates are very thin/flimsy, so if you put something a little heavier than potato chips, you'll need a sturdy plate or basket below it. But for the inexepensive price, it's fine and what you should expect. To separate them easily, "fan" a handful of the stack, otherwise you'll have several plates stuck together. If you need paper plates to hold heavier or more greasy/liquid items or need to cut on the plate with a knife, you'll be better off with the more expensive but heavy duty Dixie or Chinet type paper plates with coating instead of these.
mmf31289
Very handy to have around
Paper plates are great for the microwave, prepping vegetables, snacks, and even craft projects with my kids. This is a great deal and 300 plates go a long way.