Great Value Pure Cane Sugar, 4 lbs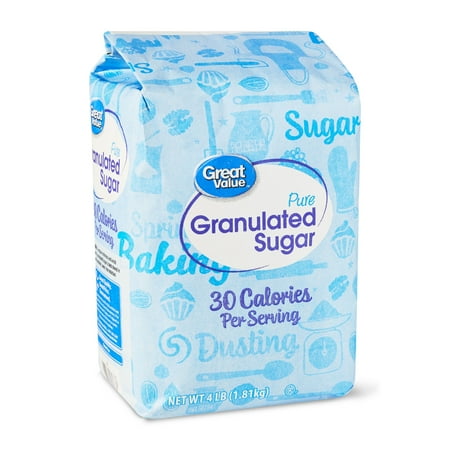 Sale :

$2.24

Sold & shipped by Walmart
Product Description

Additional Information

Reviews
Product Description
Great Value Pure Granulated Sugar is an essential addition to your kitchen pantry. This granulated sugar has a wonderful rich flavor, contains only 30 calories per serving, and can be added to a variety of food and beverages. Try adding some into your morning coffee or tea, sprinkling onto your cereal or oatmeal, dusting on top of your favorite desserts, or incorporating into your favorite baking recipes. The convenient 10-pound bag is the perfect size to fulfill all your baking needs and fit nicely into your pantry. Reach for Great Value Pure Granulated Sugar and add a touch of sweetness to your day!Great Value products provide families with affordable, high-quality grocery and household consumable options. With our wide range of product categories spanning grocery and household consumables, we offer you a variety of products for your family's needs. Our products are conveniently available online and in Walmart stores nationwide, allowing you to stock up and save money at the same time.
Additional Information

Great Value Pure Cane Sugar, 4 lbs:

Naturally gluten-free food
Gluten-free sugar is granulated
Kosher baking sugar
4-lb bag
Use to sweeten your beverages
Use in your dessert baking such as cookies.
Reviews
Raz
Sugar not so Sweet!
I ordered 13 bags of this sugar to make sugar syrup to feed my honey bees. Most of the packages had been opened and the sealed shut with packaging tape. sugar had spilled out past the tape and was all over the box. I weighed a few of the resealed bags and they were under 4 LBs. I know they didn't rip during shipment because of the packaging tape. I'm very disappointing in Walmart.
Bella
Much Older Shelf Item Than Store Product
so I decided to place an order online for several packages for volume baking i was planning (I don't drive and so, I was only able to pick up one bag (exp date 2020) in the store to try, and it's labeled as pure can sugar-and worked out very well) This review has to do with the fact that I received a product from the online store that was a year older than what is currently being sold in stores-- The fact that the bags we received were 'over a-year-old' with a DIFFERENT expiration date (exp Jan 2019) than the one purchased in person from the W-store (exp 2020) -- was very unsettling -- And on top of worrying that i would have to take a cab to exchange this year old/stale batch for a fresh batch with current expiration dates --but Walmart customer service was super helpful and assured me that they would re-order the items and double check the expiration date also. So while I was super disappointed I hopefully will receive the order in time to bake for the event as planned and then update on performance of the product. But it's best to buy food items in person only as you can't see the expiration dates online--
Delicious
Ideal for all your sugar needs.
The price of this less refined sugar cannot be beat. It is delicious and my homemade blackberry jam is the best ever this year because of it! I find that I use a little less because of the rich flavor. If you are budget and health conscious it is a good choice.
Beekeeper
Shipping needs work
The sugar product is great, but I'll never order the 4 lb bag online again. We use sugar to supplement feed our bee hives during low nectar flows, and we normally purchase the 25 lb bag. It was out of stock, so I ordered 16 of the 4 lb size. Apparently many of the bags had opened before shipping, because six of the bags were taped shut and two of the bags were missing about half of the sugar. The shipping department taped the bags shut anyway and sent them to me as a whole bag. During shipping a seventh bag opened and dumped sugar all over the box. I've never had issues with ordering the 25 lb bag.
Kate
Why pay more?
Just as good as name brand and kind to my wallet!