Ol' Roy Soft & Moist Beef & Cheese Flavor Dog Food, 72 Oz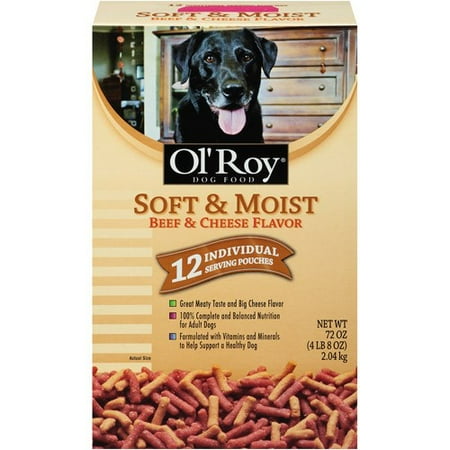 Sale :

$3.83

Sold & shipped by Walmart
Product Description

Additional Information

Reviews
Product Description
Ol' Roy(R) Soft & Moist Beef & Cheese Flavored Dog Food helps satisfy your dog's craving for tasty beef flavor and yummy cheese. This moist and chewy meal treat has is packed with beef & cheese flavor. Plus, we've added vitamins and minerals for 100% balanced nutrition for adult dogs.

Sam Walton loved his dogs. Especially his favorite bird dog Ol' Roy. "Roy was more of a pet than a bird dog," Sam used to say, "and I treated him like family." So, when Sam developed the dog food that would carry his dog's name, he didn't settle for anything but the best. We know you love your dog as much as Sam loved Ol' Roy, so we never compromise on quality to sell for less. You know quality and value. Dogs know what tastes good. That's why Ol' Roy(R) is the largest selling dog food brand in the country.
Additional Information
Reviews
TheKing
Only food my picky dog eats
I have 3 dogs ranging from 12 down to 1. My 1 year old is a rescue. He came to me with some health problems and behavioral issues. He would not eat the first few days he was here. I am a big stickler on buying my dogs the best and honestly the ingredients are something I have always been scared away from. After he began losing weight and I took him to the vet to make sure he was not sick or had dental problems (his teeth are in amazing shape actually), I decided to try a bag my neighbor had. He ate the whole bag in minutes! This must have been what his previous owners fed him. It is the only thing he will eat. Not even can food or home cooked dog food made him perky. He is now putting on weight and just as happy as ever. My other dogs are not fed this but I am very pleased it has made him so much happier!
BetsyWetsy
My finicky dog hates everything
She turns her nose up to any and all dog food. When I do find one she'll eat it's a one time deal never eat a second time. She's convinced she has to eat people food and I indulged her mostly just to get her to eat or starve but I know it's not healthy and she's turning into a butterball. I found this one with cheese and so far the challenge is getting her started but once she does she gobbles it up and not hungry the rest of the day. She is acting better, full of energy and maybe she'll lose some weight and its been almost a week of nothing but dog food in her dish. Thank goodness for a dog food she will eat. I'm thrilled.
christmastime37
OL ROY
I HAVE OLDER DOGS THAT HAVE LOST ALOT OF THERE TEETH;AND THEY LOVE THIS FOOD AND ITS EASY FOR THEM TO CHEW.
vortex1x
OL ROY
I would recommend this to anyone with a small (under 15lbs) dog. 1 packet with a little moist food. Clean up is simple, no recycling required.
dd6833
I have 3 small dogs and 1 German Shepard
All my dogs love this soft dog food, matter of fact they all love Ole Roy products, the dog biscuts are favored over Milk Bone