Hyper Tough 120 Volt Inflator HT031701C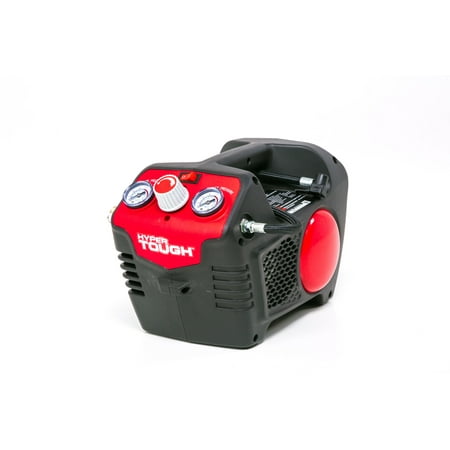 MSRP :

$49.88





Sale :

$13.99

Sold & shipped by Walmart
Product Description

Additional Information

Reviews
Product Description
The Hyper Tough 120V Inflator HT031701C is a light and portable inflator designed with convenience in mind. It has an oil-free pump, so you don't have to keep up with maintenance. The Hyper Tough inflator also has easy-to-read gauges on the front, so you don't have to struggle to see the PSI of whatever it is you're filling. Each gauge is labeled, so you know what PSI you're looking at, and the knob is labeled, so you can tell how to increase air flow. With a 0.5-gal tank and a convenient carrying handle, this tool is easy to store and carry with you for light jobs. It can be used for various small household tasks such as inflating tires, inflatable games or pool float type products. This portable inflator has an integrated pump and motor design so everything is all in one machine. Just grab it and go and you're ready to start blowing air into all of your inflatables.
Additional Information
Hyper Tough 120 Volt Inflator HT031701C:0.5-gal tank.33 HP -2.6A motor115 max PSI working pressure0.7 SCFM at 40 PSI0.5 SCFM at 90 PSIOil-free pump for less maintenanceIntegrated pump and motor designHyper tough inflator is light and portableEasy-to-read pressure gauges
Reviews
TechZombie
Hose not permanently attached.
Does not vibe with a quick connect. But seemingly permanently attached house sure is replaceable with a quick connect (male 1/4 inch NPT quick connect). See photo. Underpowered to call it a compressor. But does well for pool toys, balloons, small air brush (think facial brush). Quiet and well built and way more usable after replacing the house with a QC. For $10 it's a keeper.
texasT
No guts
Works great for inflating bikes and lawn tractor tires, but forget it with cars and ttrucks. I let the tank reach full pressure then adjust the outlet to abt 40psi before attching to the car. Within seconds the pressure gauges are both under 30psi and the pump can't build pressure. i had to disconnect, close the outlet valve then let the tank build pressure again. Again the pressure gauges quickly drop to the pressure in the tire and can't exceed that. Also the cord and hose are too short. if your tire is more than 4 feet from an outlet you need an extension cord.
maddog1819
No guts
it works very well it would be a lot better if it had a digital display
MrT
Poor Decision
Forget this compressor if you need it to inflate your auto tires. Very disappointed in this purchase. A waste of money. Returning it today and will not repeat this mistake.
TGIF
Simple and Portable
Picked this up as i didn't want to drag out my big'ol 10gal compressor every time I need to fill my bike tires and motorcycle tires. This does the trick.. Lean and mean is the best to describe it. Not big enough for my big'ol 35" Truck tires i have my my truck but for smaller tires and kiddo's basketball it's a homerun