Special Kitty Fresh Scent Premium Clay Cat Litter, 25 lb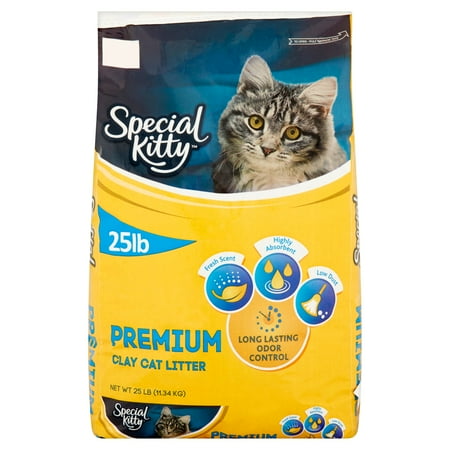 Sale :

$8.29

Sold & shipped by Walmart
Product Description

Additional Information

Reviews
Product Description
Only the best for your special kitty. For pet owners who demand the best, there's special kitty premium cat litter. Its odor control system traps odors & releases a pleasant fragrance that keeps your cat's litter box clean longer lasting means you use less. Because special kitty premium cat litter gives you highly effective odor control, you don't need To change it as often, so you use less. And that means more value in every bag, more money in your pocket a name you can trust. Special kitty is committed To bringing you brand-name quality cat litters at a price that makes sense. Special kitty premium cat litter is no exception. It's made under strict quality control standards, so you get premium performance without the premium PRICE
Additional Information
Reviews
thebittenone
A Must For My Kitties
Had three 25lb bags delivered and they lasted for so long. Two or three scoops from a bowl and scooping the number 2s - last me for about 4 to 5 days. Absorbs the wetties really well. Sometimes after a couple days I'll add one more scoop and stir it up a bit. Yes it's a little dusty but not too much. Last time I ordered and picked up from my local store. But will keep having it delivered from here on out because my order wasn't ready within a hr like it said online. It took a few days. So keep that in mind. Still giving 5 starss because the liter is fabulous.
CurlySimone
Special Kitty Clumping Cat Litter
I've used other expensive cat litter brands, but returned to using Special Kitty Scoopable/Clumping Cat Litter a year ago; this brand is slightly different from Special Kitty Scoopable/Clumping Litter, however although it's sold at Walmart, I didn't see the particular brand that I use on their website. It's AMAZING and clumps very well! For me, no matter what cat litter I use, I prefer to use a clumping brand because it allows for easy removal of any waste without having to dump the entire litter pan and replace it with new litter. I'm not one to skip even one day without scooping out my cat's waste, and if I'm home at the time I'll do so as soon as she finishes no matter what I'm doing. To me, there will always be a litter box odor in someone's home if they allow any kind of regular, premium, clumping, etc. litter to remain in their cat's litter box without scooping it out each day. By removing the cat's waste every day, my home remains fresh and when I have guests they always say "Wow, I can't tell that you have a cat because it doesn't smell like a cat in here." What people don't realize is that when they visit someone's home, it's not the cat they are smelling- it's their waste that the pet owner doesn't remove from their litter box daily. Overall, why pay high prices for other brands when I receive the same effective results from Special Kitty's line of cat litter products. I pay just under $5 for the 14 oz jug and it lasts for approximately two weeks.
violincat
Just as good, if not better than the name brands.
I love this cat litter! I recently decided to drastically reduce the amount of money I was spending on cat litter by trying out cheaper brands so I tried this one first and it is amazing. I was using all of the Arm & Hammer clumping litters which were fine, but got to be too expensive over time. I like this litter because even if I don't have time to scoop the litter, it still blocks the odors in the box. It is not clumping litter but one of the main complaints I've had in the past about non clumping litter is that the urine that doesn't get scooped ends up stinking up the litter box and I end up having to keep pouring litter into the pan to keep it fresh but with this litter, it never seems to start smelling bad. I have 4 cats and 3 litter boxes and one 25 lb bag fills all 3 boxes and can last for 2 weeks and still smells fresh. You do the math, I was spending upwards $24 every 2 weeks for clumping litter and now I'm only spending $4 every 2 weeks for this wonderful litter that works just as well. Pretty easy choice for me.
grannynightgown
Cheap, and works fine
I purchased the unscented version of this product at my local store for very little money. I'm using it in two litter boxes for three then six-week-old kittens and their semi-feral mother. It doesn't clump (and it's not supposed to), which is what I preferred, since clumping litter is dangerous for cats, and especially dangerous for kittens. (If they swallow any, it clumps in their intestinal tract, and they may require surgery to remove it.) I got the unscented since I am sensitive to scents, and I don't really want all those chemicals around such tiny kittens anyway. I usually sprinkle baking soda (also very cheap) on the bottom of the litter pan after washing it out to control odor, and mix some more in every time I scoop out the solid waste (with four cats and two boxes, that's twice a day). The litter boxes don't start to smell until the litter is completely urine soaked. Then I dump it, wash the box, and replace the litter. The tiny little litter box that the kittens are using is lasting about two days before its all wet and needs to be changed. The bigger one the mother uses is lasting about a week. I'm really glad this is available. I've gone through one-and-a-half bags in two weeks, but since this is so cheap I'm not worried about the price. And since I've spent about $500 in vet care alone (in two weeks!) for these kittens, I'm glad that I can save a bit of money here.
jblb4ever
A real bargain
This cat litter is every bit as good as the name brand cat litter, but costs less at Walmart. Why throw money away with the cat litter?