Special Kitty Unscented Natural Clay Cat Litter, 25 lb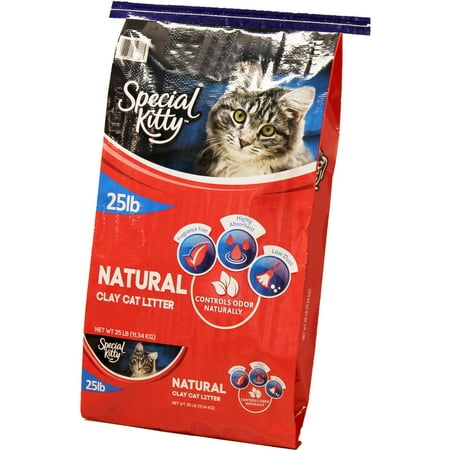 Sale :

$4.24

Sold & shipped by Walmart
Product Description

Additional Information

Reviews
Product Description
Help keep your home or apartment smelling fresh by controlling pet odor naturally with Special Kitty: Natural Cat Litter. Designed to be safe for your feline friend's health, it contains no added fragrances or scents. It is made from 100 percent natural ground clay and is guaranteed to keep your cat's litter box fresh and clean the healthy, natural way. This fragrance-free cat litter is also highly absorbent and produces low levels of dust, helping to keep the mess in your cat's bathroom area to a minimum. Each bag contains 25 lbs of litter that the special cat in your life is sure to appreciate.
Additional Information
Reviews
Crazycatlady44
Great product to use
This product is quiet good my cats always like it.
Debba
Cat Litter
Very litter friendly and does the job!
Starr
Special Kitty: Natural Cat Litter, 25 Lb
Works Great for Us !
Shoshana
Delivery of online items
Although our 5 cats like Special Kitty litter the best, they will not get it this week. Special Kitty cannot be delivered any more. We usually buy it in the store and we have purchased it online and picked it up in the store. Last winter we were snowed in for 9 days and bought it online and had it delivered. Right now the weather is bad and making the 70 mile round trip to the store is difficult. Even tho we buy 6 bags at a time it really is not a big deal for Walmart. It is a big deal for us. My husband is disabled and I have limitations on lifting. Buying in the store entails picking them up from the bottom tier of shelves, putting them in the cart, after the checkout, putting them in the van and then hauling them out of the car into the storage area and finally into the house for the weekly changing of the pans. It makes a big difference if we only have to pick them up and haul them in the house once. So 4 stars for the litter (it is dusty) and 0 for service. I guess that is about a 3.
Lovestoshoptheinternet
Bought the expensive litter but prefer this
I have been spending my money on expensive cat litter and decided to try this. I am extremely pleased with this purchase. The expensive clumping cat litter for some reason gets tracked all over the house even on my bed. It sticks to their feet, I even have a special carpet at the entrance of the litter box made to take the excess litter off their feet. Not only did it track it left like a muddy foot print on my tile. I was constantly cleaning up the tile and shaking off my blankets and washing them more than they should be washed. When I changed to this there was 99% less tracking of litter and NO muddy foot prints on my tile. The carpet at the opening of the litter box was doing it's job better with this brand. Makes me so mad to think of all that money I wasted on the more expensive litter. Also, THANK YOU WALMART for delivering these heavy bags to my door. I am an older lady with very bad arthritus and this makes it so much easier for me. I appreciate you doing that and also shipping is free if you buy over 50.00. Way to go Walmart!