Great Value 100% Arabica Breakfast Blend Medium Ground Coffee, 0.33 oz, 48 count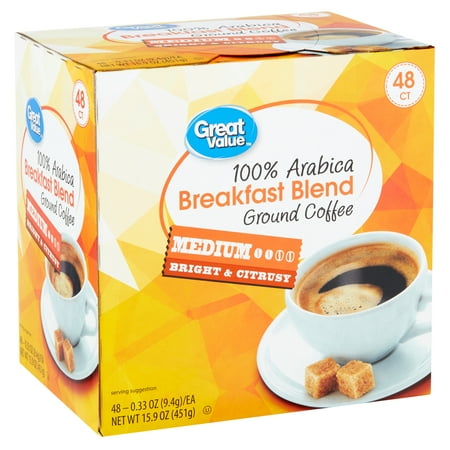 MSRP :

$15.98





Sale :

$14.98

Sold & shipped by Walmart
Product Description

Additional Information

Reviews
Product Description
Great Value 100% Arabica Breakfast Blend Medium Ground Coffee is a bright, sweet, and inviting blend that comes in 48 CT single serve coffee pods that are a convenient way to enjoy a quick cup of coffee any time of day. Engaging and nuanced, our coffee emphasizes the bean's natural flavor and vibrant aromatics for a well brewed cup that's right for any occasion. This coffee is perfect on its own or with cream, sugar or flavored syrups. A rich blend of premium quality Arabica beans that are medium roasted to the peak of flavor and aroma, it delivers an enticing flavor accentuated by hint of citrus and lightly toasted nuts. The pack of 48 single serve easy-to-use coffee pods are compatible with all the major brewing systems and are easy to stock up on. Made with 100% Arabica coffee, this premium blend delivers a rich flavor with excellent balance of body and acidity. Give your day a great start with a lighter body and mellow flavors of Great Value 100% Arabica Breakfast Blend Medium Ground Coffee.Great Value products provide families with affordable, high quality grocery and household consumable options. With our wide range of product categories spanning grocery and household consumables, we offer you a variety of products for your family's needs. Our products are conveniently available online and in Walmart stores nationwide, allowing you to stock up and save money at the same time.
Additional Information
Smooth and mellow
100% Arabica coffee
Compatible with pod brewing stations
Brews 48 cups
Reviews
xoxox
coffee
We really do like the GV Breakfast Blend Medium 100% Arabica coffee. The reason I typed the whole name is to state that the new Breakfast Blend Light with citrus flavor is not the same. They have the same sku number on package, but are very different. I GV brands but will have to shop else where to get a quality coffee that I like from now on unless Walmart brings back the medium flavor with out the citrus. I ordered from the website when I could not find the medium in the store, I got the light blend, sent those back and they replaced with 2 of the medium blend, but not the whole order. I took the ones I did not like to the nearest store for a refund, I already had a headache from explaining what I was looking for. Even the store was confused. There was no mecium blen on the shelves, except for the donut shop, and its not the same. Oh well!
Foxyladyknowstheservice
coffee
Pure coffe taste just like the expensive brands That's why I purchase it
MamaCascade
Love it
I have been purchasing the great value k-cups for years. This particular blend (breakfast blend) is my favorite. It has a mild coffee flavor that isn't overly robust. I'm not into 'dark' / 'rich' coffee. I prefer a mild flavor. This does not disappoint. It's very good and more affordable than other brands. I prefer this over many of the name-brand coffees that I've tried. Notable: The great value donut shop blend is also good, but it does have a bolder and more robust coffee. I like both, but prefer breakfast the most.
Sanden82
Really great value
Good to the very last sip! Had friends over for dessert and coffee and they loved it. One of them ordered right away.
Wendy
Good taste for great price !
I was a little bit hesitate to buy this coffe , I always buy Starbucks coffe but when my boys and I did the math we decide to try it ... And we love it. We drink coffe often so this is the best price in the market ! I recommend:)