Great Value Breakfast Blend Ground Coffee Single Serve Cups, Medium Roasted, 48 Count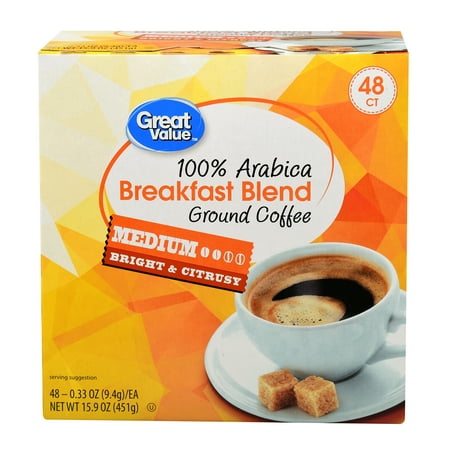 MSRP :

$15.98





Sale :

$14.98

Sold & shipped by Walmart
Product Description

Additional Information

Reviews
Product Description
Great Value Breakfast Blend Ground Coffee is a unique flavorful blend of mediumly roasted coffee made with 100% Arabica beans for those who prefer a less intense coffee but still want lots of flavor. With its bright and citrusy tang, you can be assured a great start to your morning or a tasty treat any time of the day. This medium-roasted coffee has been carefully and expertly roasted to a lighter shade to retain the character and smoothness of the high quality beans. It comes in 15.9 oz box containing 48 cups of easy-to-use coffee pods that are compatible with all the major brewing systems and are great for the morning rush when you are in need for an on-the-go treat. Indulge in the enticing aroma of superior quality, mediumly roasted Arabica beans and awaken your senses every morning with this Breakfast Blend Ground Coffee from Great Value. Great Value products provide families with affordable, high quality grocery and household consumable options. With our wide range of product categories spanning grocery and household consumables, we offer you a variety of products for your family's needs. Our products are conveniently available online and in Walmart stores nationwide, allowing you to stock up and save money at the same time.Brewing Instructions:Load Single Serve Cup with lid into machine. Position mug below beverage outlet and press start.Single Serve Cup will be hot after the beverage is dispensed. Allow to cool before handling.
Additional Information
Great Value Breakfast Blend Ground Coffee Coffee Single Serve Cups, Medium Roasted:
Breakfast Blend ground coffee single serve cups
Medium roasted
Bright and citrusy
Made with 100% Arabica coffee
Makes 48 cups
Net weight 15.9 oz
Reviews
Stuart
GV Breakfast Blend and Donut Shop Blend Review
First off let me say I am a Computer Scientist and just a basic consumer. I am not a professional coffee reviewer nor do I play one on TV! However, I thought it useful to give my opinion for those curious about this product as I have had a Keurig for years and tried many different coffees at different pricing levels. That said, I do keep a stock of more expensive Keurig coffees in my house too, for when I feel snobbish about having excellent coffee or when friends come over that like something different than these flavours. Now then, being the logical scientist type I am, I decided to get one 12-cup box of each of the Breakfast Blend and the Donut Shop blend and conduct a side by side comparative analysis between this and a 3rd brand of k-cup coffee (not important which, but one I like) and of course, it was a great excuse to have 3 cups of coffee in a short period of time too! :) I was initially attracted to the Great Value brand k-cup coffees by their price, it is an excellent price for either blend at about 33 cents a cup ($15.98 / 48 for non-math types). Both blends (at my Walmart and online) are the same price (at the time I am writing the review anyway). In the past I used to buy "200 cup" boxes from Costco and other "membership stores" (either my membership or a friend's) at $30-40 with a 2 box minimum to get a 32-33 cent per cup price. This coffee is priced well, tastes good, is easy to buy off the shelf or order from Walmart on line and is quite a bargain and doesn't require having a huge stock of it. I liked the Breakfast Blend coffee a little bit better (the flavour of it) than the Donut Shop. However, both were very good for the price I paid and I'd not suggest anyone to avoid either. As a matter of fact, spend $10 and get a 12-pack of each ($4.98 for a 12-pack) and do your own testing! :) The Donut Shop is blend is true to its name and really does have a more "drip coffee" or generic coffee flavoured kind of taste (keep in mind, it does taste good, I don't mean that in a bad way). If you consider the Donut Shop (as I do) to be a good version of "average coffee" from a diner or a non-gourmet coffee shop then you have a good understanding of what kind of taste it has. The Breakfast blend does have a more pronounced or differentiated taste than the Donut shop. Moreover, I'd by either one again, just I'd probably buy the Breakfast Blend as a first choice if price and availability are equal. By the way, the only reason I gave this coffee a 4-star rating is because while it was excellent for the price, I'd reserve a 5-star rating for really excellent coffee (even if it was much more expensive). I hope this review is helpful to anyone that reads it and you didn't feel reading it was a waste of your time. Please have a safe and blessed day.
Wendy
Good taste for great price !
I was a little bit hesitate to buy this coffe , I always buy Starbucks coffe but when my boys and I did the math we decide to try it ... And we love it. We drink coffe often so this is the best price in the market ! I recommend:)
2OldPappy
Product changed
I started buying the Great Value Breakfast blend many months ago and was very happy with it. Tastes good and good price. But, last week I got another box at my local store and opened it up yesterday morning. It is not the same product. The box it comes in is the same but the K cup is different, different color top and the cup seems flimsier . But more important, the taste is not the same. Could be my imagination but I don't think so. Walmart found a cheaper manufacturer to make and package this for them and the coffee is not the same. Try it for yourself, the new K cups have yellow lids instead of orange.
MamaCascade
Love it
I have been purchasing the great value k-cups for years. This particular blend (breakfast blend) is my favorite. It has a mild coffee flavor that isn't overly robust. I'm not into 'dark' / 'rich' coffee. I prefer a mild flavor. This does not disappoint. It's very good and more affordable than other brands. I prefer this over many of the name-brand coffees that I've tried. Notable: The great value donut shop blend is also good, but it does have a bolder and more robust coffee. I like both, but prefer breakfast the most.
Messenger
Fantastic Coffee
I have tried Light Roast coffee and they are so weak. I don't like Dark Roast because they are way too strong for me. I Love Dunkin Donuts Original Blend. This Great Value Breakfast Blend Medium Roast is JUST PERFECT. I think is coffee comes very close to Dunkin Donuts Original Blend. You can't beat a box of 48 k-cups of this Great Value Breakfast Blend for $15.00. If you enjoy a Great Medium Blend Coffee you certainly will Love this coffee. The GOOD reviews that this coffee gets is right on the mark. If you like really strong coffee this is not for you.