Great Value Everyday Premium Paper Plates, 8 5/8", 45 Count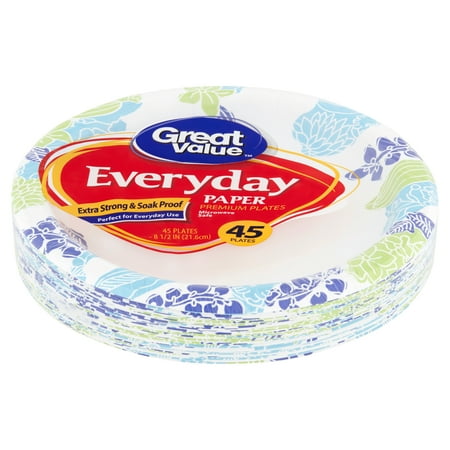 Sale :

$2.47

Sold & shipped by Walmart
Product Description

Additional Information

Reviews
Product Description
Serve food to friends and family at your next party or other event using Great Value Everyday Paper Plates. These plates are extra-strong and soak proof. They're perfect for everyday use or for special occasions. Use these uncoated plates at your next barbecue, birthday party, while you're watching the game, at your next pool party or any get together. They are suitable for barbecue dishes, snacks, dinner, lunch, desserts and more. They offer quick and easy disposal and clean-up for when the party is over. This package comes with 45 plates making it easy to stock up. These everyday plates are also microwave safe so you can easily re-heat food. Serve up your next meal with Great Value Everyday Paper Plates.Great Value products provide families with affordable, high quality grocery and household consumable options. With our wide range of product categories spanning grocery and household consumables, we offer you a variety of products for your family's needs. Our products are conveniently available online and in Walmart stores nationwide, allowing you to stock up and save money at the same time.
Additional Information
Great Value Everyday Premium Paper Plates, 8 5/8", 45 Count:
Microwave Safe
Extra strong
Soak-proof
Perfect for your next party
Great alternative to breakable plates
Makes cleaning up parties easy
Holds your favorite foods
Perfect for everyday use
Reviews
Anonda
Not "great"
I feel silly reviewing paper plates, but here I sit. I usually buy Dixie, but today I noticed these ones sitting next to them and thought I'd give them a try. They are ok for what I need them for: plates for my 2 toddlers. But I wouldn't use them for any 'real' food that may be heavy. When you pick them up with food on them, the edges crack. If they were to have something with any kind of sauce, I can see the edge cracking and spilling it everywhere. So, for this Summer's backyard barbecues and Birthday parties I will not be using these plates. They may be "soak proof" but I can totally see a mess waiting to happen. For only about 30 cents cheaper than Dixie brand, I'll be sticking with Dixie. I've never used a plate that cracked this way before, so I just thought I would share!
saltednut
Love 'em!
These plates are great! They are not only attractive but they are heavy duty paper plates that are reliable. Walgreen's has a similar paper plate and design and they are not as strong as Wal-Marts. I definitely recommend these.
Aletha
Pretty sturdy for a paper plate.
As long as you don't try to pile a lot of food on this plate, it will hold up without a paper plate holder. Oils and sauces don't seep through.
sensiblyinpracticle
Excellent Plates, Good as name brand.
These paper plates are very sturdy, durable, and perfect for what paper plates are needed for. Confused by any bad reviews. To the person who said they have to pick up at post office, MY POST OFFICE BRINGS TO MY DOOR.. You should alert Wal-Mart that the shipper isn't following through. Love Walmart shipping, speed, and these plates! :)
bootsontherun
good enough for most things
Sure would be nice if they were delivered to my HOME instead of the post office, though - kind of defeats the purpose of ordering online, since I STILL have to go out to get them. May as well just get them from the Dollar Store - it's closer than the post office.