Great Value Paper Towels, Split Sheets, 6 Double Rolls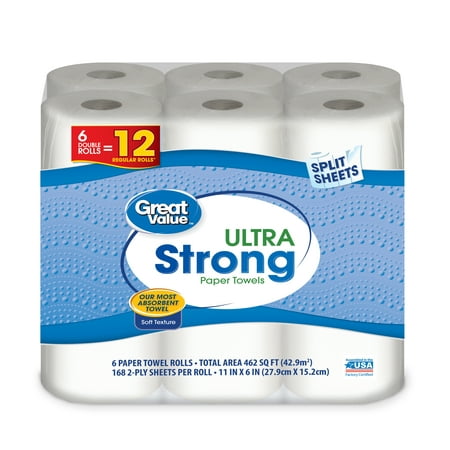 Sale :

$8.42

Sold & shipped by Walmart
Product Description

Additional Information

Reviews
Product Description
Great Value Double Rolls Sized-4-Spills White 2-Ply Paper Towels are the perfect solution for your home. With game changing durability and absorbency, you can scrub and soak up messes without a worry. Although they are strong, these paper towels are soft to the touch and are perfect for wiping little faces. Great Value Paper Towels are available in double rolls, so you get twice as many sheets, meaning you won't have to change it as often. From the smallest spill to the toughest mess, Great Value Paper Towels are the best choice for your family.
Additional Information
Great Value Paper Towels:
Strong and absorbent paper towels
6 Double Rolls = 12 Regular Rolls
Each roll 168 2-Ply towels
Soft texture
Each roll is 11 in X 6 in
Reviews
Michelin
Quality change
I always buy this product for the Quality and I loved! Everything change in my last 3 times , the Quality of the papers it's different and cheaper . I know because I buy this product for long time and I'm thinking to change for another brand. For the price I can buy a Good Quality
Fluffette
SO EXTREMELY BUMMED! MAJOR QUALITY CHANGE!
I have bought this brand for YEARS and LOVED them. This was the only brand i would buy. UNFORTUNATELY, as of recently, something has CHANGED. The paper towel quality has completely PLUMMETED. I AM SO VERY SAD! I guess im on the look out for a new paper towel. So extremely bummed.
Brad111111
You'll regret it!
These are far from ultra in every sense of the word. These look/feel that same as any basic cheap paper towel, nothing special... or "Ultra"... about them. This will be my last time buying them. Compared to Kirkland brand big rolls these are a 2 out of 10. I'm tempted to throw them away, just garbage.
jamdonut
Don't tear properly and getting cheaper in quality
They used to be comparable to Brawny but not so much anymore. Every single sheet of my latest pack would only tear 3/4 properly and the rest of the sheet would tear at a strange angle. They don't feel as absorbent as before either. I guess I am going to have to eat the extra cost and go back to Brawny as the poor cut perforation on these is enough to make me insane.
Nothappy
Verysatisfied
Love the BIG rolls...there're strong and absorbs well