Spring Valley Glucosamine Chondroitin Tablets, 1500 mg, 170 Ct, 2 Pk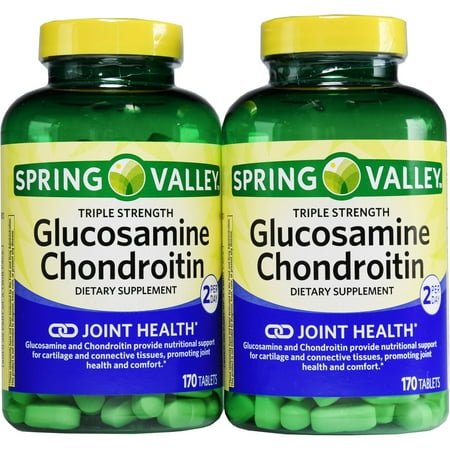 Sale :

$32.98

Sold & shipped by Walmart
Product Description

Additional Information

Reviews
Product Description
These Spring Valley Glucosamine Chondroitin Tablets, 1500mg are an excellent choice for anyone who's interested in maintaining a healthy lifestyle. Continue to enjoy an active lifestyle by giving your body the nutrients it needs to stay strong. These joint health supplements are made with a triple-strength formula to assist in the strengthening and formation of tendons, ligaments, skin, bones, nails and muscles. The main ingredient in these 1500mg glucosamine tablets is chondroitin, which is a building block of cartilage that helps to lubricate joints, allowing you to move more freely and easily throughout your day. This 2-pack of Spring Valley tablets includes two bottles, each containing 170 tablets apiece. Each tablet contains 1500mg.
Additional Information
Spring Valley Triple-Strength Glucosamine Chondroitin Tablets, 170-Count, 2-Pack:Glucosamine chondroitin supplements, 2-pack170-count bottle1500mg tabletsTriple-strength formulaFor cartilage and connective tissuesPromotes joint health and comfortBeneficial joint health supplementMain ingredient is chondroitinHelps to lubricate joints, so you can move more comfortably through your dayIncludes 2 bottles
Reviews
msmistie
To those sensitive to maltodextrin dont buy!
To those sensitive to maltodextrin dont buy. It says may contain maltodextrin but my stomach said it did. Have no idea if this worked on me or not cause I had to stop taking it.
AudioEngineer
Wouldn't want to be without this
Glucosamine/Chondroitin is proven beneficial for osteoarthritis at some stages and can repair some level of joint damage. It has saved my wife from knee surgery, it has mostly repaired my tennis elbow, and my arthritic pain in my hands is virtually gone. This material is naturally part of a younger person's system, but most people tend to lose that as they age. I personally believe that most everyone should start taking this around age 40 and at least by 50 to prevent joint damage that naturally happens with age. This has been proven in animals that are not capable of the placebo effect. Yes, you need to keep taking it for the rest of your life, but you have to keep eating the rest of your life, too. It is just something that the joints of every human body needs.
AudioEngineer
700 mg glucosamine & 600 mg chondroitin EACH pill
This information should be printed in the product description to fully inform consumers: The daily "serving size" is 2 tablets = 1500 mg glucosamine and 1200 mg chondroitin. Thus, EACH TABLET is 700 mg glucosamine and 600 mg chondroitin. There is no MSM (methylsulfonylmethane) in this product which other manufacturers have in similar products. What is known is that there are 2 bottles containing 170 tablets each = 340 tablets. Of course, use simple math to compute the cost of each tablet including shipping if applicable.
magellan
Peace and rest
I suffered for years wid a back ache every morn and during day. It would wake me up every morning and culd not sleep from pain. My doc said to try this twice a day, one in mornng and one at bedtime. Took two or three weeks and it works well for me. Well worth it. Thank you.
oldseagull
We Believe This Helps
My wife swears by this product, declares that her (75 year-old) knees feel better and work easier when she takes Spring Valley Triple Strength Glucosamine Chondroitin.