Special Kitty Scoopable Tight Clumbing Cat Litter, Fresh Scent, 28 lb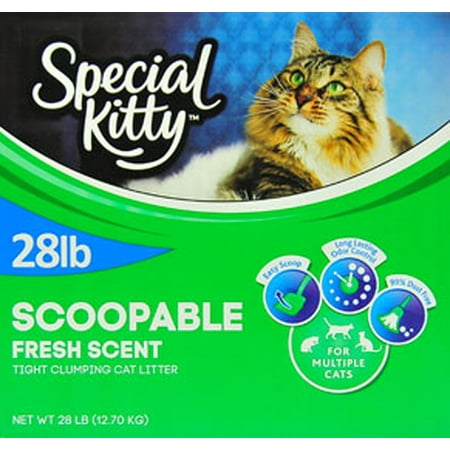 Sale :

$7.94

Sold & shipped by Walmart
Product Description

Additional Information

Reviews
Product Description
Additional Information
Reviews
TnCatMama
My Three Cats Love Special Kitty
I am extremely pleased with this cat litter. The only thing I wish I had been told before buying this 28lbs box for the last several months would be that there is a 40lbs box for only a few dollars more. THAT IS WONDERFUL! All three of my cats love this brand. Since two of my cats are kittens, I was hesitant to introduce them to a brand they were unfamiliar with. Turns out, however, they enjoyed the texture and haven't had one accident since being adopted. I would heartily recommend this to any cat owner. I did not find a disturbing amount of dust and I found it controlled odor very well. My two kittens are twins; they use the same box so I am very happy for this litter's fast clumping abilities and fresh scent.
MLDF710
GREAT VALUE
THIS IS A GOOD DEAL FOR THE PRICE AND IT WORKS JUST AS GOOD AS THE MORE COSTLY BRANDS. NOW IF I COULD JUST FIND HER A BETTER BED LOL
Gretch
5 cats, no problems.
It clumps. With 5 cats I need 3 things from litter: 1. Cheap 2. Large quantities 3. Clumping. This does the job. While one demon still kicks some litter out, this works just as well as the Fresh Step Multi Cat I had been using...I honestly dont see any difference--and I use QUITE a bit of cat litter in a week! The urine smell, with 4 males, is minimal--and my cat boxes are large cement mixing trays that get emptied once a day.
Gretch
All good
Good , works well.
WifeyJen
Just like Tidy Cats
I have been using this cat little for over a year now. It is like Tidy Cats, clumps well, not much dust. It is wonderful to use with the 7 cats we have. It really smells nice to I barely notice I have cats with the smell of the scented which is good. The no scent is great you can add baking soda and the smell disappears. Cleaning every other day helps the best with this cat litter. Love it give it a try you won't be disappointed.