Special Kitty Fresh Scent Scoopable Clumping Cat Litter, 28 Lb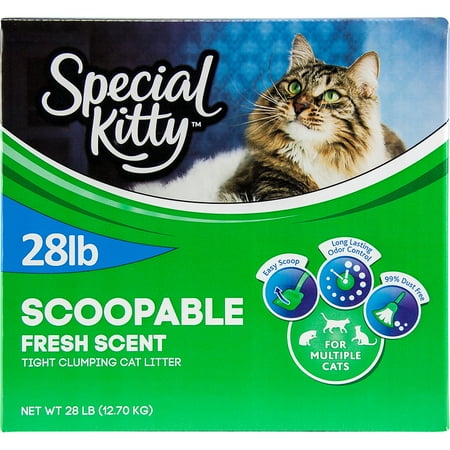 Sale :

$7.83

Sold & shipped by Walmart
Product Description

Additional Information

Reviews
Product Description
Additional Information
Reviews
TnCatMama
My Three Cats Love Special Kitty
I am extremely pleased with this cat litter. The only thing I wish I had been told before buying this 28lbs box for the last several months would be that there is a 40lbs box for only a few dollars more. THAT IS WONDERFUL! All three of my cats love this brand. Since two of my cats are kittens, I was hesitant to introduce them to a brand they were unfamiliar with. Turns out, however, they enjoyed the texture and haven't had one accident since being adopted. I would heartily recommend this to any cat owner. I did not find a disturbing amount of dust and I found it controlled odor very well. My two kittens are twins; they use the same box so I am very happy for this litter's fast clumping abilities and fresh scent.
MLDF710
GREAT VALUE
THIS IS A GOOD DEAL FOR THE PRICE AND IT WORKS JUST AS GOOD AS THE MORE COSTLY BRANDS. NOW IF I COULD JUST FIND HER A BETTER BED LOL
Gretch
5 cats, no problems.
It clumps. With 5 cats I need 3 things from litter: 1. Cheap 2. Large quantities 3. Clumping. This does the job. While one demon still kicks some litter out, this works just as well as the Fresh Step Multi Cat I had been using...I honestly dont see any difference--and I use QUITE a bit of cat litter in a week! The urine smell, with 4 males, is minimal--and my cat boxes are large cement mixing trays that get emptied once a day.
Gretch
All good
Good , works well.
cheezforgb
Cat Litter With Value
Special Kitty Scoopable Cat Litter provides great value for the price. It offers a quality scoopable litter at a very competitive price point. The scent is pleasant too and is not too dusty. When needing a great price point for a good quality product, this is one that I highly recommend.