Equate Women's Minoxidil Hair Regrowth Treatment, 3-Month Supply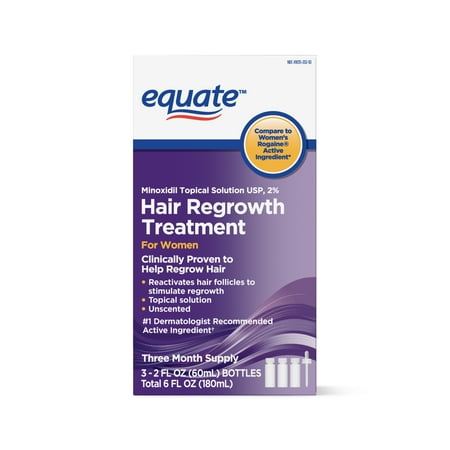 MSRP :

$29.99





Sale :

$18.76

Sold & shipped by Walmart
Product Description

Additional Information

Reviews
Product Description
Additional Information

Equate Hair Regrowth Topical Solution for Women, 3 Count:
Minoxidil-based hair regrowth system
Revitalizes hair follicles
Clinically proven to help regrow hair
Hair fall treatment comes in a 3-pack of 2 oz bottles
Do not use if you have patchy hair loss
Minoxidil topical solution 2%
For women who have a general thinning of hair on the top of the scalp
Results vary depending on the individual
Ideal for those with non-patchy, localized hair loss looking for a budget-friendly solution
Equate regrowth treatment helps hair thinning with the ingredient Minoxidil
3-month supply
Reviews
Susan
NOT a 30 day supply
I have purchased over 17 bottles of this product. It took several months to show hair growth, but now I have a full head of hair after using for over a year. The problem is that NONE of the bottles have a full month of product. In 17 bottles, they averaged 53 doses; much less than the one-month supply advertised on the label (28 days x 2 = 56 doses; or 30 days x 2 = 60 doses). I have already contacted Walmart twice about this problem. The first time I was told there was nothing that could be done because I had used the product. I explained that if I hadn't used the product, I would not have known that some was missing. I was finally sent a gift card as compensation. The second call I was offered a gift card but never received one. So the product works; but when you are considering the cost difference between the Walmart brand and Rogaine, consider you will have to buy 2 extra bottles of the Walmart brand per year to actually get the amount listed on the label.
Iris
one three month supply started showing results
I am in my late 20s and noticed my hair was thinning. I am not a big makeup wearing, hair-doing kind of girl, but when I noticed that even when my hair was pulled back you can see just how thin my hair has gotten I bought it to give this a try. Since the results are as fast as hair can grow, it took about 3 months until I started getting a lot of people pointing out my hair looked darker- It was in fact my hair thickening. My part doesn't show the scalp as much as before. The ONLY issue I had with it is that because its a liquid it will curl straighten hair at the base. I will keep using it. Its worth the curls? For 18 bucks for a 3 month supply, even my cheap butt is willing to buy it. If you are self conscious about thinning hair, its definitely worth a shot.
SatisfiedMW
Great for women of all ethnic groups
Am an Af/Am women 49y.o. almost 50 in a week. Anyway, last april, I removed a weave and saw that around the perimeter of my hairline the hair was so thin, it was virtually bald. I presumed it was due to the weave rubbing against my fine hair; but I later reviewed pictures over the past 8 years and saw how my hair had progressively thinned. My sister and mother confirmed that despite my youthful appearance, the hair thining was likely genetic. I am a can do kinda girl so I sought options. Was evening considering hair replacement "Bosley-style". Long story a little shorter, I boutht this Equate Hair Regrowth after reading just about all of the reviews. Worse thing that could happen was NOTHING, so I would be exactly where I was...thining disappearing hair at the edges. I have used the Equate Hair Regrowth since April 2013 and the hair has regrown around the perimeter and I couldn't be more pleased. I bought for my elder sister 56 y.o. and she had significantly more hair-loss, almost bald edges in fact; now she too has experienced regrowth and was so pleased she recommended it to my mother 74 y.o. and I bought it for her also (she will start applying by the end of the week). Highly recommend this product and note that I have also been taking biotin supplements since April 2013. So, buy Equate Hair Regrowth and biotin for best results. Price can't be beat. Excellent
Star
Good and effective product
Well, it is a bit of more work to apply it than the foam kind of product, however, it works as well as the other brand. Also, it's cheaper than the other brand. So, I'm happy with it. It saves me some money and I get the results I want.
Debz
Hair has doubled for only $6.25 a month!!!
I have been using Equate for Women this for almost a year now, and I have realized the hair follicles have nearly doubled on the front of my hairline. It was thinning so badly, I was wearing a baseball hat most of the time. I now wish I had thought of taking a picture of how it looked when I started using it. I saw a small improvement after I finished the first box which lasts 3 months, so I bought a second. As the new hair grew longer it was more and more obvious how much thicker my hair was becoming. My hair is back to normal thickness along the hairline and I don't have to wear baseball hats unless I want to. THE BEST PART IS THAT IT IS REASONABLY PRICED SO I CAN CONTINUE TO USE IT REGULARLY AND I WILL. I highly recommend this product.