Equate Allergy Relief Fexofenadine Tablets, 180 mg, 60 tablets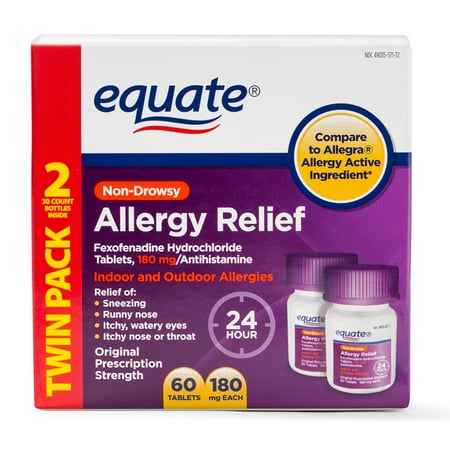 MSRP :

$22.47





Sale :

$19.97

Sold & shipped by Walmart
Product Description

Additional Information

Reviews
Product Description
Equate Fexofenadine HCL Allergy Relief temporarily relieves runny nose, sneezing, itching of the nose or throat, and itchy, watery eyes due to hay fever or other upper respiratory allergies.
Additional Information
Equate Allergy Relief Fexofenadine Tablets, 180 mg, 60 tablets:
Non-drowsy
24 hour relief
Indoor and outdoor allergies
Original prescription strength
180 mg antihistamine
UNDERSTANDING ALLERGIES
Allergies
An allergy is a sensitivity to a substance that is normally harmless. Flowers, trees, a family pet, or dust are examples of things that can cause an allergy. Even foods like peanut butter, fish, and milk can cause an allergic reaction to people with sensitivities to them.
Reviews
Ilah1227
great value
read some of reviews and of course read bad and good. noticed bad ones said pretty much same thing. that didnt work for them. but sounds to me they didnt give a chance to get into system. they switched from another product to this one. and expected immidate resolute. need to take for a least a week before real noticeable resolute. i have severe allergies and need strong medicine. this works the best so far, myself have to change medicine every couple of years stops working body gets to use to it and stops working. so glad this went over the counter. threw the years tryed everything and this works the best by far
gesshooo
As good as name brand
I've been an allergy sufferer for as long as I can remember. This product works just as well as the name brand at a fraction of the cost. Same ingredients but at a great value.
Grandmabird4
Best for less
This allergy medicine works EXACTLY like Allegra for 1/2 the price. My husband swears by this - he has had allergies for years
Edgebo
Easy to swallow, inexpensive
Tablets are round, and therefore much easier to swallow than the competition, which is oblong. Walmart price cannot be beat!
jlynn
Best OTC allergy med!
This generic works just as well as the more expensive name brand - for me it's the very best OTC allergy reliever available!s