Equate Men's Extra Strength 5% Minoxidil Topical Solution USP for Hair Regrowth, 3-Month Supply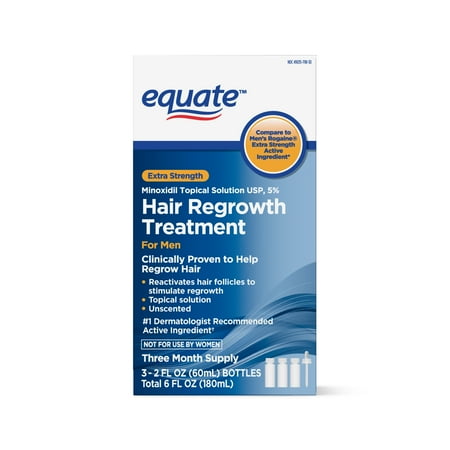 MSRP :

$19.99





Sale :

$18.76

Sold & shipped by Walmart
Product Description

Additional Information

Reviews
Product Description
Additional Information
Stimulate new strands with the Equate Hair Regrowth Treatment for men. It is made with a special formula that helps combat general thinning on the top of the scalp. It is also suitable for other degrees of hair loss. This extra-strength hair regrowth treatment for men comes in a handy bottle. It also includes a child-resistant dropper in each pack for easy application.ÃÂ
Reviews
AtlantaShopper
This Product Works For Me
For some reason, my edges have been under seige. I've never had problems with them before. They have always been kinda thin but I 'HAD' them!!!! I have been using the product for about 5 months now. At month 3, I was completely ready to give up on this product. The package said it may take as long as 4 months to START noticing any kind of growth. At that point, I figured 'What do I have to lose?' So I gave it one more month. And sure enough, I started seeing my fuzz!!!!! So, of course I was excited. By the middle of month 4, it was thickening up and growing. I will say that at month 3, I started using Black Jamaican Castor Oil as well on my edges. I'd use 2 sprays of this topical...massage...then massage BJCO immediately after. Now I'm not sure if it was the solution that helped, the BJCO that brought me there, or both. All I know is, even if I have to use this duo for the rest of my life, I will!!! I am VERY happy with my results. I will continue to use both nightly for continued results. PS...for those of you who are discouraged because you're not seeing any progress, give it time. It took me FOUR MONTHS to BEGIN noticing any sign this product is working.
sublime17
Not Bad
I started using this product about 3 months ago instead of Rogaine, mainly for the price difference. One thing I noticed more than anything was how much it makes my scalp itch so much to the point that I have to stop using the treatment for a few days. It took 3 days of non-use for my scalp to stop itching this time. I notice that the longer I use it, the more prone my scalp is to itching. I started using an anti-itch shampoo but it doesn't do much for relief. So I'm on the verge of quitting the treatment because of the intense itching. It has also caused dandruff which I've never had in my life. I have noticed some hair growth, which is great, but I'm just not sure its worth the itching and discomfort this product causes. Also, I don't like the oil-like consistency of this product. It takes about an hour or two for it to dry and if it gets in your hair, it makes it oily. So you have to put it in your hair well before bed (which isn't always convenient) or else it will rub off on your pillow.
Roaddirt
Stop worrying about hair loss
A year ago, I mentioned to my hairdresser that I felt my fine thin hair was falling out. She suggested I give this product a try. You have to be dedicated to using this product every morning and every night. I have had Cancer so you don't need to tell me anything more than once when it will help me. I now have the thickest hair I have ever had in my life. Every month I need my haircut. My hairdresser says she can't believe how much your hair grows now. Tons of new growth and my hair line has come back to my forehead where it had long ago receded. I feel so much sexier with my real thick hair. I thought about getting a wig or hair extensions silly expense. This is so reasonably priced. Fill the tube to the mark and slowly work it through all your hair. If you use your fingers, wash your hands after. It absorbs quickly so I don't use my fingers. Don't let it run down the back of your neck or you will have hair growing there. Have fun and enjoy the miracle results!
Arborvitae
LOVE, LOVE, LOVE.
First, I am a 39 year-old female and I started using this product about a month ago for genetic hair loss that began last year. My mother, her sister and other family members suffer from hair loss and general thinning of the hair (scalp can be seen.) I was devastated when my ultra thick mane became veil-like. At first, I tried to improve my diet, adding biotin to my daily supplements. Nothing really helped. It just got worse. The final blow came after the birth of my son. Aside from the hormonal clumps of hair that fell out (I cried over this), the thinning continued. Now for the good part: after one month of using this product, I am seeing dramatic results. Knowing that there is an effective and affordable treatment for genetic hair loss is comforting. I realize that I will need to use this product indefinitely, but that's okay. It's fast, easy, relatively inexpensive and it makes me feel better. Man or women - if you fall into the parameters described on the box, please give this a try. I'm so glad that I did.
22Fabulous
Equate -- Exactly Like Rogaine!!
Excessive hair loss led me to this product about six years ago, and having sought advice from physicians ("It's stress"), a vitamin guru ($150 later) and all the information I could glean from the internet, I was wisely advised by my dermatologist to try men's Rogaine. The price, however, was a major deterrent, so more sleuthing led me to Walmart, and their version of Rogaine -- just plain minoxidil, but at an affordable price. Equate did wonders! And has continued to work its volumizing wonders over the years. My hair's thick and shiny, and while it undergoes spells of temporary loss, it always returns in full volume. I couldn't live without this product -- and a three-months' supply for a little more than $18 (5% solution), it's not only a bargain, but a blessing!!