Great Value Double Zipper Sandwich Bags, 300 Count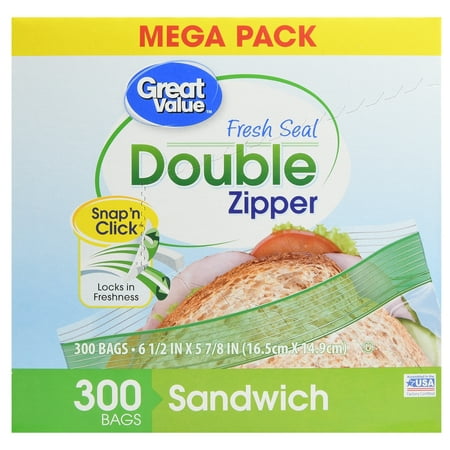 Sale :

$5.12

Sold & shipped by Walmart
Product Description

Additional Information

Reviews
Product Description
Our guarantee is our promise that you'll be fully satisfied with the taste and quality of every Great Value product. If for any reason you aren't happy, we'll replace it or return your money. Whichever you prefer. All you need is the package and the receipt. It's that simple. Great quality. Great price. Guaranteed.
Additional Information
Great Value Double Zipper Sandwich Bags, 300 Count:
Each box contains 300 Sandwich Great Value Storage bags
Perfect for sandwiches or single serve snacks
Snap'n Click double zipper
Locks in freshness
6 1/2 in x 5 7/8 in
Reviews
HeatherV
Mixed Reviews
I would have rated this purchase higher - the bag is a good bag for what you need to use it for - it's a good value for 300 bags - however, you open the box and remove a bag and open the bag and it has that plastic bag smell - yes, I know it's a plastic bag, but it's overpowering and the first time I used one and didn't realize the smell, I put my food in the bag - hours later took the food out to eat it and noticed the food had picked up the 'stored plastic bag smell' and didn't taste like it should. I even tried to open the bags before putting food in them to 'air' them out, and that smell still stuck. So I've resorted to opening multiple bags and letting them sit out for a day or so, hoping the bad plastic smell will escape and I can use them. A box of 300 bags will take a long to use as I don't always have time to air them out and resort to using other bags I have that are bigger and not plastic smelly.
pjpj
Great Value Double Zipper Sandwich Bags, 300 Count
The first time you open a bag out of the box, the top rips. This has happened more than once, so it is not an isolated incident. The Great Value bulk bags which these replaced were much better.
MissKitty13
Great Value Double Zipper Sandwich Bags, 300 Count
I like the large quantity. They are well made, and easy to use.
topshotta
Great Value Double Zipper Sandwich Bags, 300 Count
Bags are of good quality they do not brake easily.
lemaysl
These USED to be great
I buy these bags once a month, as I have for years. I agree with another reviewer; the quality has significantly declined. The last two boxes I have purchased, 1 out of 5 of the bags will separate from the 'zip strip' when trying to open for use. The first box I thought it was just a fluke, shame on me... I will never buy these again. A waste of my money. I'd rather spend my money on something that doesn't splatter raspberry juice on my white blouse when opening the bag because it tore!!