Great Value Donut Shop 100% Arabica Medium Ground Coffee, 0.38 oz, 48 count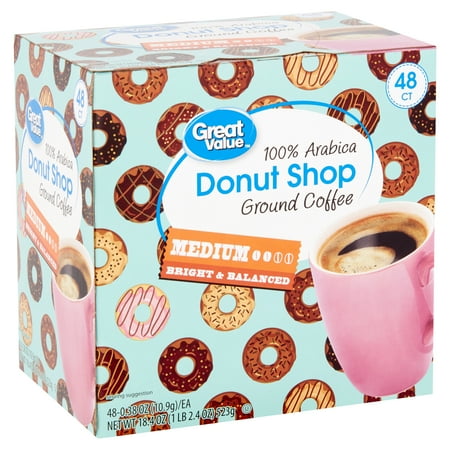 MSRP :

$15.98





Sale :

$14.98

Sold & shipped by Walmart
Product Description

Additional Information

Reviews
Product Description
Start your day off the right way with a fresh, steaming cup of Great Value 100% Arabica Donut Shop Medium Ground Coffee. Bring the coffee house or donut shop experience to your home or office without the expense! This convenient package includes 48 single-serve cups that are compatible with any pod brewing system on the market. The medium roast Donut Shop blend features a bright and balanced flavor that will remind you of your favorite breakfast pastry or baked good. The perfect accompaniment to breakfast with family, brunch with friends, or afternoon pick-me-up, these single-serve cups will earn a permanent place in your pantry or break room. With Great Value 100% Arabica Donut Shop Medium Ground Coffee cups, you'll have more time and energy to spend on the things in life that matter most.Great Value products provide families with affordable, high quality grocery and household consumable options. With our wide range of product categories spanning grocery and household consumables, we offer you a variety of products for your family's needs. Our products are conveniently available online and in Walmart stores nationwide, allowing you to stock up and save money at the same time.
Additional Information
Great Value Donut Shop Ground Coffee Single Serve Cups, Medium Roasted:
Donut Shop ground coffee singe serve cups
Made with 100% Arabica beans
Medium roasted
Bright and balanced
Makes 48 cups
Net weight 18.4 oz
Reviews
jska
YUMMMM!
FAVORITE! I totally love this brand of coffee, I honestly don't buy anything other than Great Value Donut Shop for my keurig; nothing compares. I have tried variety packs containing multiple brands and I always seem to come back to this one. I highly recommend you try it if you like a medium roast coffee. I personally enjoy mine with some Stevia and half and half but others in my household enjoy it as is! I can't say enough good words about this coffee. If you're hesitant, they offer a smaller pack and obviously Walmart will work with you return wise if you just cant stand it and decide to return it(I promise you wont). Anyway, if you're looking for a delicious new coffee I highly recommend you give this one a shot.. I also order my stevia and half and half Walmart great value brand; they are phenomenal quality! Excuse me as I brew another cup.
dljhdj
Great value living up to its name
This coffee is cheaper, the pods work nicely in the keurig coffee maker and it even tastes good
Chapman
It's good; I mean really good.
This is about the only coffee that I will drink. I love this coffee and I've been hooked on it for the last 5 months. It's the Most Wonderful Coffee I have found yet
LLH8698
Previous Drinker Of The Dunkin' Donuts Coffee
We have tried just about EVERY brand of coffee that was made for the Keurig 2.5 & our favorite became Dunkin' Donuts Original Blend. We had been drinking it for almost a year. But, I decided to look for another brand that was similar to the DD & cheaper. I love the DD brand, the price is just way over priced for just 18 k-cups. I did some research & came across Great Value Donut Shop Blend & I must say it is very close to the DD brand for half the price. Both coffee is 100% Arabica coffee so that most likely is the reason. We also tried the Great Value Breakfast Blend which is also similar to the DD. But, hands down this coffee was our favorite & will continue to buy it. We also love the fact it is sold in larger quantities than the DD brand & have the 48 k-cup count in stock at our local Walmart store. We couldn't be happier that we found an amazing tasting coffee with such a great bargain!!!
Twainer
Best deal for a great K-cup of coffee anywhere.
Typically a cup of Keurig coffee can average close to a dollar a cup if you're not a shopper. Some can cost $1.35 a cup (Starbucks 60 pack of Morning Blend at $82). If you are a shopper, you can knock that down to about 55 cents a cup if you buy what's on sale or purchase one of those huge multipacks through those super warehouse stores that also charge you a yearly subscription fee of $40 to $60 annually. Here it's simple, $15.98 for 48 cups of a very good K-cup of coffee or 33 cents a cup. If you do the math, are an avid Keurig user, the savings can add up. 2 cups a day, $.66 x's 365 =$240 a year. At 55 cents a cup x 2 x 365 days = $401.00. A $160 savings is not chump change. You could buy ten of these 48 packs with that money saved (tax not included). Something to consider if you like this brand.