Parent's Choice Pediatric Electrolyte Solution, Grape, 33.8 fl oz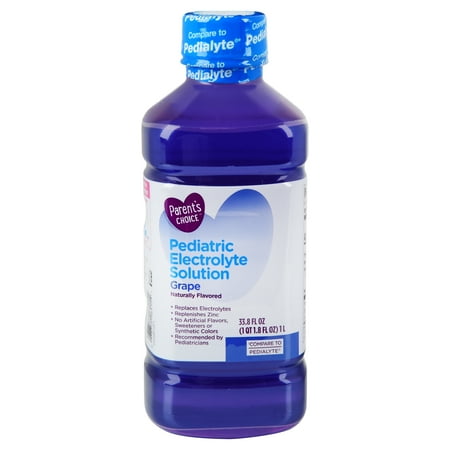 Sale :

$3.58

Sold & shipped by Walmart
Product Description

Additional Information

Reviews
Product Description
Parent's Choice Grape Pediatric Electrolyte Drink is the perfect way to rehydrate your little one. It replaces electrolytes and replenishes zinc with a delicious, refreshing taste. This pediatrician recommended beverage is also great in aiding the recovery from vomiting or diarrhea. Parent's Choice Grape Pediatric Electrolyte Drink has no synthetic colors, artificial flavors or sweeteners, and it restores digestive health and prevents dehydration more effectively than water, juice or even sports drinks.Since 1998, Walmart's Parent's Choice has been trusted by millions of parents across the country to provide quality products at an affordable price. We offer a wide range of products including diapers, wipes, toiletries, formula, baby food and feeding products. Guaranteeing trust and safety across all its products, Parent's Choice takes care of everything your little ones need at the lowest price.
Additional Information
Reviews
Unknown Customer
Is it really ok?
Had for a week and I noticed fuzzy stuff floating in the bottle. Dumped it out and they were hard slimy things.
Mommaof4crazzies
Better Bang for Your Buck
The taste is strong so I suggest a little diluting but for the price you can not go wrong! Way better than that 6-7 dollars for Pedialyte! Bought it online and Walmart was so thoughtful! They placed each bottle, I bought 8, in an individual bag and tied them up before putting them in the box! Very impressed with the service. I have always picked Parents choice products and Great Value products when I can, love that I was able to purchase these online!
sloopmariah
Works for Me
I have a problem with easily becoming dehydrated. Since I started treating it with the pediatric electrolyte solution, I am doing much better. My doctors all approve.
Molly
Good stuff
All of my children love this product. It's the only thing they will drink when they are sick. Even my husband drinks it when he is dehydrated. Good stuff!
Caregiver
For People with Iliostomies & Hydration Problems
This stuff is a great boon to people with ileostomies. They have a terrible time staying hydrated and one of these a day keeps my mom out of the hospital. Fantastic stuff at a terrific price! A literal life saver.