Great Value Classic Roast Medium Ground Coffee Value Size, 48 oz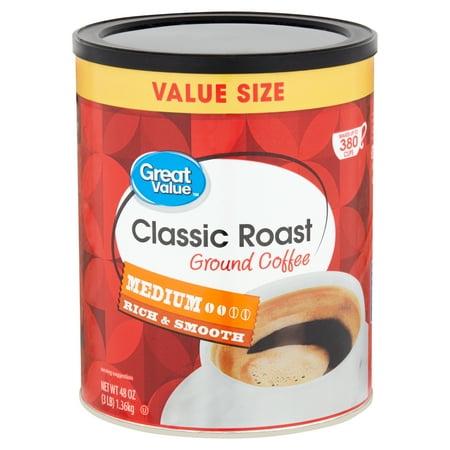 Sale :

$8.48

Sold & shipped by Walmart
Product Description

Additional Information

Reviews
Product Description
Coffee lovers can stock up on their favorite brew at an affordable price with Great Value Classic Roast Medium Ground Coffee. This 3-pound, value size can of rich and pleasant medium roast coffee will provide a flavorful fuel source for your work day, or an added bit of pep on busy weekends. This ready-to-go coffee is super easy to make. Simply measure out a heaping tablespoon of coffee for every 6 ounces of water right into a disposable filter and within minutes you'll have a hot, enjoyable cup steaming with the lovely, aromatic scent of classic roast coffee. Make a robust, flavorful pot at home or at work on all commercial brewing systems. The resealable lid will make sure your coffee remains fresh. Add creamers and sugar or enjoy as is. No matter how you like your favorite cup of coffee, Great Value Classic Roast Medium Ground Coffee will keep you going all day long.Great Value products provide families with affordable, high quality grocery and household consumable options. With our wide range of product categories spanning grocery and household consumables, we offer you a variety of products for your family's needs. Our products are conveniently available online and in Walmart stores nationwide, allowing you to stock up and save money at the same time.
Additional Information
$.18/Ounce
Two 48 oz Value size containers
Each 48 oz container makes up to 380 six fl oz cups
Great Value ground coffee is Kosher
Can comes with a durable plastic lid
Pleasant and robust flavor
Medium strength
Rich and smooth
Enjoy hot or cold; with or without milk or cream
Reviews
Connie
Better Than All The Reat!
This is comparable to Starbucks and Dunkin Donuts and better than Costco Kirkland Brand. I Love LOVE coffee and I am so glad I gave Walmart a try. Search no more for that morning AHHH!
Connie
Better than the expensive gourmet brands!
I have tried all of the Great Value coffee brands, Arabica, Classic and Colombian. I have found them all to be superb in flavor and such a great deal! I purchase a lot of coffee, I drink a pot a day and I've tried almost all the coffee Walmart sells. This is the best as far as I'm concerned, it's also the cheapest! Even forgetting about the great value, you can't go wrong with this. I've even given it to my coffee snob friends and told them it was expensive coffee I got from abroad and they agreed it was great. I wonder if they would have agreed if I told them it was Great Value Walmart coffee? I would recommend this coffee to anyone who likes rich flavor, great smelling coffee, smooth coffee devoid of that horrible bitter aftertaste some coffees have and anyone who likes a great deal without giving up on quality. Try serving this to your customers, friends, family, mate, etc... don't tell them it's GV and see what they think of it, I bet you will be surprised!
ArlisT
I Buy a Large Can Every Month
People wonder if it's arabica or robusta beans. Well, if it was arabica it would certainly say it was arabica on the can. Walmart would not miss the chance to promote that fact if they could. Since it just says 100% pure coffee, it is fair to assume it's Robusta, not Arabica. The good news is that if, like me, you drink coffee not because you are some kind of hoity toity gourmet coffee fanatic, but rather for the caffeine kick, Robusta beans have approximately two times the amount of caffeine as arabica beans. Also, a famous consumer buying guide compares this Great Value variety favorably (taste-wise) to Starbuck's Columbian coffee. Now say what you will about Starbucks, tons of people go there and pay way more for their coffee than this. I buy an extra large can every month. I'm not one to linger over a cup of coffee in the morning. For me it is Go Juice, plain and simple, and there's none better than this for my needs.
ShoppingDoyenne
Mellow Companion to Enliven Any Day
I love Walmart's store brand coffee. It is equivalent to or better than the national brands. The taste is strong yet mellow. For pennies per cup, this coffee is an excellent value. Ditch Starbucks. Enjoy's Walmart's Classic Roast.
Nice
Great consistent taste and price.
Great taste, Great value. I've been buying this for years.