Great Value Classic Medium Roast Ground Coffee, 48 oz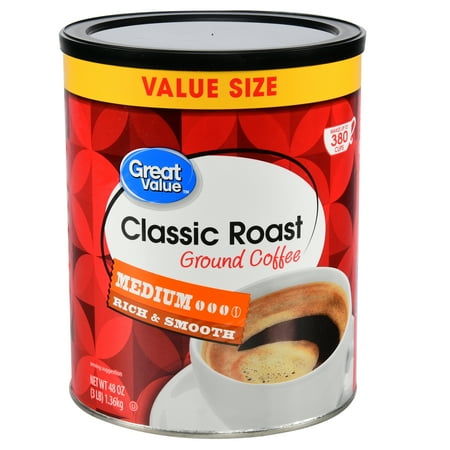 Sale :

$8.48

Sold & shipped by Walmart
Product Description

Additional Information

Reviews
Product Description
Our guarantee is our promise that you'll be fully satisfied with the taste and quality of every Great Value product. If for any reason you aren't happy, we'll replace it or return your money. Whichever you prefer. All you need is the package and the receipt. It's that simple. Great quality. Great price. Guaranteed.
Additional Information

Great Value Classic Roast Medium Ground Coffee:
48 oz Value size
Makes up to 380 six fl oz cups
Great Value ground coffee is Kosher
Can comes with a durable plastic lid
Pleasant and robust flavor
Medium strength
Rich and smooth
Enjoy hot or cold; with or without milk or cream
Reviews
Unknown Customer
Better than the expensive gourmet brands!
I have tried all of the Great Value coffee brands, Arabica, Classic and Colombian. I have found them all to be superb in flavor and such a great deal! I purchase a lot of coffee, I drink a pot a day and I've tried almost all the coffee Walmart sells. This is the best as far as I'm concerned, it's also the cheapest! Even forgetting about the great value, you can't go wrong with this. I've even given it to my coffee snob friends and told them it was expensive coffee I got from abroad and they agreed it was great. I wonder if they would have agreed if I told them it was Great Value Walmart coffee? I would recommend this coffee to anyone who likes rich flavor, great smelling coffee, smooth coffee devoid of that horrible bitter aftertaste some coffees have and anyone who likes a great deal without giving up on quality. Try serving this to your customers, friends, family, mate, etc... don't tell them it's GV and see what they think of it, I bet you will be surprised!
ArlisT
I Buy a Large Can Every Month
People wonder if it's arabica or robusta beans. Well, if it was arabica it would certainly say it was arabica on the can. Walmart would not miss the chance to promote that fact if they could. Since it just says 100% pure coffee, it is fair to assume it's Robusta, not Arabica. The good news is that if, like me, you drink coffee not because you are some kind of hoity toity gourmet coffee fanatic, but rather for the caffeine kick, Robusta beans have approximately two times the amount of caffeine as arabica beans. Also, a famous consumer buying guide compares this Great Value variety favorably (taste-wise) to Starbuck's Columbian coffee. Now say what you will about Starbucks, tons of people go there and pay way more for their coffee than this. I buy an extra large can every month. I'm not one to linger over a cup of coffee in the morning. For me it is Go Juice, plain and simple, and there's none better than this for my needs.
aaallison
Great coffee for about one quarter the price.
The price per ounce is 10% less than in the 30.5oz can, so consider the latter if you don't drink a lot, or repackage it into smaller air-tight containers and refrigerate to keep fresh .
Rick
Better than Folgers
My friend gave me a can of Folgers, and I can't wait to get back to my Great Value!
Frugal
Try This
A very good substitute for name brand. And a great price for 48 oz. We have been using it for a few years and completely satisfied.