Ol' Roy High Performance Dry Dog Food, 50 Lb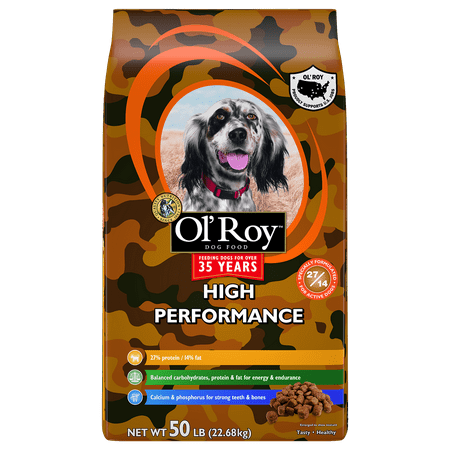 Sale :

$23.98

Sold & shipped by Walmart
Product Description

Additional Information

Reviews
Product Description
Additional Information
Made with high-quality ingredients, Ol' Roy High Performance Dog Food is specially formulated to provide 100% complete and balanced nutrition for all dog breeds. Available in this 50-lb bag, this high performance food for dogs will keep your favorite canine happy and active. A delicious choice for every day meal time, Ol' Roy High Performance Dog Food contains natural fiber sources to promote good digestion and health. Formulated for adult dogs, your best furry friend can enjoy this dog performance food for many years to come. Ol' Roy High Performance Dog Food is the tasty and healthy food option for all breeds. If you want to stock up on great everyday dog chow that promotes good digestion, consider buying this 50 lb bag of Ol' Roy High Performance Dog Food.
Ol' Roy High Performance Dog Food, 50 lb:
Natural fiber sources to promote good digestion
Promotes energy in all dog breeds
Tasty and healthy feed option
Safe for all dogs over the age of one year
Reviews
DrVYoder
EXCELLENT Food for ingedients & Price $$$$
I have been buying really high end dog food for my pedigreed German Shepherds (GSD) (four of them) and it gets quite pricey but I always thought it was necessary as they are not just dogs but part of my inner family! Upon a recent visit with my Vet over their yearly checkups we talked about the type of dog food that would be best for them. My Vet stated that Ol'Roy was an extremely good dog food for my GSD's and he informed me to look at the list of ingedients and what was listed first was always the main ingredient. My Vet also informed me that it was important to change up the dog food at least every 6 months along with adding necessary supplements (yogurt, rice, chicken, lamb, eggs - everything cooked not raw) along with the dog food. Ol'Roy's list of ingredients was BETTER than the top dog food brands I had been buying (Iams, etc.). Not only that but the price of Ol'Roy's was 70% LESS!!!! This meant I could supplement more of the other various foods (mentioned earlier) with this substantial savings! Truly the best way to go for my family!!!!
Pittbulllover
Amazing Nutritional Value
I have a full blooded pit bull. He has always no matter how much or what kind of food he ate been slender where his ribs showed. I thought that was just how he was because no matter how much I fed him it didn't change then I switched a couple of months ago to this kind of food & in maybe 2 mths he has put on so much weight. He looks so much healthier & his coat is soft & thick & shiny! It's undescribable how much he has improved! Definitly strongly recommend this especially if you have a dog who has a hard time maintaining weight like mine. The price is inexpensive & well worth it.
Pittbulllover
Excellent value for active dogs
I've always had large dogs and always fed them Ol' Roy High Performance dog food. I've comparison-shopped and this is the best food I've found that is not only nutritious, but is cost-effective. My dog is a male 18 month-old Mastiff and I leave the bowl down so he can graze all day, but he doesn't overeat. He's the perfect weight, has a glossy coat, white teeth and plenty of energy. I've gotten a lot of criticism both for free-feeding and for giving him a so-called "off brand" but it's what I've always given my dogs and they've always been healthy and energetic. I think if you only have one dog, they don't feel like they have to eat every bite because there's no competition, so leaving food available isn't an issue. I highly recommend this dog food to anyone who makes sure their dogs get regular exercise.
Tamania
Excellent - Only food I give my dogs
I don't normally write reviews, but Ol'Roy High Performance is great! I first tried Ol'Roy over 10 years ago with my Boarder Collie and it was the only dog food that could keep up with her high energy. Other brands she would lose weight and always hungary, but not with Ol'Roy High performance. It kept her looking fit and her coat so shiny... she enjoyed having a very active life until the age of 17. Now I have 3 dogs, a Boxer, a mix miniture, and a Boxer/Lab mix... this food fits them all. I have been forced to try other foods with my dogs lately as my local store does not keep enough on hand to meet the demand for it and they always get real bad gas (especially my Boxer) but this does not have that nasty side affect that other brands cause. They look forward to breakfast time and unlike other foods that leave your pet wanting more, I leave food available from dawn to bedtime and they all eat moderately. My dogs love this food so much that they will turn there nose up at other brands (including Iams, Pedigree and Purina) until they are just too hungry and settle. I love this larger size!!! it is great, last my 3 dogs a full month and sometimes more. Thank you for making this available to order online, now I don't have to search 3 or 4 near-by stores to get there perfered choice of food everytime they start running low.... just jump online and it is here within the week. GREAT JOB, thank you. Highly recommended!!
AllieKennels
The ingredients in high performance are better
We've been using Ol roy high performance for 2 years now, only food that NONE of my dogs have had a reaction to. I raise labs who are notorious for sensitive skin/stomachs. We had to switch because my female used to get the runs from Blue, had crystals in her urine from diamond, and vomited with royal canine.... these are all "premium" foods that made my dogs very ill, the same foods gave our older male skin issues (hair fell out in chunks, itchy and dry skin, bad smell) the regular ol roy is horrible, but the high performance has way better ingredients and keeps weight on my working dogs (not an easy task). I love this food and will NEVER change foods.