Ol' Roy High Performance Dry Dog Food, 50 lb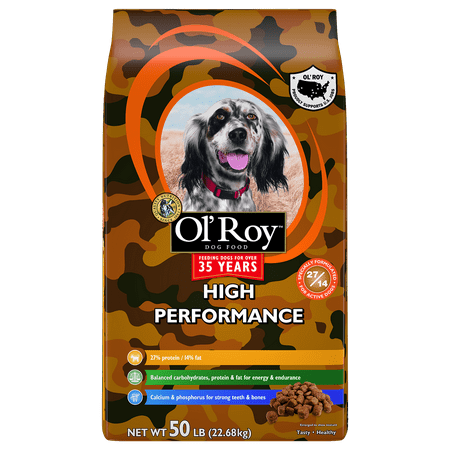 Sale :

$23.98

Sold & shipped by Walmart
Product Description

Additional Information

Reviews
Product Description
Additional Information
Reviews
AllieKennels
The ingredients in high performance are better
We've been using Ol roy high performance for 2 years now, only food that NONE of my dogs have had a reaction to. I raise labs who are notorious for sensitive skin/stomachs. We had to switch because my female used to get the runs from Blue, had crystals in her urine from diamond, and vomited with royal canine.... these are all "premium" foods that made my dogs very ill, the same foods gave our older male skin issues (hair fell out in chunks, itchy and dry skin, bad smell) the regular ol roy is horrible, but the high performance has way better ingredients and keeps weight on my working dogs (not an easy task). I love this food and will NEVER change foods.
SBenkman
Good Quality
The High Performance Ol' Roy is great. We only buy brands that do not have corn at the top of the ingredients list. One of our dogs is allergic and starts nibbling at his paws. This brand does not cause him to have allergy issues. Our vet recommends that corn is NOT in the top 3 or 4 ingredients to avoid allergies. The price point is affordable for a 50 lb. bag of it. The dogs like it too. We usually pick it up in store but had it and cat food delivered. There was free shipping on orders of $35 or more. Made it nice to not have to lug the 50 and 25 lb. bags in and out of the cart and car. I was glad it came in a box since the FedEx guy had to hand truck it to the door. Glad he didn't see he was delivering dog food!
Jeff
Ol Roy high performance
I have a golden retriever and a German shepherd they both love this food and do well on it. I have tried every other dog food from dog chow to fromm these other foods were supposed to be superior, however they weren't in fact they would have loose bowels and shed more than usual. With Ol Roy high performance shedding is at minimum. I am very impressed with this food and so are my two boys. Golden is 8 years old and the shepherd is 5 years old. Movements are minimum coats shiny teeth look great. Better than the more expensive dog foods. My friend has a Rhodesian ridgeback at 19 years old.everyone else's dogs that we know didn't last more than 12 years. Go figure
LonelyDoc
Best Food for a SUPER PRICE!!!
You really can't get a better properly balanced premium dog food for a better price! I have 3 GSD that are prominent members of my family. As with all living creatures, a BALANCED DIET IS EXTREMELY IMPORTANT for maintaining a healthy lifestyle! Dog food alone WILL NOT SUFFICE! It is IMPERATIVE to provide proper vegetation, minerals, proteins, carbohydrates, and fats within a daily diet. I use this dry dog food as a staple or basic element and then include Omega Fatty 3 oils, fish, meat, eggs, carrots, celery, rice, oats, etc. with each daily meal. The reason I choose this particular dry food is that it's #1 INGREDIENT IS MEAT AND BONE MEAL. Most other brands (even premium ones) have rice, corn, or enriched flour/wheat which is analogous to humans getting their nourishment from White Wonderbread - what a joke! The only problem I have found is that most Walmart stores that I frequent rarely carry it (probably not enough profit margin). The solution of course is to buy it online as it usually includes free shipping (depending on the minimum purchase required to meet the free shipping specifications). As long as Walmart keeps the ingredients inline with this specific format, I'll continue to be a lifelong customer, and will encourage others to follow my lead. If at anytime Walmart decides to "cost cut" the ingredients, I will find another brand.
Joram
Ol Roy High Performance
I had read so many negative reports about ground corn in dog food I decided I didnt want that to be the primary ingredient in my dog's food. OlRoy High Performance lists meat and bone meal as it's first ingredient and my dog loves it. Additionally my dog seems to be more energetic and he digests it well. At less than .50 a pound its a bargain, but not always available order it online and pickup in store.