Great Value Flushable Wipes, Fresh Scent, 42 Ct, 3 Pack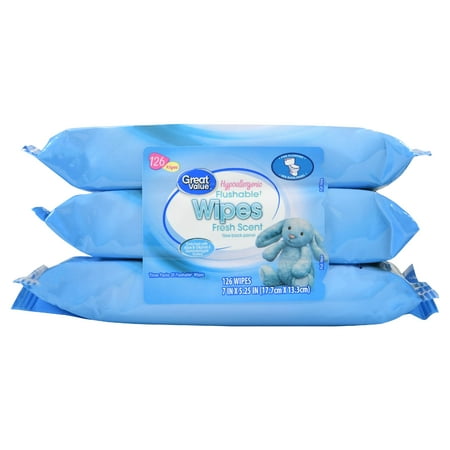 Sale :

$2.94

Sold & shipped by Walmart
Product Description

Additional Information

Reviews
Product Description
Additional Information
Great Value Flushable Wipes, Fresh Scent:
Enriched with Aloe and Vitamin E
Flushable wipes
Hypoallergenic and Dermatologist tested
3 pack refill= 126 wipes.
Reviews
Kayrom
Review of Great Value Brand Wipes. Buy them!
I was in a hurry when I went in to get a few things after a Doctor appointment. I thought that I had grabbed my usual Equate Brand Wipes. I'm glad that it happened because I wouldn't have tried them at all. I purchased these a few years ago and they were like wet pieces of paper. Great Value Brand Wipes has been through a major change! They are thicker and don't leave any lint. But the best part is that they're very soft and now flushable and safe for Septic Tank Systems! I'm very pleased with my purchase and I will be purchasing this again. I would recommend everyone to try these. The price is awesome too!
kloudy
Not as good as equate brand
These wipes are small and thin compared to the equate brand. I have to use two to equal one of the equate brand.
TedH
GV-Fresh-Scent-Flushable-Wipes 3 Pk
As a caregiver for my bedridden wife, I use at least one packet of these wipes per day. The product's quality is consistently good. My disappointment with the product is that as of March 2016 the packging now contains fewer sheet,,the package no longer has an opening for "pop-up" extraction of the wipes and worst of all, the price per sheet has increased ! Walmart, you've taken a good product and made it average.
barnstead555
Great price so fresh
I get these every couple of weeks and use them everyday. They are great in the bathroom and every room .They smell mildly fresh scent, no strong scent ti compete with fragrances . They flush great and I have used them a couple of years without any flush problems even with a septic system .My first few I chose came with a dispenser after I chose to buy refills although they each dispense right from the package I refill my plastic dispenser .You can carry them in your purse and they are very handy for camping .
Mrsone
Not a Keeper!!!
I hope this product isn't to replace the Equate flush able wipes. The quality is very poor. They are to thin, the amount has been reduced, and tears quickly. Please don't continue with this product, Please continue with the Equate product as it was/is. This product has to go. I'd pay the extra cost for the other brands over this one.