Great Value Flushable Wipes, Fresh Scent, 42 Ct, 3 Pack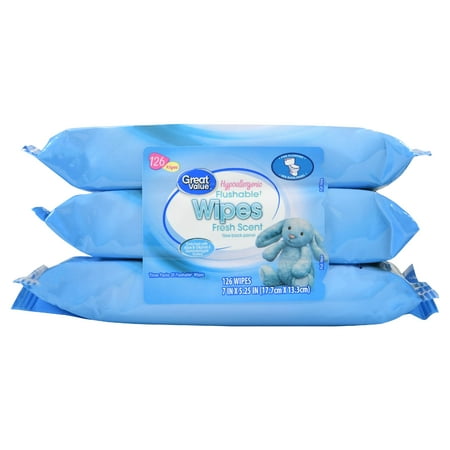 Sale :

$2.94

Sold & shipped by Walmart
Product Description

Additional Information

Reviews
Product Description
Great Value Flushable Fresh Scent Wipes are soft cloth-like wipes with a refreshing fragrance to keep you fresh and clean. These wipes are carefully designed to be strong enough for a more effective clean, yet soft and gentle on your sensitive skin. These wipes are flushable and septic safe with most septic systems. Each wipe is enriched with Aloe and Vitamin E that leaves your skin nourished. These wipes are Dermatologist tested and hypoallergenic for even the most sensitive skin.The flip-top design ensures that each wipe comes out open and ready to use on any part of your body while remaining moist when the lid is closed. With 126 wipes available in three packs, a single purchase will last you for weeks. You can conveniently keep a separate pack at home, in the car, in the office or in the travel bag and always have them with you when you need them the most.Great Value products provide families with affordable, high quality grocery and household consumable options. With our wide range of product categories spanning grocery and household consumables, we offer you a variety of products for your family's needs. Our products are conveniently available online and in Walmart stores nationwide, allowing you to stock up and save money at the same time.
Additional Information
Great Value Flushable Wipes, Fresh Scent:
Enriched with Aloe and Vitamin E
Flushable wipes
Hypoallergenic and Dermatologist tested
3 pack refill= 126 wipes.
Reviews
TedH
GV-Fresh-Scent-Flushable-Wipes 3 Pk
As a caregiver for my bedridden wife, I use at least one packet of these wipes per day. The product's quality is consistently good. My disappointment with the product is that as of March 2016 the packging now contains fewer sheet,,the package no longer has an opening for "pop-up" extraction of the wipes and worst of all, the price per sheet has increased ! Walmart, you've taken a good product and made it average.
HatersAreDumb
Awesome Wipes!!!
Been using these for a year now after my girlfriend got me hooked on using flushable wipes, and I love this brand and the pricing. Most people complain about the size but I just use one and then a couple layers of regular toilet paper just for peace of mind that I won't be touching anything nasty. I have a pack that I take to work with me and I feel sooooo much cleaner using wet wipes then using toliet paper alone! Make the switch!
Mrsone
Not a Keeper!!!
I hope this product isn't to replace the Equate flush able wipes. The quality is very poor. They are to thin, the amount has been reduced, and tears quickly. Please don't continue with this product, Please continue with the Equate product as it was/is. This product has to go. I'd pay the extra cost for the other brands over this one.
reson8tor
Fresh Scent Wipes not as pleasant as 0007874202173
This is the replacement for ; Great Value Flushable Wipes Refill, 100 sheets Model #: 18P100/801 UPC: 0007874202173 It would be an acceptable replacement but the "fresh scent" is not tolerable ( even in the presence of toilet odors. Otherwise, it is the most similar product only in different packaging. Please bring back unscented Great Value Flushable Wipes Refill-100 sheets.
barnstead555
Great price so fresh
I get these every couple of weeks and use them everyday. They are great in the bathroom and every room .They smell mildly fresh scent, no strong scent ti compete with fragrances . They flush great and I have used them a couple of years without any flush problems even with a septic system .My first few I chose came with a dispenser after I chose to buy refills although they each dispense right from the package I refill my plastic dispenser .You can carry them in your purse and they are very handy for camping .