Great Value Automatic Dishwasher Pacs, Fresh Scent, 110 Count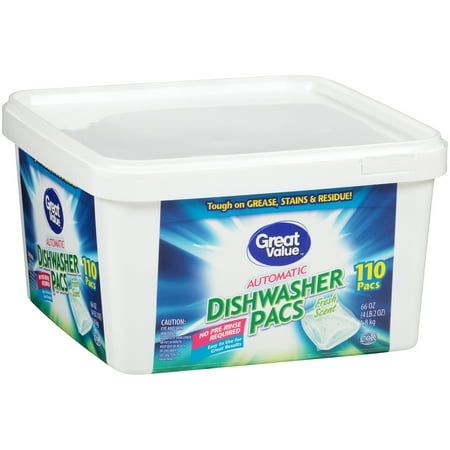 Sale :

$12.47

Sold & shipped by Walmart
Product Description

Additional Information

Reviews
Product Description
Great Value Automatic Dishwasher Pacs are tough on grease, stains and residue. No pre-rinse is required when using these dishwasher pacs and they leave your dishes clean and with a fresh scent. The automatic dishwasher pacs have enzymes that fight tough food residue and oxygen bleach that cleans tough stains. They're tough on your dishes but safe for your septic systems, and are phosphate and chlorine free. This 110 count of pacs offers great value and comes in a small container that fits perfectly underneath your sink. Great Value Automatic Dishwasher Pacs are the key to clean dishes in your kitchen.Great Value products provide families with affordable, high quality grocery and household consumable options. With our wide range of product categories spanning grocery and household consumables, we offer you a variety of products for your family's needs. Our products are conveniently available online and in Walmart stores nationwide, allowing you to stock up and save money at the same time.
Additional Information
Great Value Automatic Dishwasher Pacs, Fresh Scent, 110 Count
Perfect for keeping dishes clean
Fresh scent
No pre-rinse required
Tough on grease, stains and residue
Safe for sceptic systems
Reviews
Lisa
Clogged my dishwasher
The wrappers from these packets clogged my Samsung dishwasher! My husband showed me the drain screen clogged with a plastic substance that could only have come from the packet. Throwing out the rest and I will never buy them again!
ChihuahuaGirl
Very Satisfied With These
These dishwasher pacs smell very nice, are easy to use, and do a great job. I've been using them for a long time, and I have no complaints whatsoever. Whether the load is large or small, one pac cleans it all, and does not seem to be too harsh. No spots left behind, either. Good price.
CrabbyCal
BEST I HAVE USED-Great dishwasher detergent
I repeat - the Great Value Pacs are the BEST i have used. I now try to overload and super pack my dishwasher just to see if this detergent will clean it. So far it has cleaned everything i have thrown at it. When i first used a pac I was startled when i opened the dishwasher and saw the copper bottomed pans glowing bright copper. I took notice. I have been using the Great Value pacs for about 2 years now and wont switch back to Cascade or Finish premium pods/pacs. Results not even close.
Maggiemae
GV dishwasher packs
Does as good a job as the name brands and cost a lot less.
Connie
Sparkling Dishes
Yes, this does a great job cleaning the dishes. Every bit as good as the brand name that costs more. Plus you get more for your money with this size. Had no problem removing hard, sticky things from my dishes. Pots and pans shine too.