Great Value Easy Pour Bleach, Regular Scent, 121 fl oz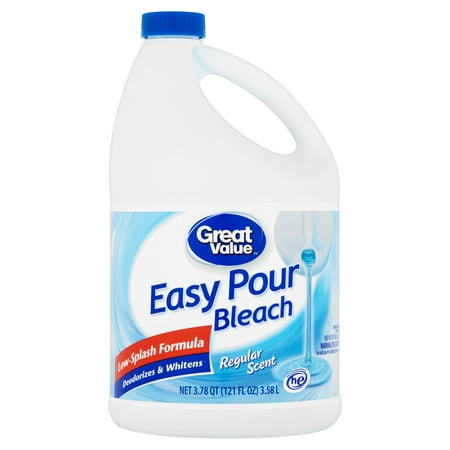 Sale :

$2.94

Sold & shipped by Walmart
Product Description

Additional Information

Reviews
Product Description
Clean and deodorize your home with this Great Value Bleach. It is a concentrated formula that whitens clothes and sanitizes surfaces. This splash-less bleach comes in a 121 fl oz easy pour bottle that has a built-in handle. It can be used around the home for a variety of different reasons. It works well with standard HE washers. Use a little of the concentrated bleach in a sink full of water to sanitize dishes, toys and more. Add it to a load of white laundry to keep your clothing items bright and vibrant. This bleach can even be used for cleaning mold and mildew stains around the home.
Additional Information
Great Value Easy Pour Bleach, Regular Scent:
Whitens, freshens, disinfects
For use in laundry to clean and household to disinfect
Regular scent
For standard HE washers
Easy-to-handle bottle
Low-splash formula
Concentrated
Contains no phosphorus
Eliminates stubborn mildew on tubs, walls and tile
Suitable for use on tubs, showers, counter tops, sinks, ceramic tile and vinyl flooring
Reviews
MicroInfo
Has Soap In It
I got this, thinking it was regular bleach. When I added about a tablespoon full to the water in my water fountain, I ended up with soap bubbles overflowing into my yard. I've been adding bleach to the water in the fountain for years, and never had this happen. Now I will have to check bleach labels to make sure it doesn't contain soap.
beatnik92
Great Value Bleach FOAMS! Like detergent!
This stuff FOAMS like detergent!!! I'm not sure I like that! So maybe I would recommend it but maybe not depending on what my friend would be using it for. I use it to disinfect some things but I do not want to imagine what else is in this chlorine bleach to cause the foaming! I am going to have to check ingredients. I do not like the foaming therefore only 4 stars instead of 5. I wish they would eliminate the foaming action, meaning elimate that extra chemical!!! We do not need it! We have enough chemicals coming into contact with our surroundings and the items in our homes and things which get on our hands and **could possibly be absorbed throuigh skin**!! Thank you.
Carlos
Bleach Caution!
No sure if I got a bad batch or not. I uses this bleach in my pool for chlorine and was trying to shock at 16 ppm chlorine. Put in 7 gallons of bleach in my 28500 gallon pool. Should have reached at least 16 ppm only got 4ppm. Be careful what you pay for.
Sam1
Needs revision
I use your Great Value bleach all the time....however, at 70, with less strength in my hands, I find it very difficult to "push down and turn" to open this product. Can your creative team come up with something friendlier for users like me? Shirley
SouthArkGuy
Doesn't live up to name
Like title says. Started to pour it and quickly realize that it did not meet name brand product. I know it's the Great Value but it still splashed like its normal formula by Great Value. All I can say is it was a tiny bit thicker, not that noticeable like in the brand name products. I will be going back to the brand name and spend the $1+ for a better product.