Parent's Choice HMO and Non-GMO Advantage Infant Formula, 35 oz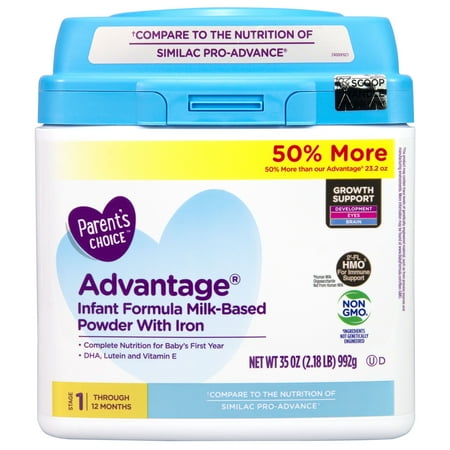 Sale :

$19.98

Sold & shipped by Walmart
Product Description

Additional Information

Reviews
Product Description
Parent's Choice Advantage Formula has a unique blend of nutrients that supports growth and development. The milk-based Infant Formula gives your infant what they need during the first year to help keep them healthy and grow strong. This Parent's Choice Infant Formula, VALUE SIZE 35 oz, makes approximatley 64, 4 oz bottles of formula.
Additional Information
Parent's Choice Advantage Infant Formula, 35 oz
Complete Nutrition for Baby's First Year
Compare to the nutrition of Similac Advance Non-GMO
Designed to be more like breast milk
Milk-Based Powder
DHA, Lutein, Vitamin E and Iron
Non GMO
Growth Support for development, eyes and brain
ABOUT ADVANTAGE® INFANT FORMULA
Complete Nutrition For Your Baby's First Year

Designed to be More Like Breast Milk

DHA, Lutein & Vitamin E

Features DHA and Choline which may support brain and eye development

Complete nutrition for your baby's important first year of development

Features lutein, which is found in breast milk and may help support eye health

Reviews
Nate
Great price, wrong package style
This is just about the cheapest baby formula we could find. Since baby formula is very carefully regulated by the FDA, cheap is just the same as expensive. My issue is with the packaging. The picture makes it look like it's going to be a larger version of the same box style, but in fact it comes in a can, with nowhere to put the scoop except down in the powder. Not great when you're digging around in the middle of the night through your baby's powdered formula.
Alybrit77
100 percent satisfaction!
When I stopped breast feeding my 1 month old son, I tried using Similac advanced, and found myself buying 3 cans for nearly $50! When I went to Walmart two weeks ago I saw a brand called Parent's Choice on the shelf for SO much cheaper. I was a little uneasy about picking it up because I feared that it wouldn't give my son everything he needed and I was afraid he'd be in pain from the switch. I picked up the Advantage value sized can because it was compared to the Similac Advanced, and did the comparison myself, and decided to get it because it was so much cheaper and everything checked out... Well when I opened the can I expected it to be gross and nothing like the formula I had been using, and surprisingly it was almost exactly the same! When I gave it to my son, his tummy actually took BETTER to this brand than the Similac advanced! His stools are now soft and squishy instead of runny, and he didn't have a SINGLE PROBLEM!!! This brand has WOWED me as a mom, and I love Parent's choice! I won't buy any other brand of formula or baby wipes again!
Customer2017
Great! Really is comparable to Similac
I was using ''Similac Advance'' and found that it was quite expensive so after researching the ''Parents Choice Advantage'' brand which claims to be comparable to ''Similac Advance'' I found that ''Parents choice Advantage'' basically copies the ''Similac Advance'' ingredients/formula. I compared my opened can of Similac to my newly purchased can of Parents Choice. The texture and smell is nearly identical. My daughter did not seem to notice or mind the switch to Parents Choice. I don't notice any fussiness or gas with Parents Choice. Over all, I would definitly recommend this product, it is very affordable and truely does compare to Similac!
DorothyS
DesignerKitchenTinyGirlStart
This gets 10 stars as my daughter was born when I was 35 and a designer closet of 111 cans of this stuff; since it freezes well mixed; would have been a great place to have begun a journey
Rooh84
Parents Choice is a NO-brainer!
My wife and I have a 6 week old daughter, and she loves Parents Choice brand formula! We started supplementing her on formula when my wife wasn't producing as much breast milk. She never noticed the difference in it and the name brand. I have recommended Parents Choice to other people after using it and I will continue to! **Very Satisfied**