Augason Farms Scrambled Egg Mix 2 lbs 4 oz No. 10 Can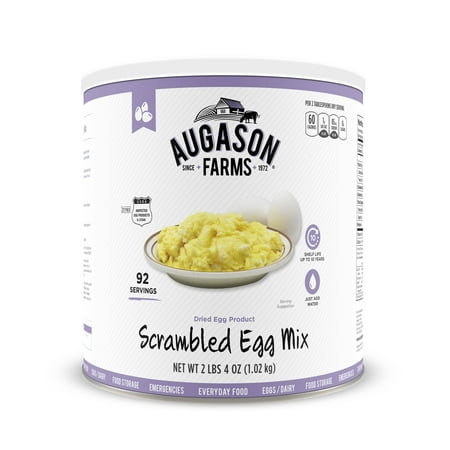 MSRP :

$32.82





Sale :

$28.99

Sold & shipped by Walmart
Product Description

Additional Information

Reviews
Product Description
Augason Farms Scrambled Egg Mix is a special blend of whole eggs and other quality products perfected to cook up like fresh scrambled eggs. Powdered egg products provide all the wholesome goodness of regular eggs, but with the convenience of a long shelf life. All of Augason Farms egg products are USDA inspected and approved. With more than 40 years of experience providing the best in food storage at the highest quality, Augason Farms is the place to turn for all your food storage and emergency preparedness needs. Great taste and healthful products have been their hallmark for generations. When you choose Augason Farms, you're not only selecting food you can count on, you're getting delicious peace of mind.
Additional Information
92 Servings

5,520 Calories

Perfect for Food Storage, Emergencies, Survival, Camping, and Everyday Use!

Certified Gluten Free

Up to a 10 Year Shelf Life!

Reviews
LeiaOrganaSolo2
Makes a quick breakfast!
I was skeptical on how good powdered eggs can be-however it IS really good! I've replaced using real eggs in the morning since it's less of a mess and tastes better than the real thing. I don't follow the instructions after one making, a "serving" was too small, so I just add a heaping 2 1/2 tablespoons, and then 2 tablespoons of water in a bowl and voila! A perfect portion for me. The picture doesn't do it justice, visually they're not the best fluffy eggs you've ever see, but the taste is so good I ended up buying 2 more cans since they're on sale.
qfrogger
Good eggs but not good quantity
We got these because we were having a big tenant event. You had to order them from Walmart on line to get them fast. I made a "test" batch and immediatly noticed that the 92 servings it says on the can were not actually going to be 92. It was more like 40-50 servings per can. At that point it was too late to order more and I knew we were going to run out. The good news is all the people that got the scrambled eggs loved them, the bad news is we ran out because the cans didn't make anywhere near what it says. I made a "single" batch and it is a couple spoons full, not a serving by any means. So if you want to use these eggs, they are good. Just keep in mind there are about half the servings that it says on the can.
Maynard
The perfect food
I am a lover of egg, I like eggs and I don't care what time of day it is. After my first encounter with Augason's scrambled eggs I have vowed to forever have them in my pantry. All augason items are good but these eggs are STELLAR! I do suggest to for your first cooking put the heat very low and go from there. BonAppetit
gcich
Pretty tasty and not just for emergencies
I just tried my first batch of scrambled egg mix. It was surprisingly tasty. I was able to make scrambled eggs and french toast with only one minor issue. The mixture will scorch pretty easily. Cook on a lower heat setting than you would normally use for eggs from a shell. The taste was great, and the consistency was similar to real eggs. I made enough for several days and it kept quite nicely in the refrigerator. Powdered eggs have come a long way since my days eating Navy eggs. I give this one a two thumbs up. Perfect for food stores, camping and everyday use when you can't get eggs in a shell.
projectrunway
surprised
Because of the good reviews online I decided to try this product and I am glad I did. When I add a slice of Velveta, which I also get delivered from Walmart, they taste normal. Sometimes, I also like a little Picante sauce on them too, that I also get delivered. This is great for me, because poor health restricts me from leaving the house, especially in winter.