Augason Farms Honey Powder No. 10 Can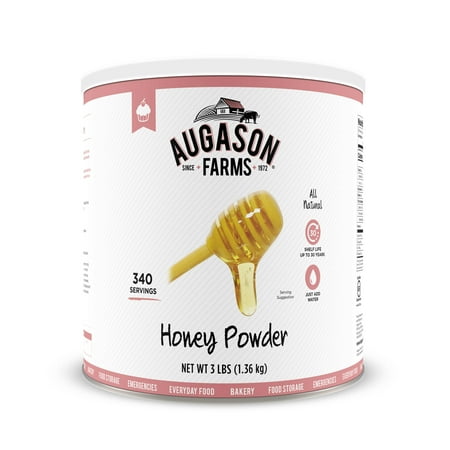 MSRP :

$28.44





Sale :

$27.68

Sold & shipped by Walmart
Product Description

Additional Information

Reviews
Product Description
Augason Farms Honey Powder is perfect for use in recipes. Reconstituted, it is delicious on breads, rolls, or muffins. Family owned and operated since 1972, Augason Farms believes that great taste is a tradition worth preserving. Crafted with a focus on taste and health, their products are manufactured to the highest standards. Let them provide you with delicious peace of mind.
Additional Information
340 Servings

5,100 Calories

Perfect for Food Storage, Emergencies, Survival, Camping, and Everyday Use!

Certified Gluten Free

Up to a 30 Year Shelf Life!

Reviews
microqueen2
it tastes almost like honey
I purchased this item in case of a prolonged power outage or other similar situation. I plan to use this product to sweeten my coffee (or tea) and/or to sprinkle on other food that needs a touch of sugar. First of all, this product comes in a # 10 size can, which is a pretty large container and brings an additional plastic cover. You will need a can opener of course. I would suggest that since you might not have power at the time you need to use this can, you should keep a regular, hand operated can opener. I have 2 in my survival/emergency kit, just in case. Once open, you can mix the amount of powder you need with plain room temperature water. It mixes well, although I found it to be a bit "grainy". The result was satisfactory. It is definitely sweet and with one teaspoon of the mixture I was able to sweeten my coffee mug to the point of sweetness I like. I would recommend this product to be a staple in your emergency pantry. Make sure you reclose the lid after opening to preserve maximum freshness.
MrsMlbj
You are going to love it, Honey!
I just received my first shipment of Augason Farms Honey Powder. The box was heavier than I expected and I was surprised at how big the can was. It reminded me of the old Crisco cans of way back. When we opened the can the powder had settled quite a bit. I wanted to put it in different containers for storage and to have a small jar on the table. I kept scooping and scooping and had to find more containers. I then fixed a cup of tea and put a teaspoon of the powder in my cup. Oh it was so sweet! I will back down on the amount. I will use less of the powder than I did with the liquid honey or the honey beads I used before. And the best part is that the powder dissolves right away and doesn't sink to the bottom. Compared to the price I paid for a bottle of honey in the store, the price of the powder, including shipping, is a better value. The only thing that would make it better is if my local Walmart would carry it.
bluedogreads
Convenient for long term storage needs.
I purchased to evaluate for my long term storage food needs. The product settled and filled the can about 2/3 full. Buy based on weight not volume. I have been using it for baking and sweetening drinks. It works very well with no problems. Please note the ingredients because it is apparently not 100% pure honey powder. It contains refinery syrup and I do not know what that actually means. It does have a honey smell and taste. It meets my needs for long term storage, but since it is not 100% honey powder I probably will not buy it for immediate baking needs. It did do very well in my baked bread recipes. It is faster and less messy to use than regular honey. I will buy again for my long term food storage needs.
BBQManIllinois
Great product!! Fast shipping!!
Exactly what I expected. Arrived when promised. Best value on the ENTIRE internet. You won't find the same quantity for this price anywhere. ANYWHERE!! This is great as an ingredient in BBQ rubs and sauces. It is very sweet. A few things, this is NOT honey, and probably will not make honey, but may get close to it. It's also not pure honey, it has some fructose and anti-caking agents in it, so it will stay a powder and not turn to a giant, messy lump. You will not find pure dehydrated honey, as it would soon become a giant messy lump of unusable...stuff. The honey flavor definitely comes through though. Buy it, you won't regret it!!
Stormydei
I would buy it again.
I did a blind taste test with my husband in two cups of tea. One sweetened with powdered honey and one with fresh honey. I asked him to pick the cup of tea that had the fresh honey. He thought the one with powdered honey was the fresh. That makes it a keeper for us!