Augason Farms Dehydrated Spinach Flakes 8 oz No. 10 Can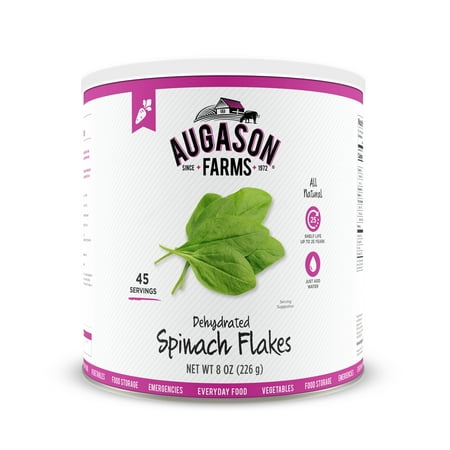 Sale :

$14.28

Sold & shipped by Walmart
Product Description

Additional Information

Reviews
Product Description
Augason Farms Dehydrated Spinach Flakes are quick and easy to rehydrate. They're great as a side dish or perfect added to recipes, such as minestrone soup or any vegetable dish.
Additional Information
45 Servings

450 Calories

Certified Gluten Free & All Natural

Perfect for Food Storage, Emergencies, Survival, Camping, and Everyday Use!

Up to a 25 Year Shelf Life!

Reviews
Marshaka777
Huge bargain
These products are all #10 cans which seems impossible to expect judging by the price. I've used spinach flakes for many years because they are a flavor enhancer for eggs, meatloaf, meatballs, etc., that also adds nutrients. A #10 can goes a long way too.
Scooter19
Good to have on hand.
The instructions say to add a little sugar to improve the flavor, and I agree. This is as good as frozen, and better than canned. If you can't get fresh, this is the next best thing.
dixieswampangel
Good Purchase
I love spinach and I am so pleased with this purchase. I put some of these ( dried flakes) in a lot of things I cook because I have trouble with anemia and it is a wonderful source of iron. I use it in soups, salads and just about all kinds of vegetables. It is less expensive and keeps forever!
NewMexicoMiMi710
Always keep on hand!
As with every Augason Farm product that I have tried, this exceeds expectations. The flakes ARE small, so making a big bowl just to eat plain is a little difficult. On the plus side, I keep a small jar beside the stove and just toss a handful into stir fry and soups. Hydrated and chilled it's a nice addition to salads. It makes a SUPER dip. Hydrate, chill, and stir into sour cream with a touch of mayonaisse or Miracle Whip- delicious. I haven't tried it in smoothies yet, but I am sure it will work nicely. I can't get to the store often, and this is a tasty, easy, and economical way to ensure that I get enough greens in my diet. Highly recommend!
Pergodious
Good product
I bought this product to use in soups and casseroles. I don't care for the taste of spinach, but the nutrients are great. I add a little of this to soups and casseroles and don't even notice the taste, but the nutrients are there. Good product.