Augason Farms Vegetable Stew Blend 2 lbs .5 oz No. 10 Can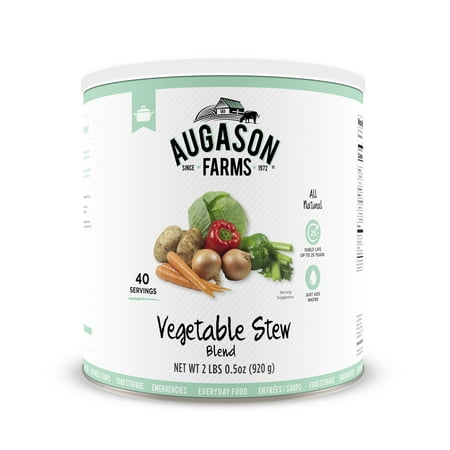 MSRP :

$24.99





Sale :

$11.62

Sold & shipped by Walmart
Product Description

Additional Information

Reviews
Product Description
Augason farm puts a focus on the great taste of its preserved products. The Augason Farms Vegetable Stew Mix, 2 lb, is crafted with a focus on health, as well as taste. The Vegetable Soup Stew does not contain MSG, and it is great for daily usage or just to have on hand. The Augason Farms Vegetable Stew Mix, 2 lb, is a nutritious blend of cabbage flakes, potato dices, chopped onions, celery slices, carrot dices, red and green peppers. All ingredients are dehydrated and mixed for use in any stew or even soup. The Augason Farms Emergency Food Stew makes 40 servings and is easy to prepare. The Augason Farms Emergency Food is packaged for long-term storage and no refrigeration is needed. This Vegetable Soup Stew is perfect for camping or even for everyday use.
Additional Information
40 Servings

3,200 Calories

Perfect for Food Storage, Emergencies, Survival, Camping, and Everyday Use!

Certified Gluten Free

Up to a 25 Year Shelf Life!

Reviews
CAGirl77
Veggie Stew!
With (40) servings per large container, I highly recommend this product. I'm a vegetarian so I made this with vegetable broth, & diced potatoes for a lite (cup of soup) dinner the other night. I added some warm crusty bread & butter as a side too. It was so good! It's low calorie & good for you. When you remove the lid from this container, you can smell the freshness of the stew mix. It's a generous amount of product for the price too. I will be buying more of this product in the future. Thank you Augason Farms for such good quality foods.
ooblygoobly
Excellent
I am so pleased I ordered this Vegetable Stew Blend! Just 15-20 ish minutes of simmering and it's ready. I was expecting big hunks of hard to hydrate vegetables, but this is not the case. It is small cuts, some might call it very small cuts. But that means it hydrates thorougly and quickly. That can come in handy when the electric goes out etc. The flavor is great. The ease is great, no cutting, chopping, no leftovers rotting in the fridge to throw away. Use the amount you need. But remember as they hydrate they increase a little in size. It's easy to make more than you may need. I hydrated mine in a broth instead of plain water. EXCELLENT. I did not use it in a stew. I used it once as a side dish and once in a skillet dinner mix. Very pleased with it overall. And the price is very good and you can get free shipping( by meeting the $45 requirement#, and these weigh 2 lbs each#slightly over in fact) especially for 40 servings! Want to make sure you family is getting some veggies they may not know about, throw a handful in some pasta, a macaroni and cheese dish etc. After I initially open the can and use some, I pour the rest in a plastic bag and put it back in the can to help it stay fresh. Or I vacuum seal it in jars. And kept at a coolish temperature it can last decades if unopened! Couldn't be more pleased. Will be ordering more.
CryBaby555
Flavorful, economical soup!
I bought this for emergencies and only opened it because can was dented and I didn't want to store it long term. I cook for one, but this is how I make it. I use about a quart of water and add some noodles and extra peppers flakes, salt, black pepper and chili peppers. I bring it to a slow boil, cover and reduce to simmer for 30 minutes. This makes two good sized servings for one person...adjust for more servings. It is low calories but tasty. It is worth the money and very tasty made this way.
electronics4grandma
Little Surprised with....
....the size of the ingredients. My expectations were that the cabbage, carrots, potatoes, and bell peppers would be better discerned. Those ingredients, however, are chopped very fine which makes it hard to distinguish. I would have expected them to look more like the vegetables one would SEE in a vegetable stew. Therefore, I give this product five stars for its value and four stars in the "meets expectations" category. Now, the reason I gave four stars in that category is because the stew tastes really great. I noticed immediately when opening the can that the smell of the vegetables is very, very fresh. As if they had just cooked them. So, I added some chunks of tomatoes, celery and potatoes in some broth along with this vegetable blend. Again....it's flavorful! What I plan to do from now on is to use this vegetable blend when I make ramen noodles. It will be a nice addition to add flavor and nutrition to them (IMO). I am NOT sorry I bought these vegetable because it is still a good idea to have them on hand to use as I explained before AND if I just want to have a quick light soup, they are perfect for that. The little pieces of potato flakes will work as a thickener to the soup. My overall opinion is that this is a good product and there are some recipes on the back of the can that seems to be tasty. I recommend it. Just be aware...the vegetables will disappear, but, you will still know they were added.
readyset
Good as a base for soup.
The pieces are diced small which helps with rehydrating but makes more of a soup base than a "stew". Mixed with beef broth and meat it made a very good vegetable beef soup. I'd definitely use this while camping or when I need an easy menu item.