Smokehouse 100-Percent Natural Meaty Mammoth Bone Dog Treat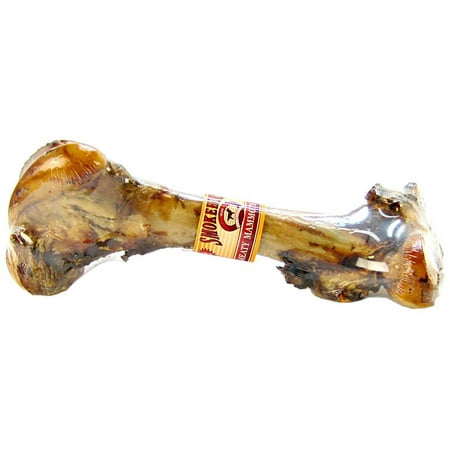 MSRP :

$18.52





Sale :

$12.99

Sold & shipped by Walmart
Product Description

Additional Information

Reviews
Product Description
Smokehouse Treats Meaty Mammoth Bone contains flavors and color that are naturally enhanced by slow roasting them in their own natural juices for up to 53 hours. Roasted, natural color and meaty flavor Provides hours of tasty chewing Relieves stress and keeps dogs mentally active Smokehouse Treats Meaty Mammoth Bone is 100% natural; just as nature intended, with the natural flavors and textures dogs love.
Additional Information
Smokehouse 100-Percent Natural Meaty Mammoth Bone Dog Treat
Reviews
Ladyv00
WoofWoofWoof Woooooo
Interpretation: I love my new bone and I love my mommy who bought it for me. It is exceptionally tasty and I beat up my sister who insists on chewing hers as well when she knows they should both be mine. They are that good, I promise. My mom says they are slightly messy, but if you love me you won't care.
DoggyBoy
HUGE
This is a ridiculously huge bone! I'm not sure how much bones are, or how big they are, but this is at least a cow's whole leg! It was well coated in whatever it was that drove my dog nuts! She couldn't keep still! I'm not sure how much bones should be, or how much they really cost, but this should last my dog a while. I don't exactly have money to just shell out, but this exceeded my expectations! It should last a while. Although, this is only for huge dogs! I don't think my dog is able to chew through it! I think I'll consider a smaller, yet still durable bone next time!
LabFamily
HUGE
We have been using these for our dogs for three years. We have 3 black Labs among our family members. One pure, one Lab/Shepherd and one Lab/Great Dane. They are all big chewers with powerful jaws. This is the only bone that lasts for any of them. The Dane mix finishes it off in about a month and the pure bred and shepherd mix can go 2-3 months. I wash it with Dawn when it arrives so it doesn't stain the carpet. The dogs don't care, they just take it and hide for hours, chewing away. Great product! Love the ship to site feature. My WalMart used to carry this in stock which was wonderful, but this is the next best thing.
Plucky9005
Chewing Fanatic
I bought the Mammoth bone online after the same bone was discontinued to be sold in the store. My dog loves these bones and with his powerful jaws, he can demolish the small bones in one evening. The mammoth bone is definately not for small dogs but will last a large dog several weeks, thus saving money in the long run.
nancy1111
Do not recommend
Based on the reviews I thought this sounded like a good treat for our 85 pound dog. After a day of chewing on it, she became ill and vomited 8-10 times over the next 48 hours. She also broke out in soft lumps under her skin. The largest, on her head, was about the size of a large marble. The 4-6 others (they kind of came and went) were pea sized. The lumps went away in a couple of days too. I threw the bone away. Apparently this doesn't happen to all dogs, but letting you know of my experience in case it happens to anyone else.