3M WorkTunes Hearing Protector with AM/FM Digital Radio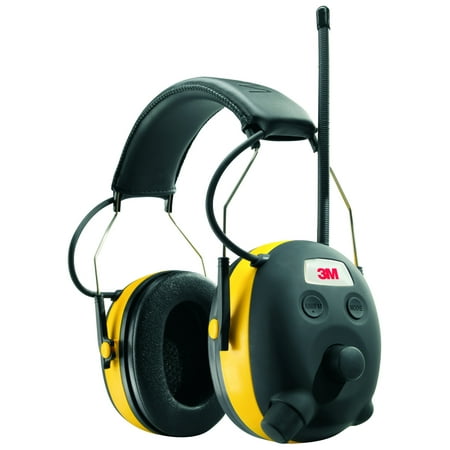 MSRP :

$69.97





Sale :

$42.95

Sold & shipped by Walmart
Product Description

Additional Information

Reviews
Product Description
Designed with innovation and functionality, 3M WorkTunes Hearing Protector provides all-in-one hearing protection and entertainment. Ideal for noisy projects that exceed 85 decibels and higher. This superior hearing protection unit helps DIYers and professionals focus on their projects, not on their safety products. 3M WorkTunes Hearing Protector is the perfect choice for the workshop, job site, working in the yard or to give as a gift. Features Voice Assist for easier use. Bass Boost technology for enhanced sound quality and performance. Strong construction and durable materials help prevent breakage and better withstand daily use. Soft ear padding for extended comfort.
Additional Information
3M Worktunes Hearing Protector - Voice assist AM/FM radio and hearing protection ALL-IN-ONE.
Digital tuning with voice assist
MP3 and iPod compatible
Lightweight and comfortable
dB limiter
22dB NRR
Soft foam ear cushions
Padded headband
Fully adjustable
Can preset 50 stations

Reviews
nickleback
My tunes
Work great and good price too thank u
Inspector12
Good for what they are.
I really like these earmuffs. From a hearing safety standpoint, they are excellent. Maybe too good. I can barely hear my line trimmer running. I have to take them off to start it. My only complaints are: 1) They fit rather tightly and have limited adjustability, so, after a couple of hours, they get a little uncomfortable. 2.)Reliability. As many other reviewers experienced, after just a few uses, one of the speakers went out. Walmart exchanged it without a problem and so far so good on the replacement pair. The sound quality is excellent! I've had no problems with radio reception, although I mainly use mine with an MP3 player. Pay no attention to those that complain that there is a volume limiter on it. Why would you pay for a hearing protection device and then blast music in your ears? You can hear perfectly adequately at the volume that the device allows. If you're willing to roll the dice on the reliability issue and you don't plan on wearing them all day, they are a good value.
walmartfanman
I Love These!
I absolutely love these headphones. You need to follow the directions when you first get them so they work properly and receive all of the stations. I wear these when I am cutting grass on my riding lawn tractor, and using other power equipment. They block out the outside noise very well. The knobs are easy to access and control. When you turn on the radio, there is a voice that tells you what station you are on. When you turn the channel the voice tells you what station you are now on. It only does it one time when you go to another station so it does not continue to disturb what you are listening to. You can tune manually or save your presets. It is both Am and FM Stereo reception. The headset has very good reception picking up distant stations. The volume is loud enough to hear the music while I am mowing the grass, but it is not extremely loud when turned all the way up. There is also an auxiliary jack to plug in outside devices you wish to hear. They are comfortable and lightweight. It has a whip antenna so you do not have to worry about breaking it off. This is probably the greatest thing I have bought in a long time!
Wallymart666
Much better than you would expect
This is the third generation of this radio. The first one was manual tune and you only knew the station when they announced it or by the type of music or talk. Then they added a digital tuner but for some reason it got terrible reception, so bad that I returned it for that reason. I was not going to buy it again but the first one was so good and the third one had such good reviews about its reception that I thought I would give it a try. Wow!! How did they do that? This one gets the best reception of ANY portable radio that I have ever owned. I am not joking. This one pulls in a station that I could only listen to on my home stereo previously. At regular price this radio is a bit too expensive but when you catch it on sale grab it and you will be happy that you did.
Ross
so far, I like the product
I bought these about a month ago, because I started working for a local school mowing their lawn. I knew I wanted sound protection and be able to listen to the radio at the same time. I first tried them on at home, and thought the volume would not be loud enough to cover up the 25 horsepower diesel engine on the mower- I was wrong. They are good at sound protection, and listening to the radio. I also like that they are voice assisted. A voice tells you what station you are listening to and also tells you if you have not touched the controls for 2 hours, that it will power down to save the batteries. I have over 20 hours of use on the first set of batteries. Great product so far.