Playtex Diaper Genie Refills for Diaper Genie Diaper Pails - 3 Count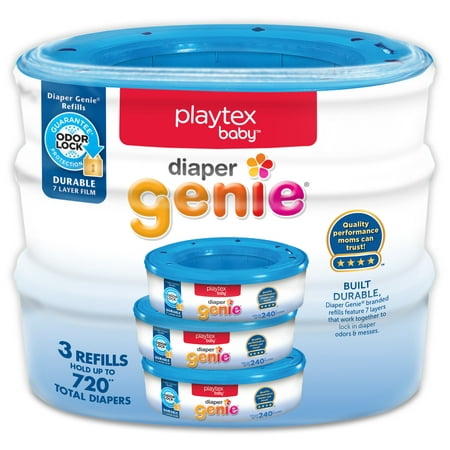 Sale :

$16.47

Sold & shipped by Walmart
Product Description

Additional Information

Reviews
Product Description
The Playtex Diaper Genie II Refill will keep baby's nursery fresh and clean-smelling. Compatible with both the Diaper Genie and Diaper Genie Elite, it features multi-layer film for the ultimate protection against germs and odors.
Additional Information
BUILT DURABLE, the Odor Lock refill features 7 layers that work together to help lock in diaper odors & messes
Works with Diaper Genie Elite, Essentials and "Mini" Diaper Pails
Each refill holds up to 240 newborn diapers
Reviews
AAWdacosta
NOTHING ELSE COMES CLOSE
I recently tried another brand, (NURSERY FRESH because it was a little less) thinking it was from Playtex with some new look for a cheaper set, as it stated it was for all Genie refills. Boy, was I wrong. After a few weeks of really, really stinky room each time the pail was opened for a drop in; I decided that something was seriously wrong, it was never like this until I got those new looking package. I went online and read a little more and then realize they were made by Munchkin and not Playtex. I blame myself for not really reading in full. BUT, my gosh MUNCHKIN you got to take full responsibility for putting something out there that is only good for storing with no form of keeping poopy smell on the low; might as well throw them in regular trash bin with all you got to offer. Thank God for Playtex Genie Refills, my grand-babies room whom I babysit is now free from Munchkin stinky bugs.
lollipop63
Double layer of refill liner
I have been quite annoyed with this 3 pack refill with 2 of the 3 refills are double layered. This leaves no end to tie or allows the unit to close. Too costly to waste.
ERsMommy
Don't be fooled!
What is pictured here is NOT what you get. If you own a Diaper Genie II diaper pail, BEWARE -- the refills to while you are accustomed are no longer being made. The "new" refills, despite claims of compatibility, do not work the same way. The cartridge fits inside the pail, but the clamp inside the pail no longer closes completely when using the "new" refill, leaving a faint odor in the room. You have to push the plastic down on the sides to get the clamp to close, which is very difficult with a squirmy baby.
bigdog926
Good refills
They are always the same and they are sturdy and work great
WalmartCustomer85
Good refills
Diaper refills are cheaper this way, and you can do site to store! I wish they were cheaper, but it's the best I've seen out there so far. This works well in our diaper genie, when the genie starts to get full it smells I'd recommend a air freshener in the lid (one of those small circle ones would work well)