Playtex Diaper Genie Refills for Diaper Genie Diaper Pails - 3 Count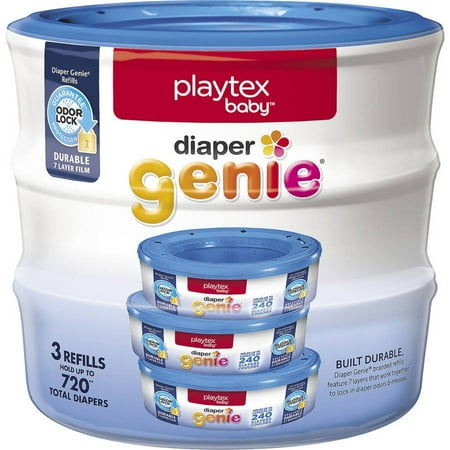 Sale :

$16.47

Sold & shipped by Walmart
Product Description

Additional Information

Reviews
Product Description
The Playtex Diaper Genie II Refill will keep baby's nursery fresh and clean-smelling. Compatible with both the Diaper Genie and Diaper Genie Elite, it features multi-layer film for the ultimate protection against germs and odors.
Additional Information
Playtex Diaper Genie Refills for Diaper Genie Diaper Pails - 1 Count
Reviews
SummersMommy24
Very nifty thing to own !
I bought this when my daughter was already a month old. She has acid reflux pretty bad and the doctors was trying her on different formula ,making me add rice to her cereal. Finally her doctor decided we should keep her on the Nutramigen formula and let's just say it stinks BAD LIKE 10 TIMES WORSE THAN ANY OTHER FORMULA OUT THERE which made her diaper horrid as well. I didn't want my house house always smelling to high heavens because of me throwing the diaper in with our trash so I decided to give these a try. Love them! They are so so continent, only requires you to use one hand and this is a big deal when you are like me and have a baby who is starting to be so wiggly during diapers changes , that you have to keep one hand on baby at all times. Also the bags have a wonderful lavender scent ! Yay. No more smelling diapers all through my house and as soon as you walk into the front door ! I would highly recommend this product!!!! [This review was collected as part of a promotion.]
lollipop63
Double layer of refill liner
I have been quite annoyed with this 3 pack refill with 2 of the 3 refills are double layered. This leaves no end to tie or allows the unit to close. Too costly to waste.
Douglas
For The Older Child
Due to some surgery consequences, I developed incontinence. I started using adult diapers, with no good disposal system. My wife found the diaper genie -- problem solved!
Katie P
Refill bags split and tear very easily
I bought this product and am not happy with how easily the bags split and tear. I've been using these for about two years and within the last year something changed with the bags causing them to tear more easily. It can't be a bad batch with how frequently this happens now. You have to pull very slowly and carefully on the bags so they don't rip. With how expensive these are it's a shame that half of the refill is thrown away because it splits and won't hold diapers.
HappyDad
Great device ... but no bio-degradable bags??
My wife and I love the diaper genie. The refill bags are pricey but the unit operates as promised. ... We were surprised and disappointed when we discovered that there were no biodegradable bag options. This made no sense to us. Parents are often the MOST motivated to hand a 'cleaner planet' to our children, and yet this company hasn't availed itself of the many biodegradable bagging options out there? This is a big opportunity Playtex, not only for you to step ahead of the competition but to show that you listen to the voice of your consumers. If someone would please contact me to give more information, that would be appreciated.