Playtex Simply Gentle Glide Tampons Scented Multi-Pack 9 Regular And 9 Super Absorbency - 18 Count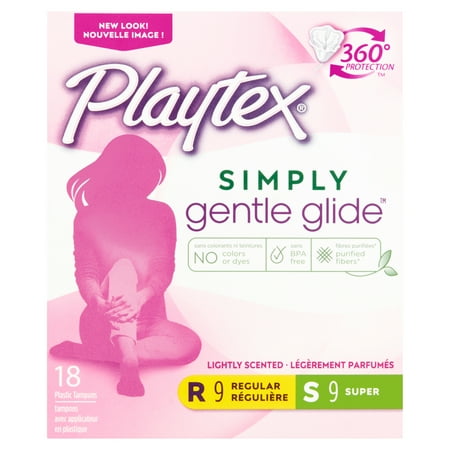 MSRP :

$14.03





Sale :

$6.71

Sold & shipped by Walmart
Product Description

Additional Information

Reviews
Product Description
Our 360º™ Protection has been redesigned with three layers and shapes to your body for a fabulous fit. Have peace of mind with the perfect fit for your unique flow, from regular to ultra.
Additional Information
360° PROTECTION and INCREDIBLE COMFORT with a TRIPLE LAYER DESIGN for extra protectionCOMFORT SHAPE PLASTIC APPLICATOR for sure fit placementDURACLEAN WRAPPER for purse resistant protection on the go
Reviews
Belle
Upset with changes...
I am not a fan of the change to the "Sport" product. The inability to find adequate supplies of your Gentle Glide 360 product line has ruined my life. I have faithfully used your tampons for the past 31 years! I require a slim applicator and that is what the Gentle Glide provides. Also, the pattern of the cotton cross weave in the Sport tampon itself seems to leak more than it does in the Gentle Glide 360 which seems to use more of a cone shaped pattern in its production. Lastly, as other ladies have stated in these reviews, the lack of providing adequate coverage for women with lighter flows by eliminating the "Lites" tampons and making it difficult to find sufficient supplies of regular tampons has brought me to the point of searching for a new brand. It's a shame to lose a 31 year relationship with a company that I had come to rely upon. It's fine that you wanted to bring on a new product called "Sport" but not at the expense of the Gentle Glide customers. You've lost a loyal customer.
Moll4
Simply nonabsorbant
I bought these because the store replaced my 360 gentle glide Ultra with these. These are not the same and do not absorb anything. I could only go from 5 to 15 minutes without running to the bathroom with the Ultra. They do not expand as they should and fibers act more like a relellant. I can not find the old gentle glide ultra anywhere. Who cares if the fiber is washed up to 5 times. That may have caused the problem. These are awful. Wondering if they paid testers to test these? Iv done focus groups and home use tests and they pay well but most testers give positive feedback to ensure they are invited back. Try sending to real customers before you change a great product. If it wasn't broke, why did you fix it?
fond of Ultra
Love the Ultra tampons!
I was looking for the Playtex Ultra tampons during a recent trip to the store. They were either out or stopped carrying them. Disappointed, I tried another store, then another, and yet another. Unable to locate the Ultra tampons, I feared you stopped making them. Thankfully, I finally located some in the next town over. I purchased every box they had, praying you did not discontinue them. Now that I own 5 packages of 36 Ultra tampons, I am happy to see them on your website. For the past 10 or so years, my periods only last about 3 days, but for a good 12 to 18 hours during those 3 days, I saturate an Ultra tampon and an overnight pad every hour and a half to two hours. I'm so thankful they are still being made I had to write a review thanking Playtex for this wonderful product. Life would be a little more difficult without them.
Keykey1234
Hate the new playtex ultra
Why did you guys change these tampons I loved the playtex ultra 360 but when I bought a new box it was trash it didn't hold any leakage really ! Luckily I found a old box of the playtex ultra those are my favorite and work great
Claire85
Simply Great
I purchased these (Ultra Style) a couple of days ago "Praying" Playtex hadn't changed anything too drastically from their tampons (Aplicator & Tampon itself) before; "Gentle Glide 360" & am quite pleased to say that no one need to worry. The aplicator is itself translucent, not opaque as before & it still has the "Petal design" on the front of the barrel for ease of insertion & the tampon itself seems to be more comfortable in place after insertion. I'm very pleased with their "Rebranding" of their product & Playtex will still be my "Go-To" brand.